article_detail
ARCHIVED

- Until 2nd July, art exhibition inspired by Latin poetry at the Roman Theatre museum in Cartagena

"Catulli Carmina, Odi et amo" tells the story of the poet Catullus and his love for Lesbia
An exhibition entitled "Catulli Carmina, Odi et amo", which is running this spring and early summer at the Roman Theatre Museum in Cartagena, features the work of four artists, all of them drawing inspiration from a cantata which was composed by Carl Orff and which in turn was based on the writings of the Roman poet Catullus, who lived from 84 to 54 BC.
The artists concerned are Manuel Delgado, Elisa Ortega, Manolo Pardo and Rafa Richart.
The exhibition tells a story whose main protagonists are the young Catullus and his sweetheart Lesbia, the unfaithful friend Caelus and two women of questionable virtue, Ipsitilla and Ammiana. After the characters are presented, the artists enter the world of theatre and create two plastic scenes to illustrate the "Odi et amo" of Catullus and Lesbia, with each scene accompanied by the verses which inspired it.
Catullus is regarded as the forerunner of Roman elegaic poetry, focussing his attention not on myths and heroes but on his most intimate and personal experiences in his verses dedicated to the woman he calls Lesbia. His emotions include not only love, passion and devotion towards his sweetheart, whose real name is thought to have been Clodia, but also disappointment and hatred: hence the title of this exhibition.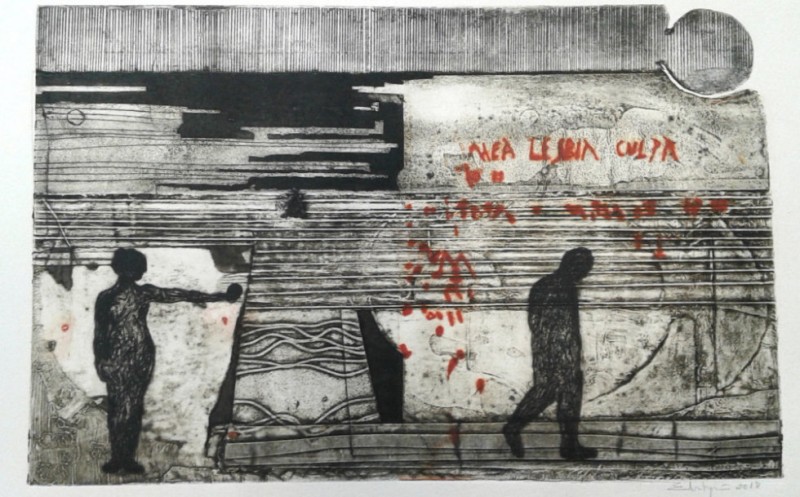 Carl Orff (1895-1982) was moved to set the verses to music in a work composed for two soloists, a choir and a large percussion and piano group, calling to mind the sounds of ancient music which may have been heard 2,000 years ago in the Roman theatre of Cartagena. Orff's work is divided into 12 scenes, which are those which inspired the works in the exhibition: the first of these is the "Audite acvidete!" by Manuel Delgado, a call to the public to "listen and watch", while others include "Odi et amo" by Manuel Pardo (showing Catullus singing his life for Lesbia) and "Más de mil besos" (more than a thousand kisses) by Manolo Delgado.
The last scene is a collage by Elisa Ortega entitled "Mea Lesbia Culpa", in which graffiti-style letters stand out against a red background as a heartbroken Catullus leaves the stage, although Lesbia offers him an outstretched hand, apparently in an effort to make him stay.
This exhibition offers visitors a chance to experience the classical world through the eyes of an imaginative German composer and contemporary artists in a setting, of course, which is highly appropriate for such an experience!
"Catulli Carmina. Odi et amo" can be visited at the Museo del Teatro Romano de Cartagena until 2nd July. As of 1st May summer opening times are in place, meaning that the museum is open from Tuesday to Saturday between 10.00 and 20.00, and on Sundays from 10.00 to 14.00.
Click here to see more information about visiting the Roman Theatre Museum in Cartagena
Address
Plaza del Ayuntamiento nº 9, Cartagena, 30201, Murcia
Tel: 0034 968 504 802

The most important visitor attraction in Cartagena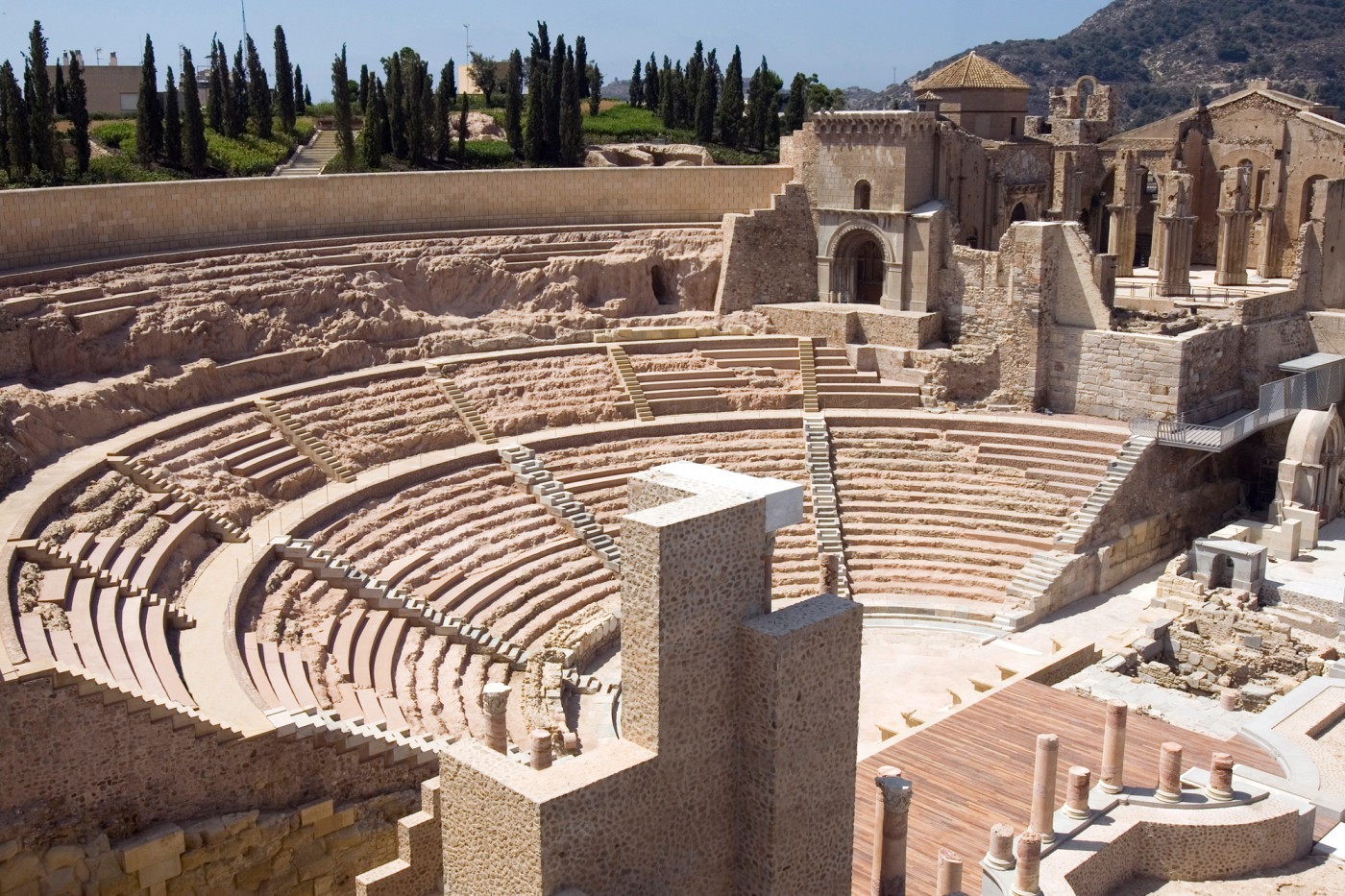 The Roman Theatre Museum is the jewel in the crown of Cartagena, and the most visited museum in the whole of the Murcia Region, a beautifully structured museum with an impressively restored Roman Theatre at its heart, and if you only have time to visit one historical structure in Cartagena, this would be the recommendation.
Click here for full information about the Roman Theatre Museum in Cartagena
Call 968 504 802 to book for groups with an English language tour guide.
Nb: The entry fees include an English language audioguide. Adult entry 6€, reduced 5€, children 3€. Groups 3€ and school groups 2€.
Opening Times 2020
1st May to 30th September (and Easter Week): Tuesday to Saturday 10.00 to 20.00, Sundays 10.00 to 14.00.
1st October to 30th April (except Easter Week): Tuesday to Saturday 10.00 to 18.00, Sundays 10.00 to 14.00.
The museum is closed on Mondays except when large numbers of cruise ship visitors are in Cartagena.
Extra information
A small section of the walled gardens which were part of the theatre complex can still be seen in the Muralla Bizantina art gallery.
Full information about the city can be found in the Cartagena section of Murcia Today.
article_detail
Contact Murcia Today: Editorial 966 260 896 / Office 968 018 268