Summer flight schedules underway as Murcia hits 30 degrees at the end of March
The population of the Region of Murcia has been immersed in Semana Santa processions this week, thousands are in Los Alcázares fighting off a Berber Invasion, so as fine weather accompanies the fiestas and those not taking part head for the coast, it's hardly surprising that news has been relatively thin on the ground over the last few days.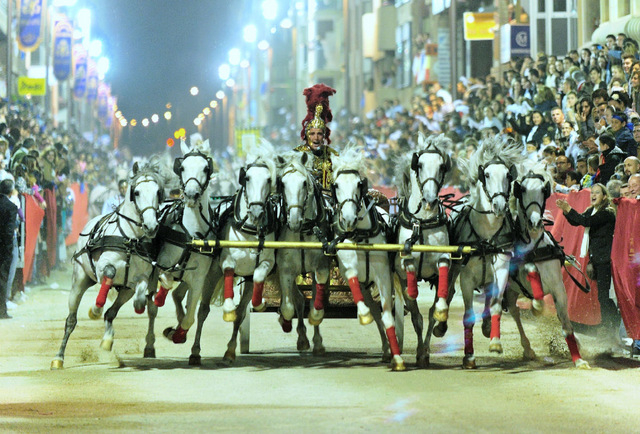 Earlier this week the Murcia Region was on national TV as thermometers nudged 30ºC and there were as many people in the sea during the last week of March as is often the case in June! Temperatures will be a little cooler over the weekend, but the weather is still likely to make it a better weekend for the tourist sector in the Costa Cálida as millions of city dwellers head for the coast.
Talking of tourism, the situation regarding the airports at San Javier and Corvera has provided little in the way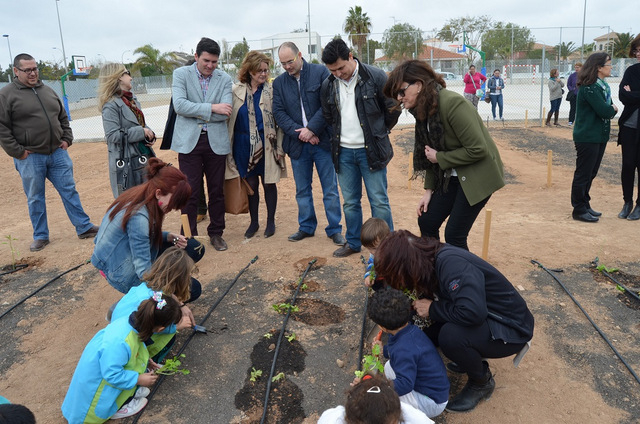 of news recently, which is hardly surprising this close to elections, but San Javier was named this week as one of the few airports in Spain where running costs per passenger are below the national average, and the smallest to fall into this category (which generally favours larger facilities with more economies of scale).
However, although its management costs per passenger are below the national average, that doesn´t necessarily mean it's making any money, although the costs are certainly better than in Huesca where it cost 13,000 euros to process every passenger who used the airport last year. Summer flight schedules for Spanish airports also came into operation this week, increasing the number of seats for the summer period. San Javier has certainly increased the number of seats from its winter schedules and more routes will be operating for the next few months although there doesn´t seem to be any sign of an increase from last summer. Alicante is also showing new routes and the statistics provided there show an increase in seat numbers for the summer.

On Tuesday one of the most welcome news items of the year arrived in the form of the formal announcement of regional elections on 24th May. This is welcomed with open arms as the fervent round of inaugurations which has had the news desk straining to cope with the volume of activity has now stopped as such events are banned until after the votes are counted. Thank goodness for that! However, on Monday a few Town Halls managed to squeeze in their last inaugurations just in time, so San Javier now has a new statue of its patron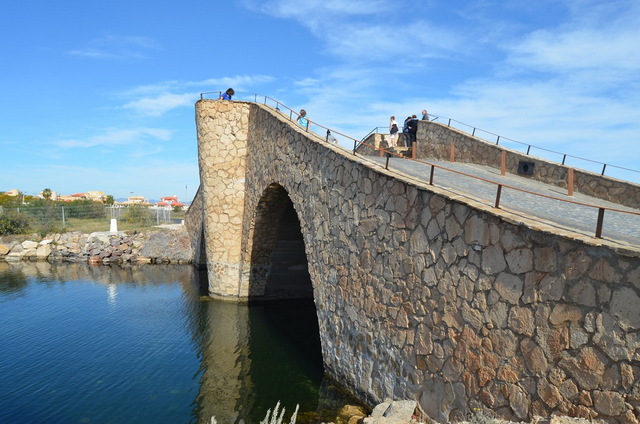 saint, Cehegín has presented the regeneration of the El Coso area in the old town centre, new clay courts are available for tennis players in Águilas and at the northern end of La Manga the unusual bridge known as El Puente de la Risa has been reopened following renovation and repair work.
Other stories to make the regional news in Murcia this week include the hundreds of non-Spanish drivers who are now in the process of renewing their licences to meet the requirements of new Spanish regulations – check out the details if you've not yet done yours as you could find yourself on the receiving end of a fine. There's not been much else of interest locally: the farmers of Caravaca are researching the possibility of growing new crops such as walnuts, truffles, cherries and pistachios in the north-west of the Region, four Brits were arrested in the north-west for smuggling drugs, and the Phoenician boat wreck site in Mazarrón was given a formal protection status.
A couple of interesting stories on the property front for Murcia showed that 21% of all properties sold in Murcia last year were bought by foreign buyers and that the value of property market transactions increased by over 5% last year, all positive news for the property market.

What's on Murcia.
Well, Semana Santa continues until Sunday morning with lots more processions. Tonight are the biggest
processions of the week right across the region, see more than 20 programmes translated into English, together with past reports and basic information in our Semana Santa special: Semana Santa in Murcia.
Most of the action is on the coast. This weekend Los Alcázares is awash with Berber pirates selling multi-coloured artisan produce in one of the best artisan markets of the year, fighting off invaders on the beach and parading. Just up the road San Pedro del Pinatar has its Seaworld event, with static displays, walks and its dragon boat racing event, and San Javier has a large Outlet Fair in Santiago de la Ribera. La Unión also has its minerals and fossils fair with thousands of crystals, rocks and fossils on sale. Lots happening in the Mar Menor.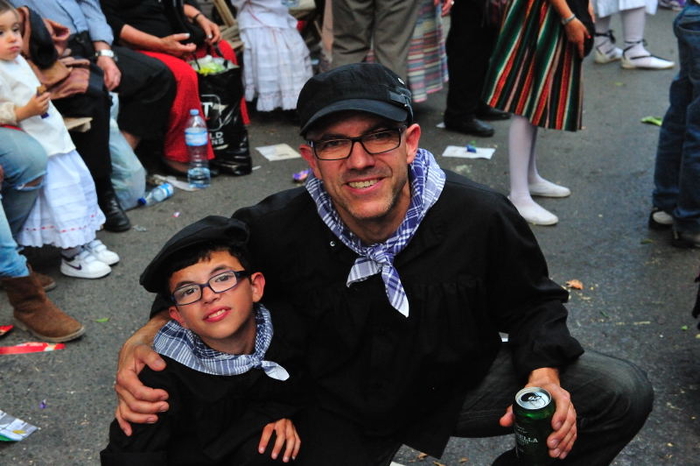 On Sunday there are artisan fairs inland in Cieza and Bullas, the La Bastida archaeological site is open in Totana and Águilas offer a free guided theatrical tour of its historical sites.
We've also translated the Murcia auditoriums programmes for the month ahead,( more to do next week) which are all in date order in what's on. Next week Murcia begins its Spring Fiestas with the Bando de la Huerta on Tuesday. The intention is to get this translated over the weekend: hopefully this time next year the process of charging for the bulletin will have yielded that extra translator so desperately needed to cope with such a huge volume of programmes coming in just a couple of days before these big events begin, or maybe there might be some financing from the councils whose information currently excludes non-Spanish speakers from even knowing about their events.

Property news round-up
The outlook for the Spanish real estate market continues to look positive as we enter the second quarter of 2015, with many of the statistical and economic indicators showing that conditions are appropriate for last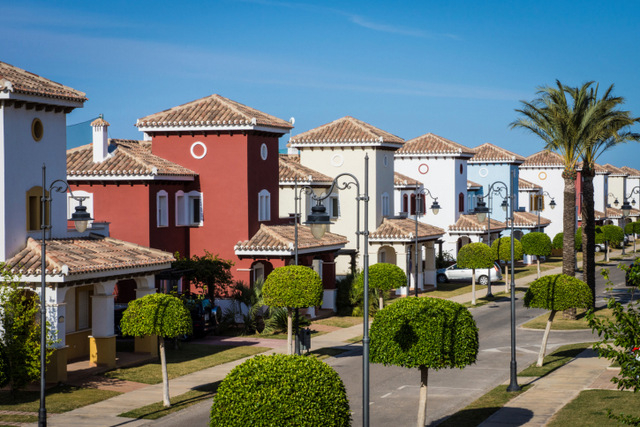 year's timid signs of recovery to be consolidated. The national economy as a whole is set to grow by close to 3% this year, unemployment is falling from the astronomical levels of two years ago, and the Euribor interest rate on which the vast majority of Spanish mortgage repayment schedules are based begins April at its lowest rate ever: a rate of 0.2% makes financing Spanish property purchases far cheaper than during the boom years.
In relative terms property is cheaper still for potential British buyers, due to the current weakness of the euro against the pound sterling, and this, coupled with low market prices, is undoubtedly one of the reasons for the proportion of purchases made by non-Spaniards being higher than ever before during 2014. Official government statistics confirm that over one sixth of all buyers in 2014 were foreign, including both residents and non-residents, and in the province of Alicante non-Spaniards actually outnumbered Spanish buyers.
Apart from the British, large numbers of Belgians, French and Scandinavians have also been joining the rush to become property owners in Spain, and an analysis published this week suggests that buyers from these countries generally have more disposable income than those from the UK. Nonetheless, for the most part they end up buying in the same areas!
The foreign market contributed to a 20% overall increase in the number of Spanish property sales made last year, with turnover rising by 23%: basic mathematics tells us that an increase in average price was therefore also involved. This could mean one of two things: either the buyers were purchasing more valuable properties, or the average price rose. The rest of this year may provide clues as to which is the case.
As sales activity increases so the need for new residential property begins to arise again, having been practically non-existent for years due to the overhang of completed new-builds when the bubble burst seven years ago. While still nowhere near pre-2007 levels, the number of building licences and planning permission certificates being requested appears to be beginning show signs of increasing at last, and nowhere is this more the case than in the Costa del Sol resorts of Marbella and Estepona.
In the view of many Marbella was the first place in Spain to notice the effects of the crisis in the market, and observers are now convinced that the municipality is also becoming the first market to clearly show the bounce-back effect. Sales figures and prices are close to reaching pre-crash levels and prices have fallen less than in the rest of the country, and the return of cranes to the skyline indicates that the state of affairs here (and in parts of the Costa Blanca) is healthy.
The Sareb, meanwhile, Spains "bad property bank" reported a 585 million euro loss for 2014.

Spanish news round-up
In terms of the news in Spain, this week has also been relatively quiet for the Bank Holiday and Semana Santa period.
One subject which did, however, feature fairly prominently was that of terrorism in its many facets. On
Tuesday morning of a family of four in Badalona, in the province of Barcelona, were arrested for alleged collaboration with a Jihadist recruiting cell. The eldest son of the Moroccan married couple is already thought to have died in the combat zone in Syria, and this week his 16-year-old twin brothers were planning to follow in his footsteps via Syria. The two boys are reported to have been keen footballers and excellent students until recently, but their performance deteriorated as they became progressively radicalized, encouraged, apparently, by their mother who remains under arrest.
Terrorists of a different nature were also in the news following the arrest of 14 more Anarchist activists on charges of being involved in various crimes, including the placing of a bomb in the cathedral of Zaragoza in 2013 and attempts to "destabilize" the proclamation of Felipe VI as King last June. Basque separatists were another group receiving press coverage, as a Judge ruled that those already convicted and behind bars have no reason to demand to serve their sentences in the Basque Country: they had claimed that to be imprisoned away from home was "inhumane and degrading". This subject has been running for months, as thousands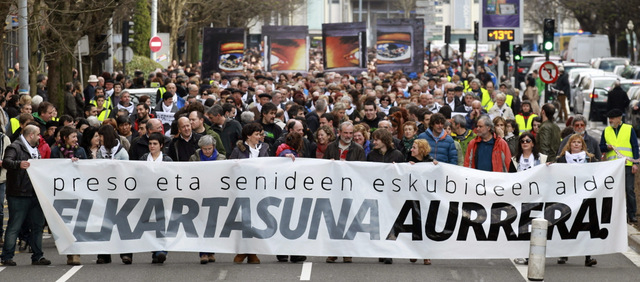 protest that prisoners should be jailed closer to home, and the Spanish authorities remain adamant that terrorist prisoners should be dispersed.
The government's attitude to illegal immigrants was in the spotlight for two very different reasons during the week. On the one hand, the new Citizen Security Law includes a clause which effectively attempts to justify the fast-tracking of repatriations by the Guardia Civil at the border fences in the Spanish enclaves of Ceuta and Melilla. There are concerns that this procedure may be in breach of international law, but the Spanish government has effectively given border forces the all clear to return illegal immigrants back through gates in the security fence as quickly as possible should they manage to climb over the top.
On the other hand, there was good news this week for those who do manage to get into Spain without their paperwork being in order. In a reversal of a decision made by his predecessor Ana Mato, Health Minister Alfonso Alonso has decided that immigrants in this situation will from now on be entitled to primary health care in Spain, although they will not be re-issued with the health service cards to which they ceased to be entitled in 2012. It's not fully clear how far the immigrants' rights to medical treatment extend, but this is a move which many have been demanding on human rights grounds ever since the original decision was made three years ago.
The whole question of what happens to illegal immigrants who have managed to enter Spain remains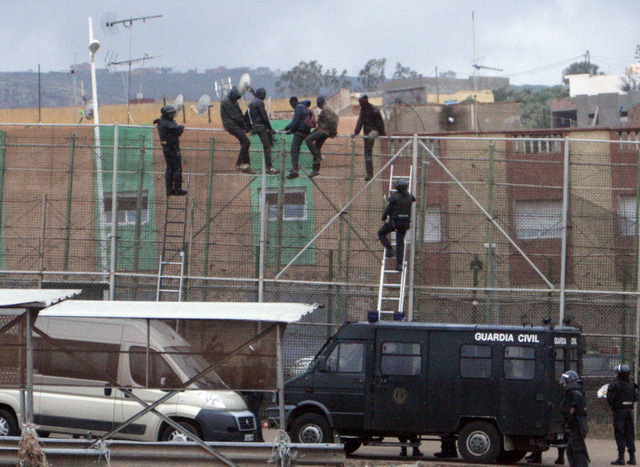 unclear: those who will now legally be allowed to access basic healthcare are not allowed to work legally, so are vulnerable to exploitation, and can only ever work illegally. This means they are not able to contribute taxes, and remain a constant thorn in the side of the authorities: if they can´t work legally what do they live on? Hassling those trying to park their cars for money? Hassling tourists with trash that they don´t really want to buy- there was a guy selling pirate dvd's in Murcia last time we sat down for a coffee. Crime? Financed by the state? Working illegally?
The economy, meanwhile, seems to be improving, and one of the main pillars continues to be international tourism. Tourist spending continues to rise significantly, with the British still the biggest overall spenders in Spain despite advances in the amounts of euros left in this country by the Germans and the Scandinavians. As summer flight schedules show more scheduled flights at Spanish airports throughout the country between now and October there is every expectation that the tourist sector in Spain will continue to lead the economic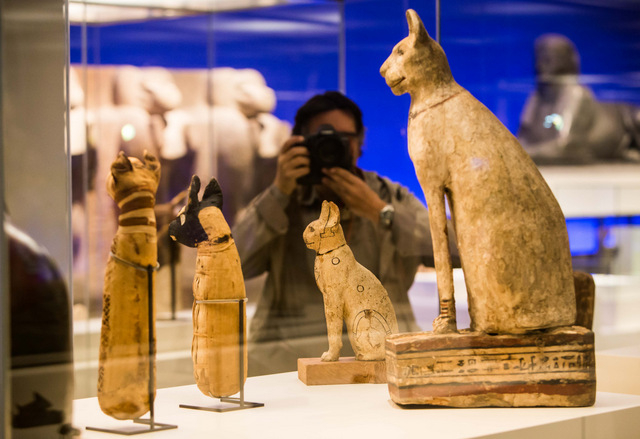 recovery.
Inflation in Spain still remains below zero.
At the same time unemployment continues to fall from the peak of a couple of years ago, and figures released by Eurostat show that the improvement in Spain has been one of the most important factors in the lowering of the unemployment rate throughout the Eurozone and the EU: Spain however, still has the highest level of unemployment after Greece and its youth unemployment remains over 50%.
Finally, probably of little interest to most (apart from the Ed!), but a fabulous exhibition of Egyptian artifacts has opened in Madrid this week, exploring the relationship of ancient Egyptians with their animals. There are very few good collections of Egyptian antiquities in Spain, so if this rocks your boat, then it's a good excuse for a weekend treat away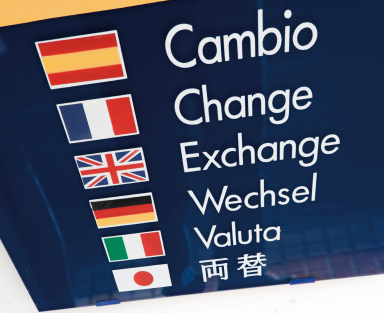 This week the Pound Euro currency exchange rate still favours those changing from Sterling to Euros at 1.3669
This means that those who transfer their pensions across to Spain are getting more euros for every pound sterling at the moment than they have for seven years, and it also makes Spanish property even cheaper for those buying with Sterling, because with the historic currency exchange trading rate for the Pound Euro having been at 1.18 / 1.16 not so long ago, if you exchanged 100,000 Pounds now to Euros you would be over 20,000 euros better off. But rates change constantly, so you need to keep an eye on currency rates if you are planning to make a transfer any time soon.
Click for this weeks currency round up showing the exchange rate between Sterling and the Euro.
If you still use a bank to transfer money, ask our currency experts for a quote to use a money transfer service, youll be amazed how much more you get for your pounds using this method and its really easy to do!
Click here for a No-commitment quote to transfer money to Spain . Find out how much you can SAVE!
Would you like to receive this free bulletin?
If you enjoyed this free weekly round-up, then please forward it on to your friends. If you have received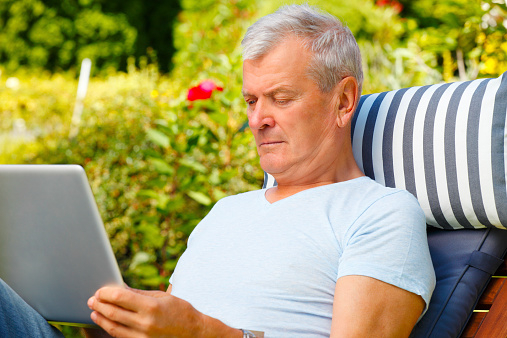 this from a friend and would like to have it sent directly, then click Register for weekly bulletin to sign up.
NONE OF THE TODAY PRODUCTS HARVEST, OR SELL EMAILS IN ANY WAY and we GUARANTEE your details will not be passed on, sold, or used for any other purpose, and are maintained in an off-site facility from which you can unsubscribe at any time.
We also welcome contributions from local charities or clubs, including post event reports, news items and forthcoming events. Use the contact us button in the top header to contact our editorial team.
Images: Copyrighted Murcia Today and Efe. Full or partial reproduction prohibited.
Murcia Classifieds

Why not give Murcia Classifieds a try?
It,s FREE up to €500 for non commercial ads.
article_detail
Thank you for supporting Murcia Today
article_detail
.
.
Contact Murcia Today: Editorial 966 260 896 / Office 968 018 268