Date Published: 20/04/2015
The Plaza de Europa in Murcia

A large open-air plaza in the heart of the university district of Murcia
The Plaza de Europa in the centre of Murcia is not the largest, the most spectacular or the most popular of the many squares dotted throughout the city, but its location on Calle Saavedra Fajardo means it is frequently visited by those enjoying the busy social scene on Thursday, Friday and Saturday evenings.
In addition, it is often a venue for open-air concerts and other events.
The street is popularly known in Murcia as the "Calle de las Tascas" – a tasca is a small bar or tavern typically serving tapas and drinks – and although these establishments and various reasonably priced restaurants are of course open all week it is over the weekend that they are at their busiest. The climate also dictates that the crowds spill onto the street, and the atmosphere here is lively to say the least as an evening out inevitably continues into the early hours of the morning. The Plaza de Europa is just a one-minute walk from the university campus of La Merced, and many of those enjoying their evening here are students.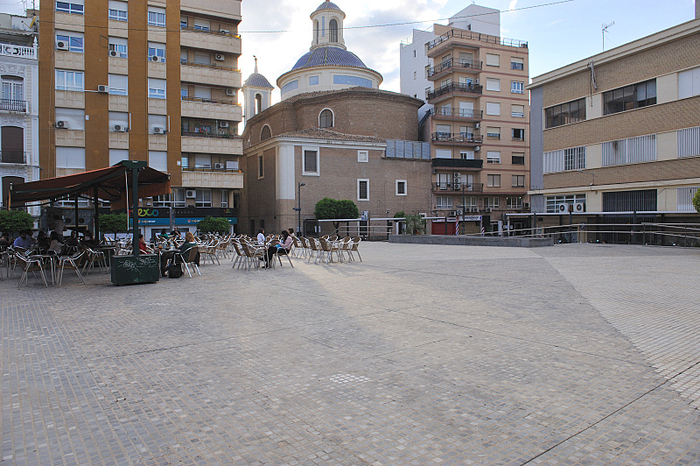 On the raised surface of the Plaza de Europa there are terraces where refreshments are served all day, and presiding over the square is a large modern structure. On the western side is the back of the church of San Lorenzo, and on the east is a modern building which houses local government offices. To the north is the indoor market which is very popular among local residents.
The fact that the Plaza is raised above street level is due to it being home to a busy underground car park, which is ideally located for those visiting the centre of Murcia: parking at street level is extremely problematic except in the month of August, when the city's population dwindles as everyone heads for the beach!
The centre of Murcia city is fairly compact and this area is within easy walking distance of tourist destinations such as the Cathedral and Plaza Belluga or Plaza Santo Domingo in the heart of the shopping district.
For more information regarding news, what's on and visiting the regional capital go to the city of Murcia section of Murcia Today.
Contact Murcia Today: Editorial 966 260 896 / Office 968 018 268