The parish church of San Pedro Apóstol in Calasparra
The Parroquia de San Pedro Apóstol, Calasparra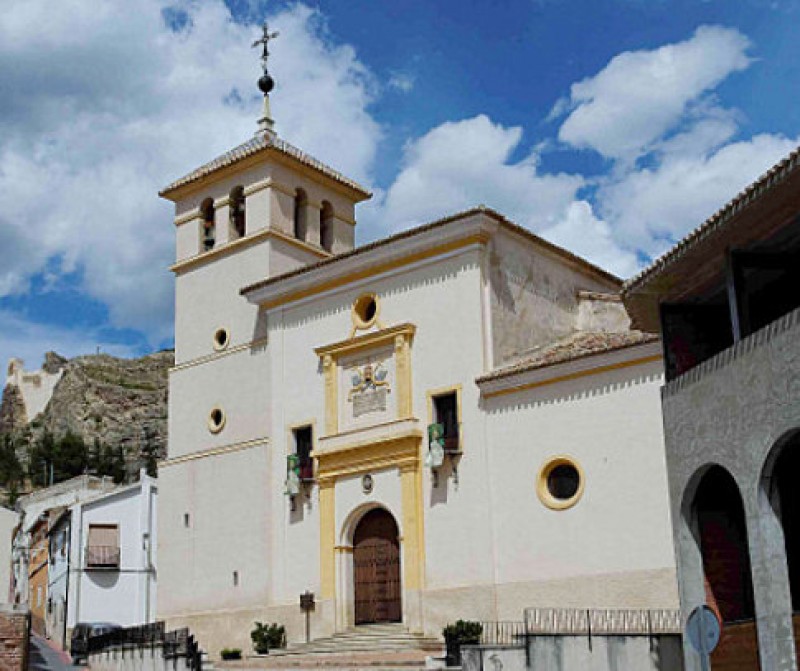 The parish church of San Pedro Apóstol is one of Calasparra's most important monuments.
It was built using masonry and brick, as is typical of the Region of Murcia's baroque constructions, and the walls were rendered in white plaster the last time the building was restored. The church has three naves, and the floor plan is in the shape of a typical Latin cross. It occupies part of the old centre of the "villa" of Calasparra, and dominates the irregular shape of the simple Plaza Mayor.
There is some ambiguity as to its original construction date, although it is believed that a medieval structure previously occupied the location, and the difficulty of exact dating is made more difficult by the extensive restructuring it has undergone over the centuries. The oldest documented mention of the church yet discovered dates from 1545, when a will bequeathed money for its construction, and a visitor in 1586 recorded that Juan Jufre de Loaisa, the Commander of the Order of San Juan de Jerusalén, de Rodas y de Malta, arranged for repairs to the chapel of San Juan to be paid for.
The biggest repairs, however, were those made necessary by the damage caused during the Peninsular War, in which France fought Spain, Portugal and the UK for control of Spain. In September 1812 the French army, under the command of Marshal Soult, swept through Calasparra with devastating effect, and the following year the necessary repairs to the church were undertaken by the master builder José Polo y Pavia, an architect born in Cartagena in 1780. This restoration was completed in 1820.
The church contains various chapels and twelve altarpieces, perhaps the most impressive being the reredos of San Antonio (in the rococo style), created in the second half of the 18th century and featuring the typical "rocailles" (decorative motifs comprising an interplay of curves and counter-curves).
Other works of art include the Nuestro Padre Jesús Nazareno, a 17th-century statue attributed to Nicolás de Bussy (1650-1708), and a Cristo de la Sangre, a painted wooden figure from the same period, which was created in his style although the piece is attributed to his pupils rather than the artist himself.
All of the other sculptures are modern except those of San Pedro and San Sebastián: unfortunately most of the older pieces were destroyed by fire during the Civil War.
Location
Calle de San Pedro
30420 Calasparra
Murcia, España
Tel: 968 720388
toffee rev
Contact Murcia Today: Editorial 966 260 896 / Office 968 018 268