The Las Salinas visitors centre in San Pedro del Pinatar
Information about the regional park of the salt flats and sand dunes of San Pedro del Pinatar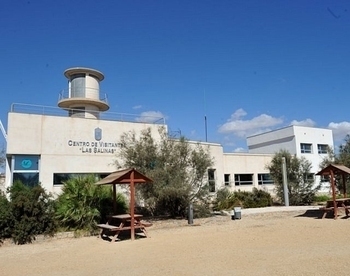 The natural park of the salt flats and dunes is an integral part of the identity of San Pedro del Pinatar, and is one of its core tourism attractions. It´s an ideal place to enjoy a walk or cycle and links to wild, open beaches through sandy dunes, but although it attracts thousands of visitors annually it is also an important centre of wildlife conservation. Throughout the park there are hides for bird observation and a range of different conditions, creating opportunities to observe a wide range of flora and fauna including the flamingos for which the park is so well-known.
The park is located at the far end of the Mar Menor, and offers a range of conditions, including natural mud and reed beds, man-made salt flats which are still used for the extraction of natural sea salt, natural beaches and artificial waterways.
Centro de Visitantes las Salinas
The information centre is located close to the entrance to the park and contains a vast range of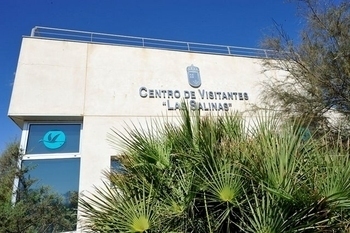 information about the park including the natural features of the area, its flora and fauna, maps and leaflets about various activities being undertaken in the park.
Static display boards show information about the different species which can be found, as well as showing the different techniques used by mankind to both fish in the area and harvest sea salt.
The centre also runs various voluntary schemes, so if you´d like to offer services as an environmental volunteer, then this is a good place to register.
Group visitors are welcomed and the staff are happy to help walking groups prepare itineraries or routes to suit the abilities of their particular groups.

Centro de Visitantes las Salinas
Avenida de las Salinas
Telephone 968 178139
Opening hours
15th June to 15th September: Tuesday to Thursday, Sundays and public holidays 9.00 to 15.30, Friday and Saturday 9.00 to 15.30 and 16.30 to 19.30.
16th September to 14th June: Tuesday to Saturday 9.00 to 14.00 and 15.00 to 17.30, Sundays and public holidays 9.00 to 15.30.
The Regional Park of Las Salinas and Arenales de San Pedro del Pinatar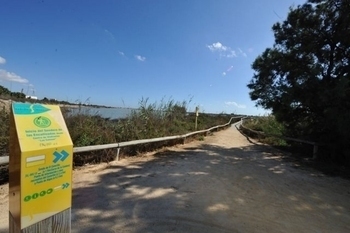 The Regional Park of Las Salinas y Arenales de San Pedro del Pinatar is a wetland area which covers 856 hectares, and includes salt flats, dunes and beaches between the Mar Menor and the Mediterranean.
Most of the park consists of the salt flats themselves, which are divided into different pond areas by small earth ridges or stone walls. Part of the area is private property with restricted access, and is used to produce salt on an industrial scale by the company "Salinera Española".
The area of the park which is open to the public consists of beaches, dunes and pine groves, and visitors can get around by bicycle or on foot.
The best known fauna in the reserve are the pink flamingos which usually arrive at the end of the summer, but apart from them there are also gulls, albatrosses, herons, grebes and crakes, as well as a large number of plant, animal and bird species.
The environment is a fascinating one for those who have an interest in birdwatching, photography, painting or just enjoying a walk or cycle.
To help visitors enjoy the park area to the full, a number of facilities have been created, including purpose built hides for birdwatchers, and raised walkways to enable families to enjoy the open air environment, even when the winter rains make some of the ground level paths difficult to navigate.
For more detailed information about where to park etc, click Parque de Salinas y Arenales, or click here for more news, events and visiting information in San Pedro del Pinatar.
article_detail
article_detail
Contact Murcia Today: Editorial 966 260 896 / Office 968 018 268