The Geranium moth in Southern Spain
How to recognise and deal with the Geranium Moth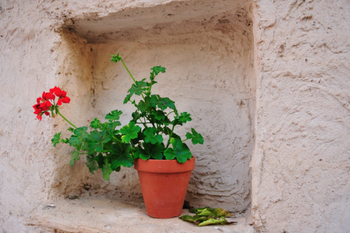 One of the great glories of Spanish gardening is the vibrant colour of Mediterranean plants, geraniums being a particular favourite amongst expats because of their hardy nature and generous displays of vibrantly coloured flowers. However, they're not immune to problems and over the years readers have asked many times how to deal with geranium problems, and more importantly, how to prevent them.
Recognising geranium moth
The "geranium moth" is an invader from Africa, with the scientific name of cacyreus marshalli, commonly known as the geranium bronze, which is around 20mm long. It´s attracted to the scent of the leaves, and lays eggs on the plant, the moths which subsequently hatch being the main problem.
Once the eggs hatch the caterpillars burrow inside the stem of the plant and the cycle begins all over again.
What are the symptoms?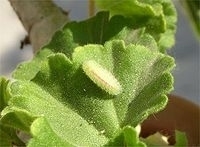 Plants are prone to attack during the hotter months of the year, ie June to September, so watch out for moths near the plants.
Inspect the plant closely if you think you may have a problem. You may see the small caterpillars which are pale green when they first hatch, then become darker in colour as they age. These burrow inside the stem, so small holes with a black ring around them are a telltale sign, and the plant is visibly weakened. If you break open the stem where the holes are visible, you´ll find the caterpillars inside.
The plant may also stop flowering and eventually the infested stems will rot off. Leaves often show visible signs of having been nibbled and the plant looks sick, it appears to be weak, sometimes the stems are shrivelled and the leaves are weak and floppy.
Cut out any stems which are infected and put in the bin, don´t compost them, and watch out for any signs of problems.
Which geraniums does it attack?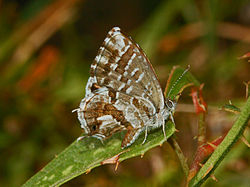 The most susceptible are those which have come from a greenhouse environment, as have most of the stock which is on sale in garden centres throughout southern Spain, surprising numbers of plants having come in from Dutch hothouses. Controlled environments promote abnormally vigorous growth, and the fleshy new growth is the most prone to attack.
All types of geranium (pelargonium) are vulnerable, but the most affected appears to be the fleshy, upright varieties of geranium and what are called zonal pelargoniums.
The ivy leaved and trailing varieties, and the crinkly leaved pelargoniums are less prone to attack, and some of the campo varieties which grow to enormous size in local gardens are rarely attacked.
Geraniums which are protected from external sources, ie most of my own are inside a patio area which has been netted off to keep out the flies are very rarely attacked, but those out in the main garden which have no defence are regularly demolished by geranium moths. Vigilance and rapid reaction when the problem becomes apparent is the key!
How to treat geranium moth.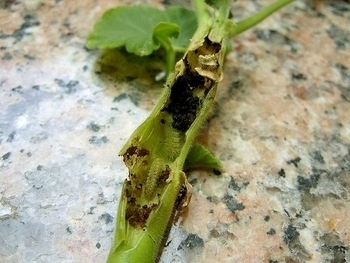 A variety of spray treatments is available from garden centres and agricultural suppliers. Checking through a variety of sources, the most common advice is not to be fooled by specialist high price geranium moth sprays which cost double the price of normal insecticides and are no more effective. Gardeners plagued by this problem recommend going to agricultural suppliers with the time honoured fashion of an infested plant part in a plastic bag, which will normally assure the best product at half of the price (normally a general insecticide, make sure you don´t buy something that kills every bug in the garden including the butterflies as many of them aid plant health) rather than buying a dedicated geranium moth spray from a garden centre.
It´s advised to spray preventatively on a weekly basis if living in an area where lots of people have geraniums, as the problem is more likely to be perpetuated by other people not treating their own plants.
Don´t spray in full sun to avoid burning the leaves but spray in the evening to avoid killing other pollinators.
Make your own spray!!!!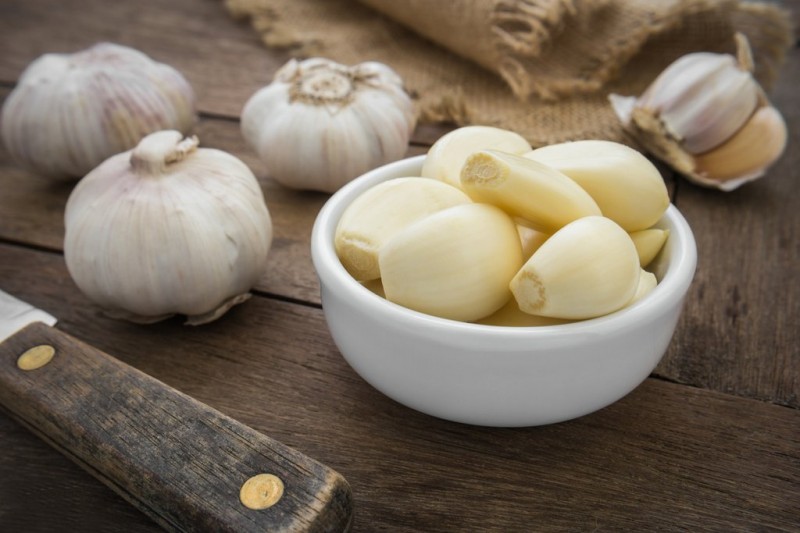 My own personal solution is the preparation of a strong garlic infusion, prepared by pouring boiling water onto a couple of peeled and crushed cloves of garlic and leaving it to steep. I normally crush a couple of fat cloves of garlic, add to boiling water, mash it up a bit and leave to cool. The resulting liquid is strained, than diluted and poured into an old spray bottle. As I'm personally very concerned about environmental issues, I re-use the spray bottles from commercial cleaning products which are just as good as anything purchased commercially. The resulting garlic flavoured water is effective sprayed onto the leaves of plants.
Vigilance is the key, along with regular spraying should there appear to be a problem.
Clear them out and buy some more!
Occasionally it's just not worth the fight if a plant has been absolutely destroyed by geranium moths. geraniums are so cheap, generally only a couple of euros each here, and it's just not worth fighting to save a plant if you only have one or two; just buy some more. If you have lots and have suffered a devastating attack from geranium moths, then cut the plants back hard to check for signs of internal infestation, remember to completely clear out all of the dead leaves from the pots and check carefully for any stray pests, spray the lot and be vigilant for signs that one or two may have survived the cull.
DO NOT COMPOST INFECTED PLANTS.
Follow Murcia Today on Facebook to keep up to date with all the latest news, events and information in the Murcia region: https://www.facebook.com/MurciaToday/
article_detail
article_detail
Contact Murcia Today: Editorial 966 260 896 / Office 968 018 268