The Datura Stramonium is a dangerous plant
The Datura stramonium or jimson weed grows throughout the Region of Murcia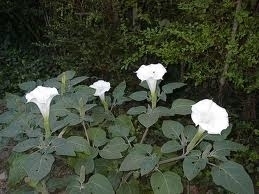 This week national Spanish TV carried a report about a plant which is worryingly common throughout the Region of Murcia, the Datura stramonium plant, also known as jimson weed, devils trumpet, stinkweed, devil´s cucumber and in South Africa as the mad seeds plant.
The news that this seemingly innocent white trumpeted flower with oval fruits covered in spiny shells can cause hallucinations, delirium and even coma or death in anyone who ingests them has provoked a flood of calls for them to be removed from public places and has resulted in many gardeners, ourselves included, ripping them out of their gardens and making sure no seeds remain on the ground nearby.
The TV on Monday night discussed the case of a boy who was seriously ill in Badajoz having eaten some leaves, and two children who died in Getafe after drinking seeds of the plant mixed into a liquid. The plant is a hallucinogen, so is tempting for those looking for a cheap thrill in an economic crisis, but as with most plants of this nature, extreme caution must be exercised.
One of the biggest problems with this plant is that it self-seeds so easily, and so profusely, each spiney ball shaped seed head filled with dozens of seeds. Even ripping out the parent plant does little to prevent the spread of these plants, as the following year they will grow and flower again at the same time of year and in the same place, the only effective way to deal with them completely being to rip out the young seedlings before they get chance to flower.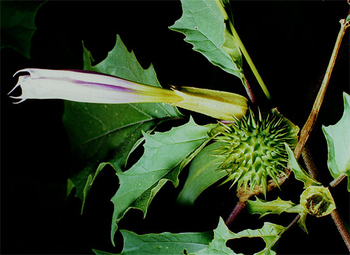 Soil quality is of no concern, as they flourish equally well in completely dry conditions on a south facing bed, and in rich soil in shaded corners. Note the different leaves on the 2 photos, the more heart shaped bluey green leaf is the most commonly found here, although the flowers and seed heads are virtually the same.
One of the most dangerous things about the plant is that it is so easily found in public places. Jimson weed is found all over the Region of Murcia in all kinds of places: on river banks, in stables, in rubbish dumps, on roadsides, in fact practically anywhere. You might even have some in your garden yourself!
The Regional Drug Observatory have expressed their concerns that having seen the reports on the TV, adventurous youngsters might seek out the plant in order to experiment with its consumption. This concern is expressed by the Director of the centre, Sr Cutillas, who is worried that the public may experiment with it to find out what type of visual hallucinations it causes. Hallucinogens, he says, are the sixth most used type of drug in the Region of Murcia, with 4.2% of the population having tried them at some point. They are not addictive because they bring no general sense of wellbeing, and this plant is not addictive, simply extremely toxic, but they can be dangerous because of the extensive damage they cause to the nervous system, which can be fatal.
So if you have them in your garden, and there are children or livestock around, rip them out, put them in a bag and scrape the seeds off the surface as well, as they can be extremely dangerous.
The jimson weed experience can be a bad trip, and a one-way trip at that!
A little bit of history relating to this plant
In the United States the plant is called jimson weed, or more rarely Jamestown weed; it got this name from the town of Jamestown, Virginia, where British soldiers were drugged with it while attempting to suppress Bacons Rebellion in 1676. They spent eleven days generally appearing to have gone insane. The excerpt below comes from a book written in 1705 by Robert Beverly and is a well documented incident.
The plant is believed to have arrived in America from the West Indies or Asia:
"The James-Town Weed (which resembles the Thorny Apple of Peru, and I take to be the plant so calld) is supposed to be one of the greatest coolers in the world. This being an early plant, was gatherd very young for a boild salad, by some of the soldiers sent thither to quell the rebellion of Bacon (1676); and some of them ate plentifully of it, the effect of which was a very pleasant comedy, for they turned natural fools upon it for several days: one would blow up a feather in the air; another would dart straws at it with much fury; and another, stark naked, was sitting up in a corner like a monkey, grinning and making mows [grimaces] at them; a fourth would fondly kiss and paw his companions, and sneer in their faces with a countenance more antic than any in a Dutch droll.
In this frantic condition they were confined, lest they should, in their folly, destroy themselves - though it was observed that all their actions were full of innocence and good nature. Indeed, they were not very cleanly; for they would have wallowed in their own excrements, if they had not been prevented. A thousand such simple tricks they played, and after eleven days returned themselves again, not remembering anything that had passed. - The History and Present State of Virginia, 1705"
article_detail
article_detail
Contact Murcia Today: Editorial 966 260 896 / Office 968 018 268