San Pedro del Pinatar Mud Bathing
Baños de Lodo, San Pedro del Pinatar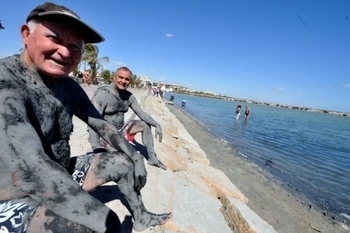 Las Charcas, San Pedro del Pinatar
Covering an area of 170km, the Mar Menor is the largest salt water lake in Europe, The water is only 7 metres deep at its lowest point, and is edged with kilometre after kilometre of sandy beaches sloping gently into the water, creating a shallow, sandy fringe, which warms to an extraordinary degree during the summer months. It is possible in many places to be 50 metres out from the shore, and still only be standing knee deep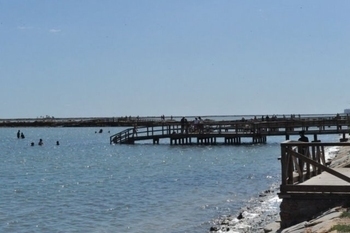 in the water.
Whilst the Mar Menor, is a popular location for leisure sports, fishing and beach holidays, its also known as the sea of health because of its warm waters, high salinity and healing muds.
The therapeutic properties of mud have been known since antiquity and used in both medical and beauty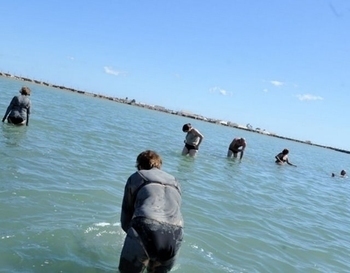 treatments for thousands of years. Special climatic conditions in the Mar Menor, and the surrounding salinas, have brought about clay deposits which contain a high percentage of positive ions, calcium, magnesium, potassium and fluoride, in addition to negative ions, chlorine and sulphate, which combine with extraordinarily fine sand to create a unique, healing mud.
This is found in abundance in several locations around the edges of the Mar Menor, namely Las Charcas, or the Baños de Lodo de lo Pagan in San Pedro del Pinatar, the Marchamalo salt flats at the southern end of La Manga and the salinas behind Playa Paraiso in La Manga del Mar Menor.
The Baños de Lodo are particularly recommended for arthritic conditions, rheumatism, broken bones and skin conditions, as well as being a beauty treatment used worldwide for many centuries.
Enjoying a mud bath in San Pedro del Pinatar.
The area called Las Charcas in San Pedro del Pinatar is the most famous, and in this area there are specially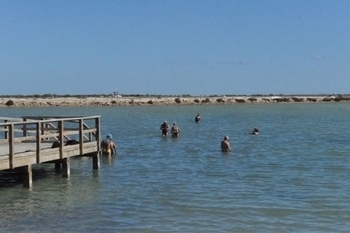 constructed mud bathing stations for those visiting and using the Baños de Lodo, baths of mud.
Las Charcas lies within the Parque Natural de Salinas y Arenales de San Pedro del Pinatar, and is separated from the Mar Menor by a thin strip of land which is paved and offers some degree of shade.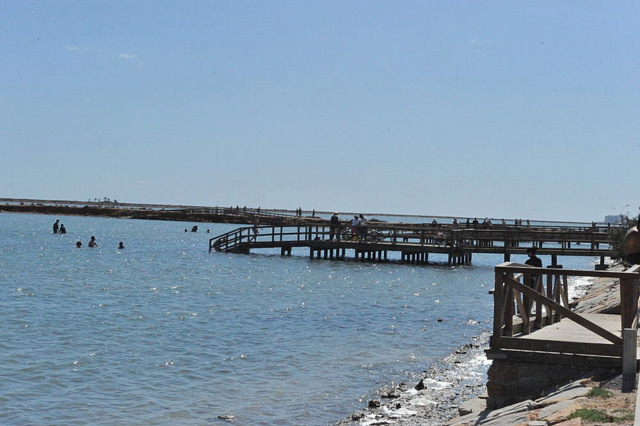 There is parking in the streets of the pedanía of Lo Pagán, but in the summer this can get very crowded , so another popular option is to hire a pushbike and park it in one of the parking racks provided.
Walking down from the Molino de Quintín, visitors are greeted by the sight of wooden bathing platforms jutting out into the sea. These simple structures have ladders down into the water, and the procedure is very simply walk down into the water, bend over, and push hands down into the mud beneath your feet.
The mud is fine and silky, charged with minerals and nutrients, and bathers simply coat themselves in the mud before walking out of the water and onto the paved area or beaches opposite to dry off.
It´s always advisable to test the mud on a small patch of skin if this is the first time enjoying a mud bath, as occasionally a reaction can be encountered.
Local legend says 9 baths will ensure perfect health
Local legend says that in order for the maximum benefit to be obtained from the treatment, bathers should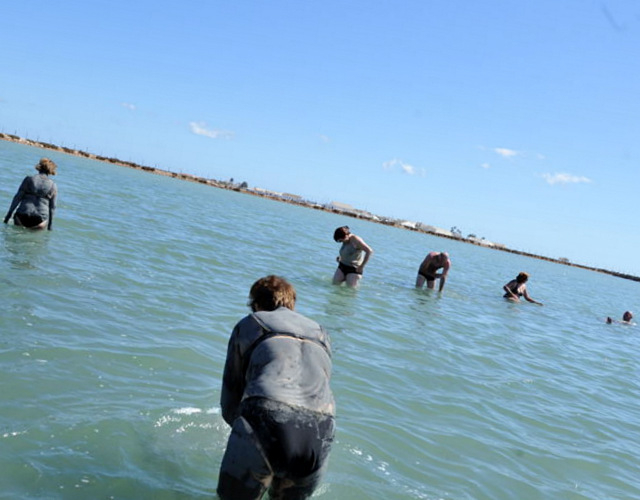 coat themselves in mud, then walk 3km down to the Molino de la Calcetera, before washing off the mud in the same place from which it was obtained, never in the Mar Menor itself.
They advise that this procedure should be carried out at least 9 times during the holiday break, and that if bathers are unable to complete 9 visits, they must ensure that the number of visits ends in an odd number!
This, according to the locals, is the secret to good health.
Practical advice for enjoying a mud bath
On a practical level, it is advisable to bathe when the weather is warmer, and if intending to walk down to the windmill, wear practical shoes, sunhat and glasses, and carry water, as 6km is a long way on a hot day.
It´s also an excellent idea to take a friend with a camera, as these are holiday snapshots well worth having and will be the envy of UK residents who are accustomed to paying obscene amounts of money for natural mud beauty treatments.
You, on the other hand, can enjoy this mud treatment for free!
If you would like a little more luxury, there are a number of more luxurious spa and health treatments available in San Pedro del Pinatar.

Where are the Baños de Lodo at San Pedro del Pinatar?
The nearest landmark is the Playa de la Mota, La Mota beach. The baths are located on the corner of this beach, close to the windmill.
Click for map, Mud baths, San Pedro del Pinatar
Click for more local San Pedro del Pinatar information

Other San Pedro del Pinatar Beaches
article_detail
.
.
Contact Murcia Today: Editorial 966 260 896 / Office 968 018 268