Date Published: 09/04/2021
ARCHIVED

- Recycled ocean plastics used for eco-friendly veg packaging by Torre Pacheco growers

The BIO range of Agromediterránea also includes courgettes, broccoli and iceberg lettuce
Awareness of plastics contamination in the world's seas and oceans has been raised significantly over the last few years, and in the municipality of Torre Pacheco various vegetable-growing companies are making ever greater efforts to ensure that their activities are as environmentally sustainable as possible.
One example of the progress being made concerns the company Agromediterránea, in Dolores de Pacheco, who for over 20 years have been growing their own crops and preparing vegetables while they are still in the fields after harvesting, This guarantees maximum freshness and more sustainable logistics, and the operations are managed from a local processing and distribution centre.
In addition, the company has recently begun using a new packing material developed from plastics recovered from the sea and from the coastline, and this is being introduced in the radishes sold under the brand name Sun&Vegs, with a BIO eco-label. The new plastic is the result of a collaboration with Prevented Ocean Plastic (POP), a group specializing in developing ways of re-using the plastic recovered from the marine and coastal environments, and at the same time Agromediterránea's commitment to sustainability is reflected in other packaging, such as the cardboard used to wrap courgettes and cellulose trays used for other products.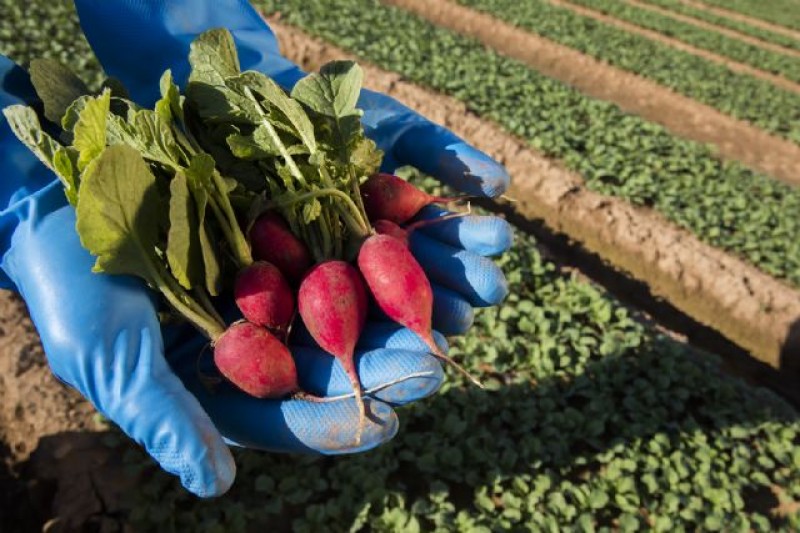 In 2020, Prevented Ocean Plastic reports that its operations resulted in the number of plastic bottles contaminating the seas and oceans of the world being reduced by over 830 million, and as a result of their techniques the new packaging for Agromediterránea's radishes is 100% re-usable R-PET with minimal micron rating. Equally innovative is the decision to package the radishes not in a bag or flow-pack but in a 200-gram jar with a lid, maintaining the product fresher for longer and making it easy to use.
This kind of innovation helps to contribute to the circular economy as well as reducing plastics pollution in the sea, and generates economic activity in the areas where the plastic is collected.
As well as radishes, the company currently offers three other fully ecological products in the BIO Sun&Vegs range, namely courgettes, broccoli and iceberg lettuce. These all grown all year round and are always supplied fully fresh from certified ecological crop fields.
And knowing that the packaging is helping to reduce marine contamination makes them even more attractive!!!!
Contact Murcia Today: Editorial 966 260 896 / Office 968 018 268