Cycling on the EuroVelo 8 route as it passes through Aguilas
One stage of 7,560-km route which runs from Cádiz to Cyprus ends in Águilas and the next sets out for Puerto de Mazarrón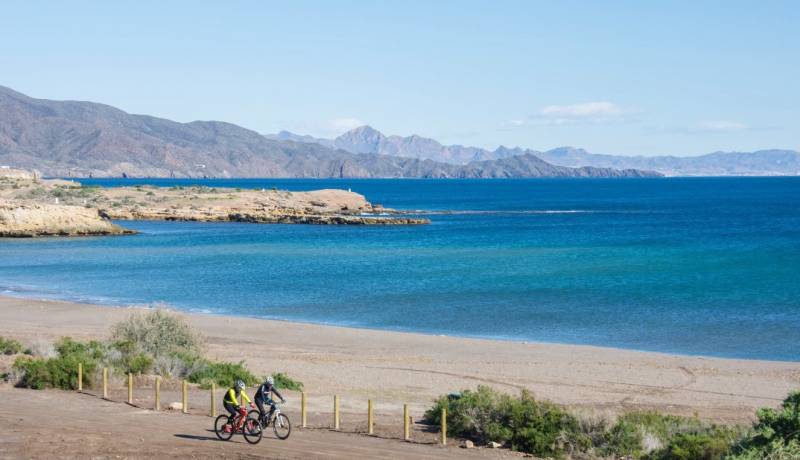 The Region of Murcia has long been a preferred destination for cycling holidays, the varied terrain attracting tourists from all over Europe 12 months a year, and its inclusion on the "EuroVelo 8" route, which runs a massive 7,560 kilometres from Cádiz in the south-west of Spain to Athens and Cyprus, is likely to further cement the reputation of the Costa Cálida in this field.
On its Spanish sections EuroVelo 8 ("the Mediterranean Route") broadly follows the path of the Via Augusta, the Roman road which linked the most important cities of Hispania to the centre of the Roman Empire 2,000 years ago. This is one of 17 routes which criss-cross the continent and have a total length of over 90,000 kilometres, and pedal power fans can of course dip into each route and ride just one stage as well as tackling entire international routes.
In setting up the EuroVelo scheme the EU's aim is to promote sustainable, healthy and active tourism, and two stages of EuroVelo 8 lie partly or wholly in the municipality of Águilas, accounting for a total distance of 80.7 kilometres and offering spectacular sea views, short but steep mountain climbs and visits to large towns and cities:
Stage 16: Villaricos - Águilas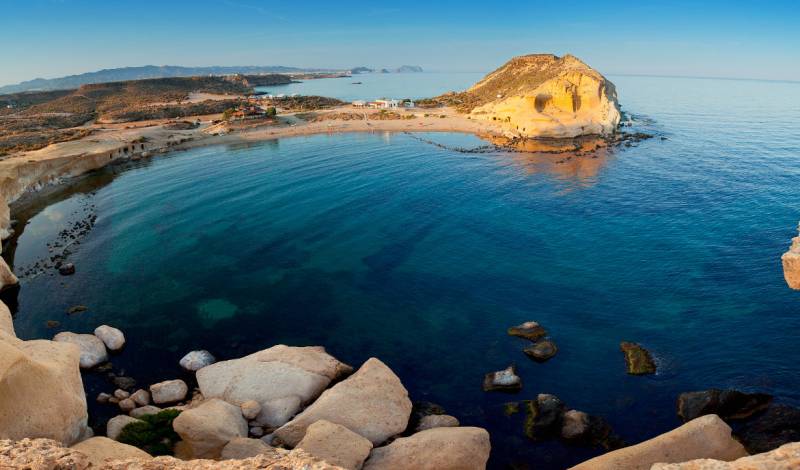 Image: SGS Images (Murcia Turística), Playa de los Cocedores
This 27.5-kilometre ride from Villaricos in the province of Almería ends with 6.4 kilometres in the south-west of the Region of Murcia, all of them following the coastline as riders approach the town of Águilas.
This route takes them through the protected area of Cuatro Calas, the beaches of Calarreona and La Cañada del Negro and into the town centre, ending at the tourist office.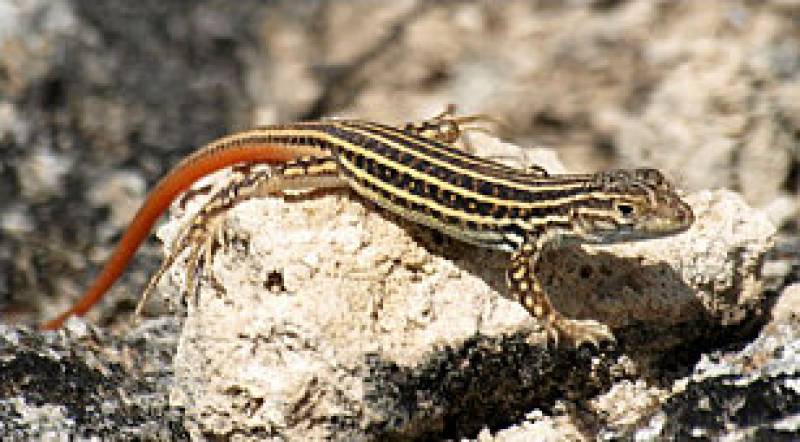 The four coves and beaches included in the protected Cuatro Calas area are Playa de los Cocedores, Playa de la Carolina, Playa Figuerica and Calarreona, and some of the species living here are found in very few other places in Europe.
These include plants such as Periploca laevigata ("cornicabra", or goat horn), jujube, sea daffodils, Launaea arborescens and types of hawthorn, while among the fauna are red-tailed spiny lizards, Bonelli's eagles and nightjars.
In addition this is an area of great geological interest and of high environmental value: click here for further information!
Once in Águilas, among the sights in the town centre recommended by the tourist office are the castle of San Juan de las Águilas, the Plaza de España, the municipal archaeological museum, the church of San José, the recently opened Carnival Museum, the Roman baths complex and the Casino.
Stage 17: Águilas - Puerto de Mazarrón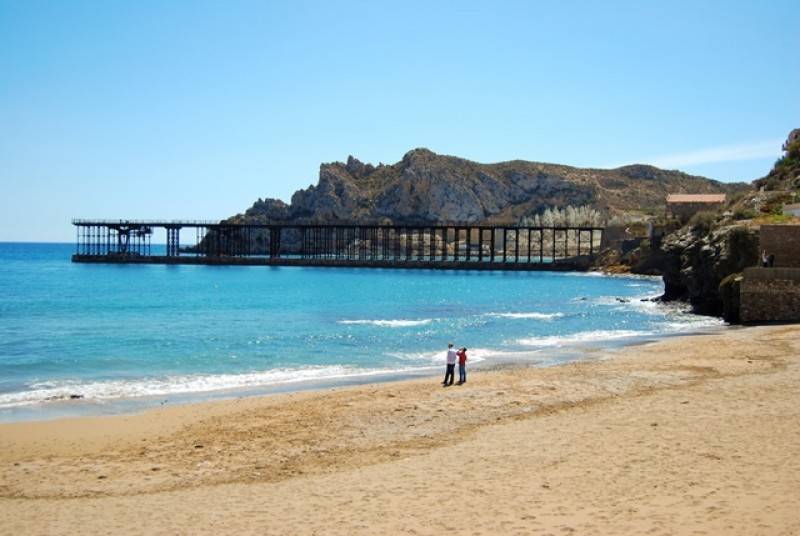 The following stage covers a distance of 53.2 kilometres and again follows the coastline as far as possible, passing the beach of Playa de las Delicias and then the residential areas of Todosol and Calabardina. From the imposing headland of Cabo Cope riders proceed to the municipality of Lorca in Puntas de Calnegre after veering inland, up and over the mountains, on the RM-D20 road which offers some of the most spectacular views in the Costa Cálida.
A stop to get your breath back after the 2.8-kilometre climb and take in the view is highly recommended!
Then it's time to enjoy the well-deserved 4-kilometre descent through Los Curas and on to Puntas de Calnegre, Punta de Percheles and the off-road path along the coastline towards Mazarrón.
Nearing Puerto de Mazarrón, flat terrain returns alongside the long, golden beach of Bolnuevo as the route heads towards the local tourist office and the end of the stage.
For more local information including news and upcoming events visit the home page of Águilas Today.
article_detail
Address
Tourist Information Office, Plaza de Antonio Cortijos, s/n. 30880-Aguilas
Tel: 968 493 285

Oficina de Turismo de Águilas
Águilas boasts 28 kilometres of coastline, with many fine, sandy beaches, sheltered coves and unspoilt natural beaches. It is a great summer favourite with Spanish holidaymakers, so always has a superb programme of concerts and activities throughout the summer, as well as the biggest carnival in the Region of Murcia, 40 days before Semana Santa (Easter.)
Throughout the year it also has a number of museums and historical attractions, a castle with fabulous views overlooking the bay and several other points of interest, all of which make it an good place to visit for days out. Throughout the year the tourist office runs monthly guided tours and the route of the railways, which explores the railway history of the town.
The tourist information office is located in the Plaza de Antonio Cortijos, just a short walk from the sea front and Plaza de España, a cool, shaded space in which to enjoy a coffee.
More information about Águilas including beaches, what to see, what's on and tourist information can be found on ÁGUILAS TODAY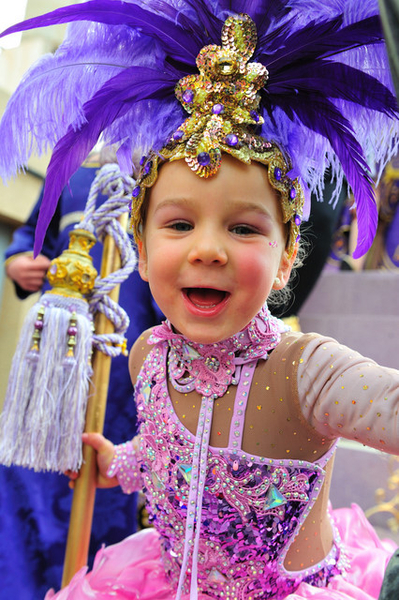 Opening Hours Tourism Office Águilas
16th September to 30th April 2019
Monday to Saturday: 10.00 to 14.00 and 17:00 to 19:00
Sundays and bank hollidays: 10.00 to 14.00 h.

CHRISTMAS
24th and December 31st: 10.00 to 14.00 h.
December 25th, 1st and 6th January: Closed

CARNIVAL
Carnival Saturday: 10.00 to 14.00 and from 17.00 to 20.00 h.
Carnival Sunday: 10.00 to 14.00 h.
Carnival Monday: 10.00 to 14.00 h.
Shrove Tuesday: 10.00 to 14.00 h.
Piñata Sunday: 10.00 to 14.00 h.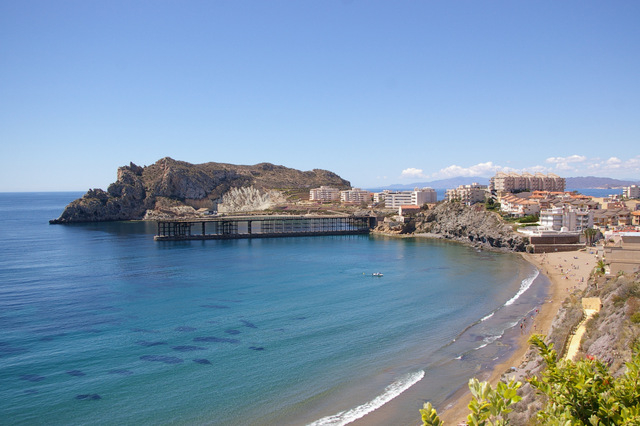 EASTER
Thursday and Friday: 10.00 to 14.00 h.

MAY, JUNE AND FIRST HALF OF SEPTEMBER
Monday to Friday: 09.00 to 14.00 and from 17.00 to 20.00 h.
Saturday: 10.00 to 14.00 and from 17.00 to 20.00 h.
Sundays: 10.00 to 14.00 h.

JULY AND AUGUST
Monday to Friday: 09.30 to 14.00 and from 17.00 to 21.00 h.
Saturday: 10.00 to 14.00 and from 17.00 to 21.00 h.
Sundays: 10.00 to 14.00 h.
article_detail
Contact Murcia Today: Editorial 966 260 896 / Office 968 018 268