Cartagena Spain, The Military Museum
Cartagena Spain, El Museo Militar
The Military museum, Cartagena Spain
Anyone with an interest in military history or weaponry could lose themselves in this museum for days, as it is absolutely bulging at the seams with all things military.
There are vast displays of weapons, ranging from cannons, anti-aircraft guns, shore battery guns, projectiles, hand weapons, swords, knives, bullets and all manner of military equipment, uniforms, documentation, flags, civil war equipment and on and on and on.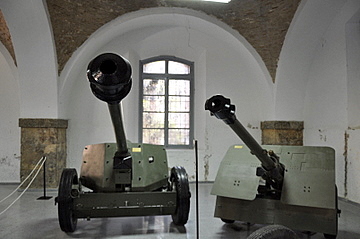 Theres even the worlds largest private collection of military models, complete with their Guinness world Record certificate, all 1579 of them.
It really is a treasure trove.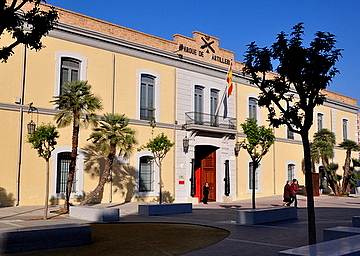 Cartagena has such a rich military history , existing as a fortified city as far back as 250 BC, its sheltered port offering protection from the seas and in a strategic trading position for exports from the region, so has been fought over frequently, the fortifications built throughout the centuries put to good use many occasions.
By the 17th century it had developed an extensive protective system , with many military buildings constructed in the city during the 18th century, and in the 1860s the entire defenses of the city were re-modelled under the Plan de Defensa 1860, known as the plan ODonnell.
However, within a few years, technology had moved on and the existing fortifications were obsolete, so all were re-modelled and re-fitted with the latest weaponry, then the last big re-fit took place following the Plan de defensa of 1926.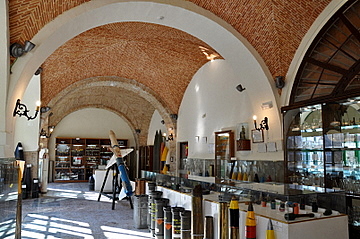 The batteries and fortifications surrounding Cartagena mainly date from these 2 major construction projects, although there are many much older towers and observation posts along the coast
Looking around Cartagena today, its hard to believe how many conflicts it has been through and the amount of times it has been forced to re-build and re-invent itself.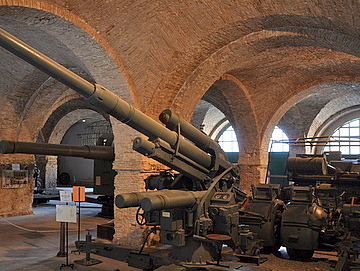 Its nothing short of a miracle that the beautiful building which houses the museum today is still standing at all. Even if you have no real interest in military history, it is well worth visiting to see the beautiful vaulted ceilings, built with brick on spherical pillars, in a simple Byzantine style, which of course was hijacked in the gothic movement, so today is known as neo-classical gothic. It doesnt matter what theyre called, theyre beautiful and well worth the effort to visit, although they were built as being not only decorative, but practical, the structure allowing air to circulate in what would have been workshops.
Originally completed in 1786, what you see today was part of a much larger structure, part of a massive building programme in the city throughout the 18th century.. Spain went through a tumultuous period of civil conflicts during the 19th and early 20th century, one part of which resulted in the siege of Cartagena in the years of 1873-1874 , one side wishing to centralize Spanish government to a greater degree, and the other, which included Cartagena, fighting for a greater level of autonomous self-government.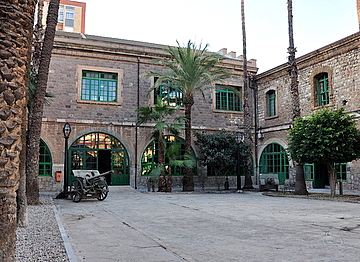 In a bizarre fashion its still happening today, as even though Spain has a central government, the autonomous regions still wield considerable powers, yet there are many who still fight for independence, the basque separatists amongst them, and the name of ETA will probably be familiar to most.
Anyway, the siege virtually destroyed Cartagena, leaving just 17 buildings standing, this one amongst them, but even this was very badly damaged when a single shot landed in the explosives store and an enormous explosion flattened much of what formerly existed .
There is actually a little memorial of this damage still embedded in the west wall of the courtyard, and you can see the hole in the wall which has been left for posterity.
There is an excellent leaflet in English which you can pick up at the entrance to the building which will take you through the museum room by room, giving a little history and mentioning some of the most important pieces housed here.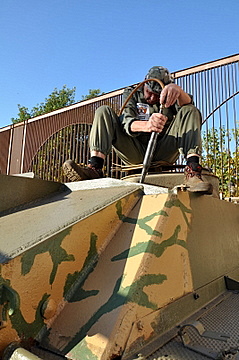 Its been translated into English by one of the British volunteers working in the museum, the presence of whom make a visit to this museum so special for those with a genuine interest in military history.
For the last few years, a number of ex-pats, resident in the area, have worked at the museum as volunteers, alongside local Spanish volunteers, stripping back the equipment and restoring it, cleaning and maintaining the museum, rebuilding pieces and showing interested visitors around the site.
On the day we visited, volunteers were busy working on a tank outside, and stripping down an early computer, which had been used by the army for calculating firing ranges, and were delighted to show us around and talk about the pieces they had worked on.
The task is endless, as equipment is in constant need of maintenance, repair and cleaning, as well as there being a huge pile of donated items requiring attention.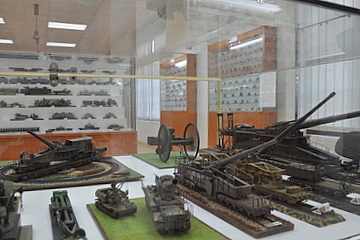 The volunteers give as little or as much time as they wish, and would be happy to show visitors around personally , or welcome new volunteers to the museum, particularly anyone with a mechanical or engineering background, as there are many items awaiting a bit of TLC.
To read a bit more about what they do, or to arrange to visit the museum with an English speaking volunteer, click Volunteers, Museo Militar
The museum also offers talks about the military history of Cartagena (in Spanish) and is supported by a Spanish group of military enthusiasts who are dedicated to restoring the military history of Cartagena. They are called AFORCA, Amigos Veteranos de los Castillos Cartageneros, sus fortalezas, Murallas, Viejas Torres y Baterias, and can be contacted on www.aforca.org
From time to time free concerts are also held in the courtyard, so keep an eye out in Whats on for those.
Practical information for visiting the Military Museum, Cartagena Spain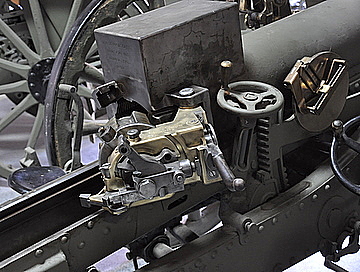 Practicalities.
The museum is located at
Calle Lopez Pinto S/N
Click for map, Calle López Pinto
Tel: 968 501300
Opening Times
10am-1.30pm Monday- Friday
Entry; Free of charge
Disabled Access
Downstairs is no problem for a wheelchair, and lots of the best artillery pieces are located there, however, many of the smaller models and military memorabilia are upstairs and there is no lift.
However, its still a manageable visit for someone in a wheelchair as there is plenty to see on the ground level, and if you call one of the volunteers in advance, they will probably arrange for you to park inside the museum grounds, which will make things a lot easier.
Would we recommend it?
Absolutely. It was a lovely morning out, Mike, our guide, couldnt have been more helpful and it was not only really interesting to understand more about Cartagenas military history, but experience the genuine enthusiasm and dedication of the volunteers, both English and Spanish.
And there are a couple of nice, atmospheric restaurants and coffee bars around the corner in the Plaza for an enjoyable menu del dia or coffee after the visit. Around 11 euros for a menu, but the surroundings are gorgeous, so its well worth it
.
article_detail
article_detail
Contact Murcia Today: Editorial 966 260 896 / Office 968 018 268