Date Published: 25/10/2013
ARCHIVED

- Weekly Bulletin week ending 3rd November
Lead story : Spanish cigarette sales in freefall, but is Gibraltar border smuggling really to blame as the media claim? Click for our good weekend read, Cigarettes in freefall.
Murcia What's on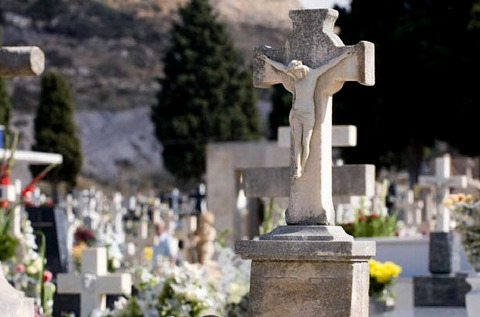 Next week is All Saints day on the 31st and All Souls Day on Friday 1st November, which is a national bank holiday, so many families will take this weekend as a mini holiday break. This is very much a family occasion and is an important time for families to visit the graves of their loved ones, and gather together to remember, so candles and flowers will be much in evidence during the coming week. Activities for next weekend are very much family orientated as a result, and there is little in the way of major events other than spooky trips to places of historic interest.
These include the guided night-time visits to Águilas castle or the nights of the witches in Lorca castle. Terra Natura in Murcia also has special Halloween workshops and events with free entry for kids in Halloween costume.
This weekend Jazz continues at San Pedro del Pinatar with the Yara Bailison Trio, followed by a family educational event at lunchtime on Sunday with the Kalima Trio and next week the Cartagena Jazz Festival begins, so tickets are on sale for that event now.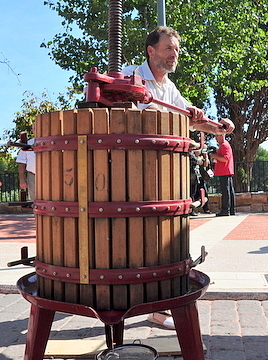 There's also a display of classic motorbikes at San Javier and a bit of a boozy bash going on in Cartagena with the Oktoberfest
The major shopping event of the weekend is at the IFEPA showground in Torre Pacheco where Hecho a Mano is taking place, a large scale craft fair event with a wide variety of artisan products on sale, demonstrations of regional dance and artisan skills and of course, Murcian gastronomical treats. The winter artisan fairs El Mesoncico also resume in Cehegín, Blanca and at the sanctuary of La Santa in Totana.
There's a free choral concert in Alhama de Murcia, lively dance with the Camut band in Cartagena, an electric guitar orchestra in Murcia, and classical music in the church of San Juan de Dios, also in Murcia.
Early next week there's also ballet in Murcia with 2 nights of Swan Lake on the 28th and 29th October and a raft of expat parties on the 31st.
Readers may find the Daily Events Diary a useful tool. Located in the header bar at the top of every page, this is a search facility to see what's on day by day, just click on a date to see all events or narrow the search to an area by using the search boxes.
Murcia Active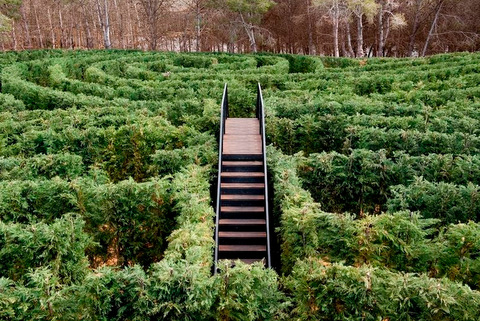 Unfortunately we've just received news that all of the Moratalla walking routes for the remainder of the year have been cancelled due to the ill health of the guide.
However, routes continue in the Sierra Espuña with the Mariposa walks, now offering a shorter route and a real yomp for big walkers and Mazarrón has come into the frame this autumn with a new free routes programme, the first being a 4 hour walk on the 2nd November.
There's also a free surfing activity this weekend in Mazarrón for youngsters who are interested in learning to surf.
We´ve also uncovered a new attraction this week in Cartagena in the form of a maze and children's adventure park which offers a gentler form of entertainment with a large scale maze and hair raising zipline and overhead walks for those with more energy.
Murcia News
The airport continues to obsess the regional press, the Minister for Transport successfully side stepping questions in parliament about the progress of negotiations, the courts allowing the regional government to conclude its inventory but leaving the former concessionary in situ and President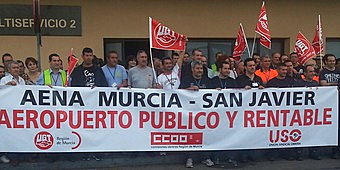 Valcárcel admitting that the ex-concessionary wasn´t making things easy for the regional government, although he wouldn´t rule out working with them again in the future. Meanwhile the unions have started their threatened "fuss" and at a meeting this week have announced that they intend to draw up a report to show why San Javier should remain open and Corvera should never open.
So best book flights for San Javier or El Altet in the foreseeable future then!
The row over the closure of Emergencies at the Rosell hospital continues, as Cartagena council passes a resolution demanding answers from the regional government, then the new boss of the health area announces a political compromise, "the emergencies service at the Rosell is not closing, but is transferring to the Santa Lucia- " Which translates as, "The Rosell emergencies service will close. "
Gas inspection scammers are back in the region, so please take time to read the information relating to how these scammers operate as it may prevent readers from being ripped off, tourism figures have been the best for some considerable time, and property prices continue to fall, although conversely, this just makes the region and Spain more attractive for bargain hunters.
Introducing Valencia Today
In response to reader requests, the new Valencia Today site has been set live this week, offering a more extensive coverage of the Valencia region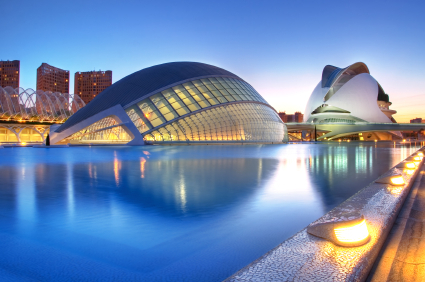 for readers across the border. The site follows exactly the same structure as Murcia Today and as it builds will incorporate the same volumes of static material, where to go, what's on and local news. Due to the sheer scale of the Valencia region, this will take some time, and we would very much like to receive local content from charities, sporting associations and clubs and expat groups, in the same way as for Murcia, so please feel free to submit reports, and forthcoming events for inclusion using the contact link on the top header of every page.
The site can be accessed via www.valenciatoday.es or via the Spanish News site www.spanishnewstoday.com which links from the Murcia today homepage. Click on Valencia Today from the toolbar. From next week on, separate bulletins will be sent for these 2 sites, focusing the subject matter on local interest so if you would like to receive these separately, please sign up on the sites.
Spanish news this week
The big story this week has been a court ruling by the European Court of Human Justice which has overturned what's known as the "Parot Doctrine"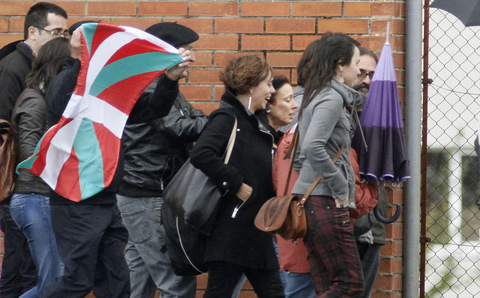 an amendment to legislation used by the Spanish government to keep multiple murderers and terrorists behind bars for longer than the established 30 years which constitutes a maximum life sentence in Spain. This has forced the government to release convicted ETA terrorists, the British government has also released an ETA terrorist held in the UK, and last night the first multiple rapist was also released from jail. The situation has caused uproar, families of the victims angry, incredulous and frightened that after a 2 year ETA ceasefire, the violence and murders will start again, 55 terrorists entitled to immediate release as a direct consequence of this European court ruling.
Protest has been widespread this week, 3 days of protest against cuts and changes to the education system culminated in an education strike yesterday, and this weekend protests against the ETA releases will swell those against cuts in the health service.
Tourism figures released this week have shown that Spain continues to enjoy a bumper year for tourism, and economic figures have shown that the country technically came out of recession in the third quarter, injecting a little positivity after a week in which house prices continued to fall, and the active population survey showed that 1.8 million homes in Spain still have all their members unemployed.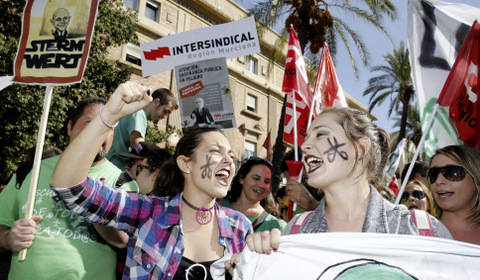 We´ve also had plenty to keep police busy, with saffron theft in Albacete, taxi wars due to erupt in Alicante airport, Somali pirates apprehended, and dumb thieves providing a useful security tip to protect i-phones after taking pictures of themselves which were uploaded onto cloud storage.
Finally, the UK government has warned expats not to lose out on their pension and benefit payments, and will be contacting many of you by post……… in the same week as Correos decides to stop delivering in some rural areas due to a downturn in revenue and staff cuts. More will follow, and nobody wants the anguish suffered by expats in Almería, so now could be a good time for those in rural areas to think about taking out that post box at the post office and be prepared for the inevitable.
If you like what we do, please support us by passing this on. This entire product depends on advertising revenue, stubborn determination and the support of its English speaking readers. Thank you for your support.
Murcia Classifieds

Why not give Murcia Classifieds a try?
It,s FREE up to €500 for non commercial ads.

Click on an item or Read More to view full dtails

Contact Murcia Today: Editorial 966 260 896 / Office 968 018 268