Date Published: 19/10/2015
ARCHIVED

- Murcian and Spanish news weekly round-up 18th October
Flu jab season begins, regional budget gridlocked by mayorial indictment and Murcia property sales back on a positive course
This week began with a Bank Holiday on Monday and although most of Spain spent the day relaxing at home, it turned into a fairly traumatic day for the Ed when her favourite cat had to be rushed down to the vet and unfortunately put to sleep, hence the lack of enthusiasm for completing the bulletin last week, so apologies, and many thanks to Paco in the Puerto de Mazarrón Clinica Veterinario for giving up his Bank Holiday to try and save McVitie.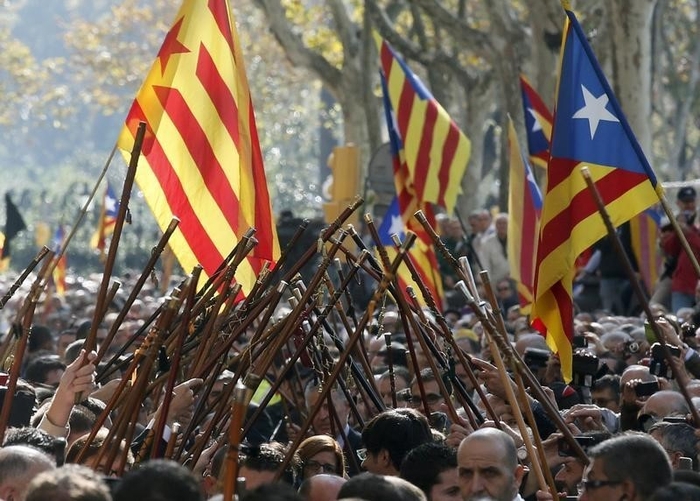 Elsewhere, the regional president spent the day in Madrid attending the annual National day of Spain celebrations, and although the national press dutifully published pictures of the Royal Family watching the flypast and military procession, editors were only interested in the political turbulence bubbling around the reception at the palace afterwards. As is normal, an invitation to attend was rebuffed by all the key players in the independence debates, with Catalan premier Artur Mas, and the presidents of both Navarra and the Basque Country all declining the invitation due to their separatist agendas, but a surprise rebuttal came from the leader of Podemos, who rather churlishly declined the invitation, leaving the photo opportunities for his main rival in the run-up to the Spanish General Election in December to Ciudadanos (C's), the main opponent for Podemos, who are currently starting to hurt them in the opinion polls. Our regional president is PP, and there are no problems in that department with loyalty to the monarchy, although here at home it's been rather a turbulent week due to the power wielded by C's in our own regional parliament.
During the May elections the PP suffered several major losses nationwide, and was weakened in a good number of local municipal councils as well as at a regional level where it was forced into pacting in order to form governments.
Here in Murcia the PP was one representative short of a majority, so was forced into reaching an agreement with C's, in order to govern, having to accept some difficult compromises, amongst which was the subject of indictments. The PP was obliged to clear its bank of Mayors and regional representatives of anyone indicted in a court case and keep it that way throughout their 4 year term in office in order to secure the voting support of C's in the regional parliament.
This agreement hit the immovable determination of C's to maintain it this week, when the regional government was forced to cancel the scheduled debate and vote in the regional parliament to agree regional expenditure for 2016 because of not only the ongoing problem in the Mazarrón municipality in which the Mayoress (PP) had formed a pact to govern with three other parties ( three members of which were indicted, although it must be stressed, not the PP members of the council) but also a new problem which arose in Torre Pacheco.
The Mazarrón problem was partly resolved when 2 out of 3 indicted councillors resigned, with the third anticipating his case will be cleared up this week, but in Torre Pacheco the Mayoress was indicted this week in a dispute over the appointment of a temporary Town Hall financial controller, when the post became vacant following the trial of the former controller along with that of the former Mayor for perjury and illegally adjudicating public works contracts.
She refuses to step down, maintaining that the case brought against her is just sour grapes by a disgruntled employee who considered themself to be more qualified for the job than the person to whom it was awarded, and that she hasn´t committed any wrongdoing. C's however, maintain that as the case has now entered the courts she must resign. The PP cancelled the debate not wishing to risk losing due to insufficient votes, hoping to achieve a voting pact elsewhere before the debate is rescheduled.
Other storms rumbled over the region for a couple of days earlier in the week as the tail end of Hurricane Joaquin rattled a few windows, although temperatures remained in the 20's throughout the week in most of the region, only dropping down overnight.
Many international visitors and part-time residents visit Murcia in the autumn as temperatures are just so much more comfortable than during the heat of summer, while thoughts have turned to the next tourist year as we enter trade fair season.
During the last couple of weeks our regional tourism authorities have been off on the annual trade-fair circuit, one stop-off being Tenerife at one of the major golf tourism events. The regional government maintains that foreign national (that's us!) golf tourists contributed 212 million euros to the regional economy last year, and of course,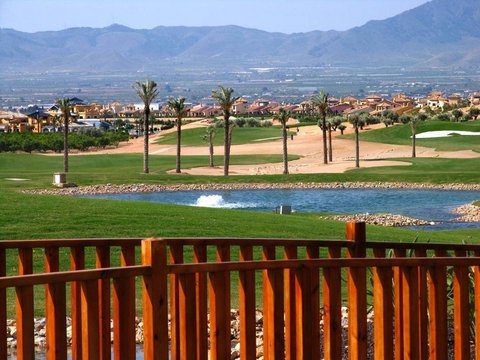 the major part of golf tourists were British. They've also been in Ireland hunting for "active senior tourists", another market worth quite a lot of money. Apparently there were 30,000 "senior tourists" officially recorded as having visited the region last year, but this is just the tip of the iceberg as far as this potentially lucrative market goes, so having wooed the tour companies with a few freebie trips in the Spring, the tourist board are hoping for some concrete bookings. The Irish themselves are also a much under-exploited marketplace, and just over 25,000 Irish tourists have been to Murcia so far this year. Last year they managed to spend 24 million euros here, just a fraction of the 1.18 billion euros they spent across the country, so again represent a potentially highly lucrative development market for the Murcia region.
Another market they're chasing is the diving market, where yet again the British lead the numbers visiting the Murcia Region, and are heading for the Birmingham Dive Show to lure more divers here to Murcia (providing there are enough flights coming into the airport of course.) A million euros has also been committed to improving the Mar de Cristal marina.
All of the marketing noise and hype about promoting the Region is of little real benefit to Murcian businesses unless those tourists actually book flights and come here, but slowly, slowly the regional government crunches through the processes to open Corvera airport and hopefully pull back some of the flights which have been lost to Alicante. This has been a slightly sensitive subject this week as air traffic stats for September have come out, showing that while Spain nationally has enjoyed a record-breaking month, traffic at San Javier has fallen again, Alicante airport picking up the passengers to record the best September ever itself.
For residents this makes opening Corvera even more important in order to try and give Murcia an extra boost, and with a positive court outcome clearing away one of the obstacles to opening the airport last week, this week the government continued work on the Business Plan which they now say should be completed by the end of December. Work also began in the regional assembly by the commission investigating the whole process of the region's involvement in this airport project.
Also sliding back into the news was Jesús Samper, promotor of the proposed Paramount Park, who claims all is not lost and he hasn´t yet given up hope of finding financing for the park which should have opened this summer but remains stuck in the planning stages. Had the entwined subjects of theme park and airport not been quite so problematic both might have been open by now as was planned by the former regional tourism minister, but as it is, Murcian businesses are still awaiting the promised tourist influx and the solitary stone laid to start the theme park languishes in a dust bowl.
However, Murcia doesn´t depend on the park for its tourists and in Cartagena the decision has been taken to ask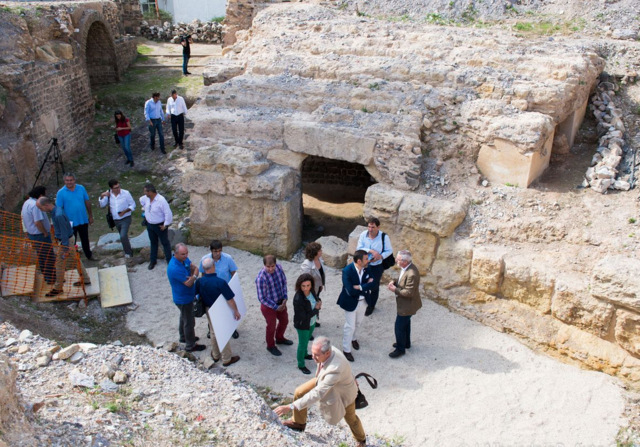 for funds from the European Union to help develop the former Roman Ampitheatre site into a more extensive tourist attraction now that plans have been shelved to make it into yet another modern art museum. Also under the spotlight in Cartagena is the extensive site which is appearing beneath the Plaza de la Mercedes in front of the MURAM, which holds interesting remains dating from the period just before Cartagena was invaded by the Romans. At this point in history Hannibal, who lived in the city, had disappeared off across the Alps on his famous epic journey with an army including fighting elephants to attack Rome itself, leaving the door wide open for a Roman army to advance along the coast from their strongholds in modern day Cataluña and take the city.
The rest, as they say, is history!
Another interesting period in Murcian history was the Middle Ages, the family being synonymous with Mediaeval Murcia being the Fajardos, who later became the Marqueses de los Vélez and are responsible for several of the castles which still dot prominent hillsides around the region. One of these is Mula castle which was the focal point of attention last weekend as the local townspeople fight to regain ownership of the castle from the modern descendants of the family who have no interest in maintaining the castle and are allowing it to fall apart while refusing to sell it to the town so that it can be rehabilitated as a tourist attraction. It's one of these typical Spanish inheritance situations, with too many people all owning a part of the pie and while some are prepared to compromise, others aren't. However, there is a legal responsibility to maintain monuments and the pressure is now on to achieve a settlement as the townspeople get behind the campaign to find a solution en-masse.
Lorca is also working to maximise its Mediaeval heritage, and is busy ripping apart its best car parking area by the Convento de la Merced to improve it, at a cost of nearly half a million euros. As a result of this, the tourist office inside the convent has been temporarily closed and is now just a couple of minutes' walk from its normal location in the new stretch of wall which has been rebuilt next to the convent, so if you're heading to Lorca, drive into the city centre and look for a parking space instead. Meanwhile the CHS has been clearing out the river in Mula as although our neighbours in Alicante had some heavy storms earlier in the week the risk of Gota Fría isn´t over as the Med is still relatively warm.
However, one of the most important tourism markets for Murcia, the "residential tourists" market is once again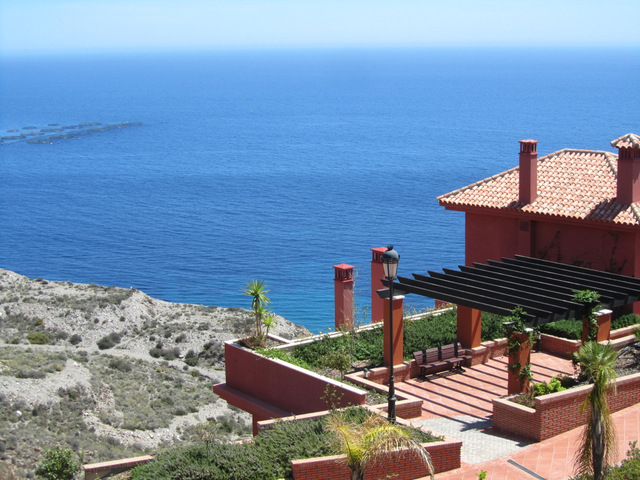 starting to show signs of life and August was the best month for property sales for some considerable time here in the Murcia region, with property sales figures out at the end of last week showing residential property sales up a whopping 49% against August 2014.
Murcia is taking longer to recovery from the property slump than neighbouring Alicante, and prices are still falling here, but of course, while this is bad news for those trying to sell, it means there are some real bargains for buyers. One property deal that has been in the news is the purchase of 50 properties and building land on the La Manga Club, the region's flagship golf resort, although the Sareb has also said this week that it's now willing to consider splitting up the bulk blocks of assets it inherited from the IRM Group, which in turn had acquired them in lieu of debt repayments from the banks owed money by the Polaris World Group. The assets include hotels and golf courses as well as residential and commercial properties on their residential tourism resorts in the Torre Pacheco municipality.
To see a selection of properties for sale or rent across the region, from a wide range of agents and private vendors, go to www.murciapropertypage.com
Health back in the news this week
There have been a couple of interesting stories relating to the regional health service this week, something which is always a source of interest for those considering moving to a new area and are keen to ensure their needs will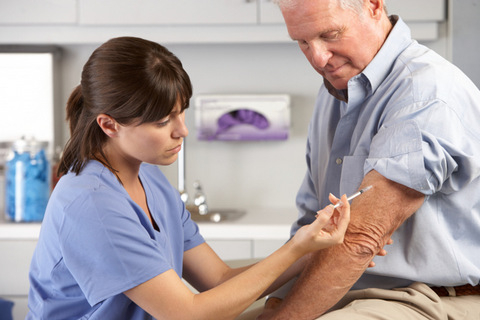 be met. At the end of last week the regional government announced that it is intending to spend 1.5 million euros updating the computer network in health centres and consultorios around the region, as well as providing tablets for the medical staff who move between centres. The regional government is also taking steps to reduce waiting lists and will be undertaking a blitz on non-urgent operations ( things like varicose veins and cataracts), all of which are considered to be low-risk operations, by contracting operations out to private medical providers and undertaking evening operations to clear the backlog before Christmas. 3,000 patients can expect to receive treatment under this scheme.
This coming week the autumn flu vaccination programme begins in health centres across the region, so if you're entitled to receive a free flu jab, make sure you book up at your local health centre to get yours done. If you're not entitled to a free jab, don´t forget that you can buy flu vaccinations across the counter at pharmacists in Spain for just a few euros, so if you work in a job with a high level of exposure to the coughing public it's well worth paying to avoid a nasty dose of flu.
Another group of individuals who can now look forward to receiving medical care are the illegal immigrants who make it across into Spain and which the government is unable to repatriate. It's a difficult system to understand fully, as these individuals are simply allowed to remain in Spain, but aren't given any right to work or allowed to seek legal employment. This leaves them in a social abyss, as they can´t register and work, so can´t pay into the social security system and receive medical care along with those who pay their contributions. They can, however, register as residents of the region and become listed on the municipal Padrón. In 2012 the central government passed legislation denying them medical care other than in exceptional circumstances, but there is now to be a relaxation in the rules and many of them will be legally able to now seek healthcare under the health service.
This week illegal immigrants managed to reach the Murcian coastline by small dinghy, which is unusual, and a case of smugglers charging these desperate migrants 500 euros each to get to our coastline also came to court.
We've also had a couple of less savoury incidents, with a 27 year old found shot dead on a Cartagena hillside and the death in custody of one of the 6 policemen implicated in the death of a man found dead in Cala Cortina in Cartagena last year. The six officers arrested have been held in preventative prison for a year now and their families claim no proof has yet been presented that he was killed by them in spite of the fact that he is believed to have been driven to the location where he died in a police vehicle.

Spanish property news round-up this week
Everything continues to point to stability in the Spanish real estate market
Hot news in the Spanish property market this week has been relatively thin on the ground, providing some relief from the stream of statistical reports and surveys which month after month provide more evidence that real estate in Spain is gradually becoming a viable investment proposition once again.
Instead of sales, most of the focus over the last few days appears to have been on the rental market, which has also been affected by the general housing slump since 2007. At one point, before Spain's long economic crisis began, the average price of residential rentals reached over 10€ per square metre, but the latest figures produced by Fotocasa conclude that this figure has now dropped to 7.02€, despite a rise of 4% over the last twelve months. This does not indicate rapid inflation or depreciation, and fluctuations around stability are to be expected: in the third quarter, for example, the average is reported to have fallen by 0.7%.
Few with any insight into Spanish property will be surprised to hear that the highest average rental of 12.33€ per square metre is to be found in Barcelona, but alongside such illustrious company it's nice to see the small town of Olías del Rey in Toledo enjoying a moment in the spotlight as the cheapest place to rent in Spain, at 2.59€/m2.
The Fotocasa bulletin was not the only one this week regarding rental prices. The country's central statistics unit reports a fall of 0.4% in the average cost of renting residential property (although pointing out at the same time that negative inflation of 0.9% actually makes renting slightly more expensive in relative terms), and a separate survey looking at single room rentals finds an increase of 4% in the prices over the last year. In general, though, all of these slightly positive or slightly negative trends point to one thing: stability.
In fact, stability is becoming something of a watchword as regards Spanish property of late: after all, is that not what the market craved during the seemingly endless seven-year downward spiral? For anyone who is worried that another boom-and-bust cycle may begin if the market bounces back too sharply, the analysts at Grupo Inmobiliario RTV provided a word of reassurance earlier this week with a report which concludes that a natural in-built ceiling is present on any upward trend which might emerge regarding sales figures or prices in the near future.
Certainly, according to managing director Vicenç Ramón Tur, investors are attracted to Spain at the moment as they take advantage of what are perceived as bargain prices, and homebuyers who may have put off their purchases a couple of years ago are also boosting the figures as their confidence in the market grows and interest rates continue close to record low levels. But growth will be limited by the difficulties still faced by first-time buyers in climbing onto the first rung of the property ladder, as their own job insecurity continues to make them unable or unwilling to make long-term financial commitments and reduces their creditworthiness when seeking a mortgage.
In one sense this is a shortcoming of the Spanish real estate market at present: sales figures may rise and prices may have stopped falling, but of what use is this to society if young Spaniards cannot afford to buy a property in their own country? On the other hand, though, from a foreign investors' point of view, it provides some comfort: while spectacular capital gains may be improbable over the next few years, equally unlikely is the possibility of negative equity brought about by sudden drastic fluctuations in the market, and a steady appreciation in value of real estate assets is a far more likely scenario.
Another indication of the residual difficulties faced by the market after the bursting of the property bubble came in the Region of Murcia, where bad bank Sareb has tested the water and decided that the time is still not right to sell off the property portfolio it has inherited (indirectly) from Polaris World. Sareb is currently making an average of 31 sales per day, most of them to individual buyers, but the Polaris portfolio is still too large a mouthful for any investor to chew, according to the bank's analysts. Just as well they have until 2027 to offload the assets on their books…
To see a wide range of properties for sale across Spain, go to www.spanishpropertypage.com
To see a wide range of properties for sale or rent in the Region of Murcia from a number of agents and private vendors: go to www.murciapropertypage.com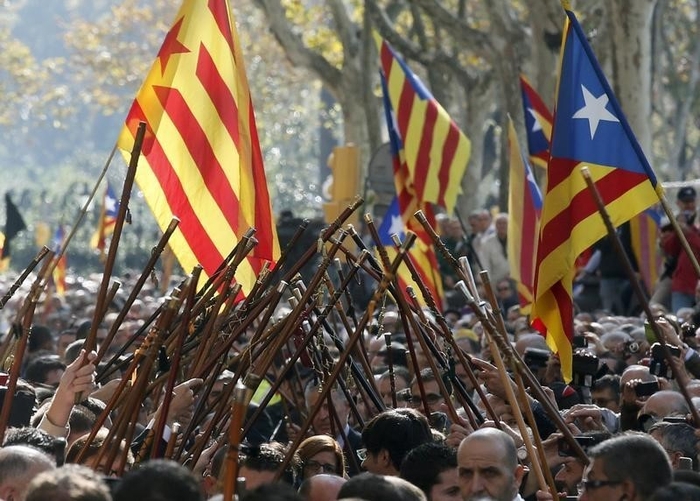 Spanish national news round-up
This week the Catalan independence issue has refused to stay out of the headlines. As detailed above, the refusal of regional Catalan president Artur Mas to attend the annual Spanish National Day celebrations in Madrid is nothing new, but this week the president of Cataluña also found himself in court facing an investigation into his activities relating to the "informal consultation" he convened on November 9th 2014 after the Spanish courts had banned him from holding a referendum on independence for Cataluña.
2.3 million people voted in the "informal poll," with 80% of them favouring independence, but it was not until two days after this year's regional election on 27th September that the three politicians accused of organising the poll were officially indicted.
On Tuesday former regional vice-president Joana Ortega and Irene Rigau denied contravening any ruling issued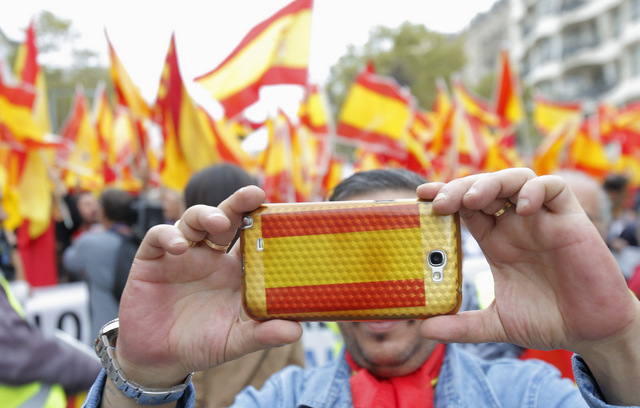 by the Constitutional Court or having committed any "economic irregularity."
Their court appearances sparked off yet more discomfort in the judiciary, entering court accompanied by other members of the regional government and separatist leaders, all of them joining hundreds of demonstrators in singing the Catalan hymn. Needless to say this did not sit well with the court, who described it as a "direct attack on judicial independence" and a deliberate strategy led by government officials.
The Spanish government condemned the behaviour of those called to testify and their supporters.
On Thursday Artur Mas himself appeared before the courts, and although he had stated previously that he had no intention of becoming either a hero or a martyr his progress to court was likened by some commentators as being like the entrance of Jesus into Jerusalem, surrounded by approximately 400 of Catalunya's 948 local Mayors and Mayoresses as well as leading pro-independence politicians such as Raül Romeva of Junts pel Sí, Oriol Junqueras of ERC and Antonio Baños of CUP and thousands of cheering supporters. Apart from the anthem being sung again, various flags and banners were waved proclaiming Sr Mas' innocence and the right of the Catalan people to decide their own political future, the staffs of Mayorship banged together in a rousing show of support for their leader.
His declaration on Thursday morning lasted approximately 90 minutes, and like Sra Rigau and Sra Ortega he answered only the questions asked by the judge, not those directed at him by the prosecution. While fighting the accusations of civil disobedience, misuse of power and misuse of public funds, Sr Mas is also in the throes of negotiations between the Junts pel Sí party, which he represented at the regional election on 27th September, and the CUP, with the aim of establishing a coalition government of which he may or may not be president. No decisions have yet been made and the future of the Catalan government remains uncertain at the moment.
The Spanish government played down the court appearances, saying"no-one in Spain is above the law of justice."
Although the separatist movement has been loud and vocal this week, other Catalans were out on the streets on Monday protesting against the independence movement and stating their right to remain Spanish during Spanish National Day.
Other areas of Spain involved in separatist campaigning
This week a warning for Facebook users to exercise caution when posting was sent out loud and clear, with two separate cases of "exalting terrorism" through Facebook posts reaching court. In both cases, the accused accepted one year prison sentences for making posts "exalting" the activities of Basque separatist group ETA and mocking their victims.
In Navarra, meanwhile, the local Mayor of Tafalla was brought before the courts on Wednesday to also answer charges of exalting terrorism for displaying a banner supporting the move to transfer ETA prisoners nearer to the Basque country while they serve their prison sentences. The Spanish government enforces a policy of dispersal, spreading ETA prisoners amongst jails well away from the north of Spain and across the border in France. The banner displayed outside the Town Hall during the annual fiestas this year also included the insignia of the pressure group campaigning to transfer the prisoners nearer to their families.
The Spanish government continues its efforts to completely dismantle ETA and last week former leader Santi Potros was sentenced to yet another 94 year prison term for his part in the death of a passer-by during an attack on the Guardia Civil in Barcelona in 1987. Last week a further ETA suspect was arrested in Paris.
Expats worried about Brexit implications
This week in the UK both sides of the Brexit campaign launched their arguments as to whether the UK should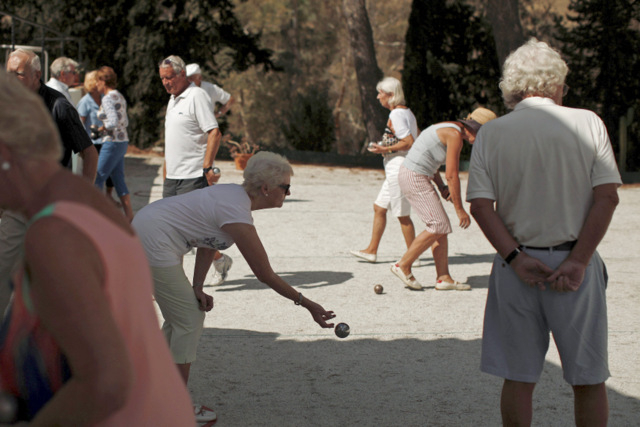 stay in the EU or leave, guaranteeing months of arguments and counter-arguments ahead of us.
Although it's tempting to look at the hot air rising off the UK as politicians tear into each other, enjoy a cool beer and a beautiful Spanish sunset and think it's got nothing to do with us over here, think again. Many of the privileges we enjoy as "comunitarios" (right to healthcare for pensioners, right to free entry and exit between Spain and the UK, right to work) are because we belong to the EU. Leave, and we become "extranjeros", the same as those vast queues outside the extranjería. Most of us currently here ( some on the Padrón and many keeping their options open) have the same voting rights as those officially living in the UK, so the debate is just as important here as it is there. So how does it affect you if the UK leaves the EU? Click here to find out.
Immigrants desperate to reach Spain
As EU members, we can come to Spain and settle if we want to, but there are millions desperate to settle in Europe for whom this privilege is not an automatic right and this week the battle to enter Spain continued. Immigrants were rescued out at sea in several locations, and in Ceuta two exhausted swimmers were saved from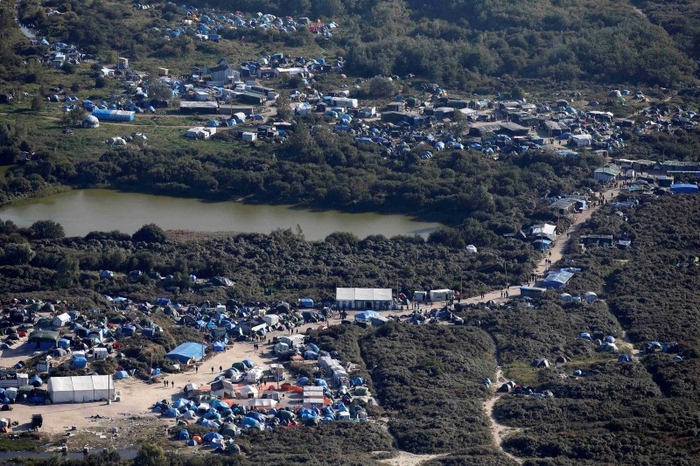 drowning as they attempted to swim into the Ceuta exclave. Both Melilla and Ceuta are highly vulnerable entry points, as these Spanish territories are right on the African coastline. A second set of immigrants were caught hiding beneath coach axles and attempting to cross the border checkpoint, and others attempted to scale the razorwire fence.
Traditionally, the immigrants attempting to reach Spain have come from the northernmost tip of the African continent, but wars in Syria have changed the migrant profile and this week the immigrant centre in Melilla was the source of another protest by Syrian migrants angered by the length of time they're being expected to wait for their applications to enter Spain to be processed. The centre has the same resources as normal, and as is the case in many European nations at the moment, is simply overwhelmed by the volume of asylum applications. Syrians have no automatic right of entry into Spain (extranjeros!) so their cases must be assessed individually and Spain accept them as refugees.
Syrian immigrants were also detained in an immigrant transit centre on Gran Canaria after reaching the Canary Islands by boat, amongst them a woman in a wheelchair claiming to be Syrian.
Some of the illegal migrants who are intercepted by Spanish coastguards can be repatriated back to their country of origin (around half were successfully returned last year, mainly sub-saharans)but the remainder join those "sin papeles" who melt into the countryside and surface to work as low-paid agricultural labourers, or make their way across Europe seeking work.
This week the French authorities highlighted the problems they are now facing as the immigrant camp outside Calais has swollen to around 6,000 people, all trying to find a way to get to the UK, amongst them individuals who have entered Europe via the Spanish border. 16 have died in the last few weeks trying to get through the Channel Tunnel, the latest found by the tracks on Thursday and with the weather deteriorating not only those who have made it to Calais, but also the tens of thousands still trying to work their way in via the Turkey/Greece/Serbia/Croatia route, winter is setting in and conditions are becoming not only uncomfortable, but dangerous. The numbers drowning as they attempt to cross from Turkey to Greece have increased dramatically during the last few days and on Monday morning the Balkan states were under severe pressure from the sheer volume of refugees following the closure of the Hungarian border. German Chancellor Merkel has been in Turkey over the weekend trying to strike a deal to keep more immigrants in Turkey, but her fellow EU member states are reported this morning to be unhappy about the terms being discussed.
And on it goes as the immigrants keep coming.
Record Air Traffic
The political climate in Egypt and Turkey, as well as the shooting of foreign tourists in Tunisia has helped to boost the numbers of tourists choosing Spain as a holiday destination and in September Spanish airports recorded their best September traffic statistics ever as record passenger numbers passed through the Spanish airports network. The year as a whole has been positive, the increased number of tourists providing a welcome boost for the Spanish economy just months from the important General Election on 20th December.
Signs of economic recovery
Over the last few months there have been a number of indicators that Spain is slowly emerging from the economic crisis of the last 7 years, and one of these is the slow recovery in consumer spending (another linked to the airport stats above is the increased volume of domestic flights showing Spaniards are once again starting to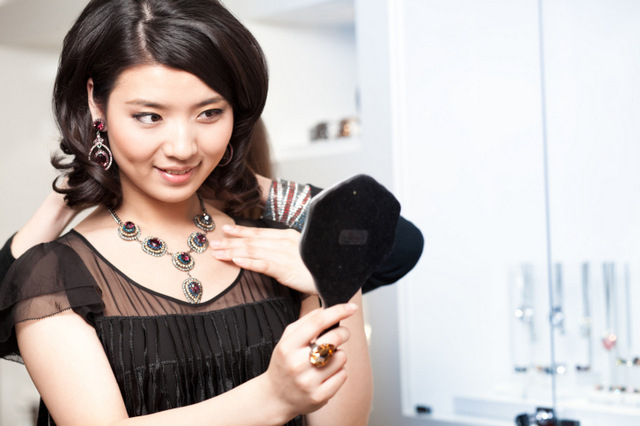 travel more domestically).An interesting report this week shows how much the Spanish are now starting to spend online, the first quarter figures just under 25% up from the same period last year, to 4.4 billion euros.
39% of e-sales were made by Spanish websites to customers in Spain, another 18.2% were from Spanish websites to buyers abroad, and 42.8% consisted of Spanish customers buying from foreign websites, bringing about an e-trading deficit of 1,099 million euros.
However, the high street isn´t down and out yet, and this week Primark opened their flagship store in Madrid, the biggest in Spain, showing yes, domestic consumers are spending, but at the same time, shoppers are keen to make their money go as far as possible. With unemployment still well over 4 million people and the highest in Europe, Spain still has a considerable path to travel before returning to former levels of employment.
But there's still money around, and last week a report produced during a national tourism event concluded that Spain is failing to attract big-spending retail tourists from abroad and is missing out on a potentially lucrative market for tourism. The secret is not in the quantity of tourists the session concluded, but in the quality, and by aiming low, Spain is doing a lot of work for not a lot of money (know that feeling!).
For some, however, money is no object, although the number of millionaires in Spain has apparently fallen within the last year and Spain has only 1% of the world's millionaires.
There are lots more daily news items on the www.spanishnewstoday.com site, along with broader local products on www.murciatoday.com and www.alicantetoday.com for those living in those two areas. All updated daily, along with UK news, International news and sporting news. And all free!
Currency Exchange rate: Get more Menu del Días for your money!"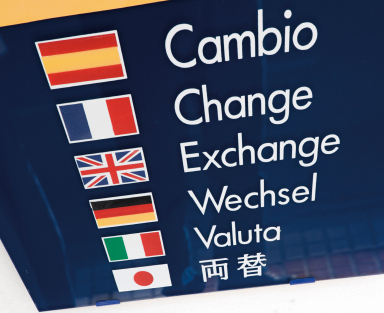 This week the Pound Euro currency exchange rate 1.3544€
This is a good rate, meaning those who transfer their pensions or buy a property across Spain are getting more euros for every pound sterling at the moment than they have for many years. This also makes Spanish property even cheaper for those buying with Sterling, because with the historic currency exchange trading rate for the Pound Euro having been at 1.18 / 1.16 not so long ago, if you exchanged 100,000 Pounds now to Euros you would be over 20,000 euros better off. But rates change constantly, so you need to keep an eye on currency rates if you are planning to make a transfer any time soon.
Click for this weeks currency round up showing the exchange rate between Sterling and the Euro.
If you still use a Bank to transfer money, ask our currency experts for a quote to use a money transfer service, youll be amazed how much more you get for your pounds using this method and its really easy to do!
Click here for a No-commitment quote to transfer money to Spain . Find out how much you can SAVE!
Would you like to receive this bulletin?
If you enjoyed this free weekly round-up, then please forward it on to your friends. If you have received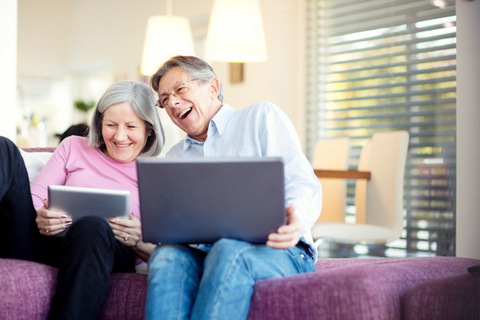 this from a friend and would like to have it sent directly, then click Register for weekly bulletin to sign up.
NONE OF THE TODAY PRODUCTS HARVEST, OR SELL EMAILS IN ANY WAY and we GUARANTEE your details will not be passed on, sold, or used for any other purpose, and are maintained in an off-site facility from which you can unsubscribe at any time.
We also welcome contributions from local charities or clubs, including post event reports, news items and forthcoming events. Use the contact us button in the top header to contact our editorial team.
Images: Copyrighted Spain Today Online S.L, Reuters and Efe. Full or partial reproduction prohibited.
Murcia Classifieds
Why not give Murcia Classifieds a try?
It,s FREE up to €500 for non commercial ads
Area:
Murcia Region, Camposol
Listed:
October 19th, 2015 10:34am
READ MORE >
€1895.00
Area:
Murcia Region, Camposol
Listed:
October 18th, 2015 10:34am
READ MORE >
€25.00
Area:
Murcia Region, Hacienda del Alamo
Listed:
October 17th, 2015 11:13am
READ MORE >
€250
Area:
Murcia Region, Camposol Mazarron
Listed:
October 16th, 2015 14:29pm
READ MORE >
€20.00
Area:
Murcia Community Pages, Camposol
Listed:
October 16th, 2015 11:43am
READ MORE >
€55.00
Area:
South West Murcia, Mazarron
Listed:
October 15th, 2015 20:24pm
READ MORE >
€20.00
Area:
North & North West Murcia
Listed:
October 15th, 2015 14:25pm
READ MORE >
€15
Area:
Mar Menor & Cartagena, San Javier
Listed:
October 13th, 2015 11:32am
READ MORE >
€25.00
Area:
Murcia Region, Mazarron Country Club
Listed:
October 13th, 2015 11:31am
READ MORE >
€50
Area:
Cartagena & La Union, Los Nietos
Listed:
October 13th, 2015 07:30am
READ MORE >
€30
Area:
South West Murcia, Camposol
Listed:
October 12th, 2015 12:02pm
READ MORE >
€2200
Area:
North & North West Murcia, Pliego
Listed:
October 12th, 2015 10:56am
READ MORE >
€60.00
Area:
North & North West Murcia, Cehegin
Listed:
October 11th, 2015 13:23pm
READ MORE >
€300
Area:
South West Murcia, Mazarron
Listed:
October 10th, 2015 16:01pm
READ MORE >
article_detail
Thank you for supporting Murcia Today
Contact Murcia Today: Editorial 966 260 896 / Office 968 018 268