Date Published: 24/01/2020
ARCHIVED

- Murcia Today whats on bulletin week ending 17th January 2020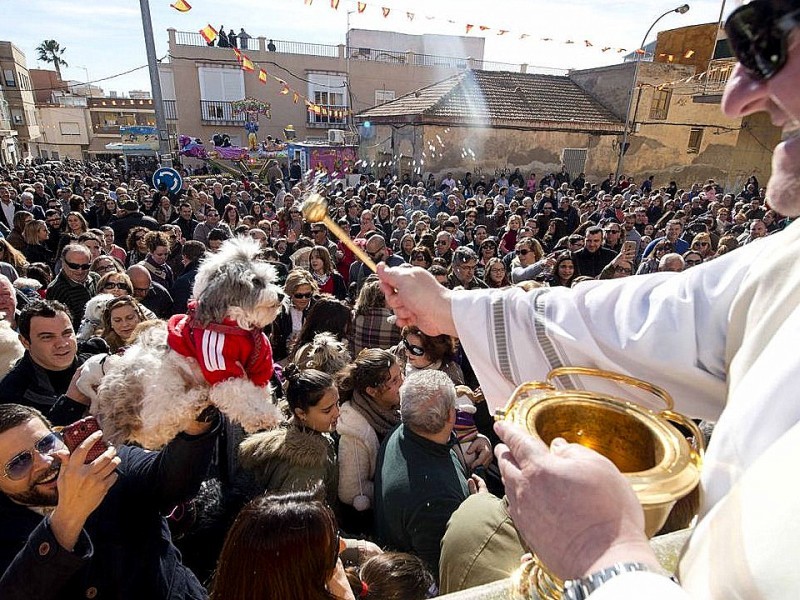 This weekend there is a distinctly festive feel to activities around the Murcia Region due to the festivities of San Antón, san Fulgencio and San Sebastian.
The most "active saint" is san Antón Abad, the protector of animals, and a popular saint in many parts of the region.
He is accredited with the ability to protect and care for animals, so most of the activities which involve him also include animals. The most common format is for the animals of the municipality to be blessed, and dozens of services in churches between Friday 17th and Sunday 19th January will conclude with a blessing of animals, locals bringing their pet canaries in cages, goldfish in bowls, dogs on a lead and even their horses to a blessing. It's also common to see little rolls of bread, often in the form of a little bread ring, the panecillos de san Antón, which are blessed and either given out freely or sold to raise funds for the church in many locations. Click here to see full background information on san antón and find out more about the traditions associated with his day.
The biggest blessing is in Cartagena, and is on Friday lunchtime, although this year for the first time the blessing is being repeated on Sunday as well. Lots of areas celebrate fiestas around the feast day of san Antón, amongst them Tébar in Águilas, Santa Rosalía in the Torre Pacheco municipality, several pedanias of Caravaca de la Cruz, la Copa in Bullas, Yecla, Mazarrón, several areas of Murcia city municipality and Lorca as well as others. In la Copa the celebrations take the form of mega BBQ's, and in Lorca the castle holds a big dog-day, which begins with a walk up to the castle, followed by lots of doggy activities inside and lunch: participation only 6 euros, the standard entry price for the castle. Lorca is officially a dog friendly destination and dogs are welcomed at the castle throughout the year!
Elsewhere San Sebastian leaves his mark; in Cehegín he is honoured with a torchlit procession up the hill to the former castle and bonfires, and in Ricote a full weekend of festive celebrations and music is enlivened with a Medieval Market and Moors and Christians parade.
Artisan products can be purchased elsewhere this weekend; both the Puerto de Mazarrón on the south - westerly coast of the Costa Cálida and Caravaca de la Cruz in the north, have artisan markets and of course, in all the shopping centres the January sales are well underway with bargains galore!
Guided walks and tours
The cycle of free guided walks is now well underway for 2020 and several events in English which may be of interest to non-Spanish speakers have been loaded already, all of them free. There are also a couple of paid options offered by some municipalities:
Daily tour Monday to Friday: Lorca. San Patricio and the three plazas. Cost 5 euros. An English language guided introduction to one of the principal monuments in Lorca and its surroundingsis offered daily during the week. Click here
Every Thursday: English language tour of Lorca castle including lunch. Cost 24 euros. Click for full information.
Tuesday to Saturday: Free guided audiotour in English following a walking route around the historical attractions of Alhama de Murcia. Free of charge, can be borrowed from the Tourist office. Take ID, ie passport or NIE. Click for info.
18th and 19th January Jumilla castle tour in English (tour free but bus to castle and castle entry is 2.10€); Click for info
25th January Cultural tour of the Puerto de Mazarrón in English; Click for info
8th February Jumilla old town tour in English; Click for info
13th February Lorca guided tour of the historical city centre in English; Click for info
15th February Jumilla Gothic Jumilla tour in English; Click for info
28th March Route of the Railways tour in Águilas. Click for info
There are also other walks which are non-language specific, such as the country and beach walks, as well as many more with Spanish commentary, although very often there are people on the routes keen to practise their English and assist non-Spanish speakers, and of course, literature is often available in
A couple which could be of interest to readers are:
Lorca castle has a special low-season offer for 15 euros which comprises castle entry and lunch between Monday and Friday and two Spanish language tours to restricted entry areas. Click for info
The Roman Theatre Museum in Cartagena is offering virtual reality tours with 3-D goggles on Saturdays and Sundays, a really unusual experience as the theatre comes to life around you. Click for info
Another Planet Brewing craft brewery in Torre Pacheco offers tours and tastings in its micro-craft brewery every Tuesday and offers a group lunch package as well; lunch and a beer tour for under 20 euros, not bad!
Music and cinema
We have dozens of forthcoming musical events already listed in the music feed, encompassing classical, flamenco, jazz, rock, pop, folk and lots more, as well as theatre and cinema. There are also plenty of folk music events; this weekend we have three different gatherings or encuentros, of cuadrillas, performing traditional Murcian music in the open-air. This week we've also added two concerts for the summer to take you back down Memory lane; Madness on 26th June and Roger Hodgson, founder member of Supertramp bringing back the greatest hits of Supertramp on 27th July with the Breakfast in America world tour!
Carnival
Thoughts are already turning to Carnival and tickets have now gone on sale both online and directly from the federation of peñas for the seats at Águilas Carnival, the biggest in the region. Click for full information:
There are also feeds for sporting events and activities which include special spring offers for quad biking and laser clay pigeon shooting at the Mariposa in the Sierra Espuña, guided walks, and competitive activities, as well as another for exhibitions, another for expat and community activities and even one for static places to visit.
Contact Murcia Today: Editorial 966 260 896 / Office 968 018 268