Polaris assets up for sale, exchange rate improves following Conservative victory and Brigitte Bardot on the warpath over Cartagena feral cats
NB: What's on bulletin sent separately on Friday morning
Murcia Today News round-up w/e 10th May
At last the pre-election campaign manoeuvring has finally ended and on the same day as the British public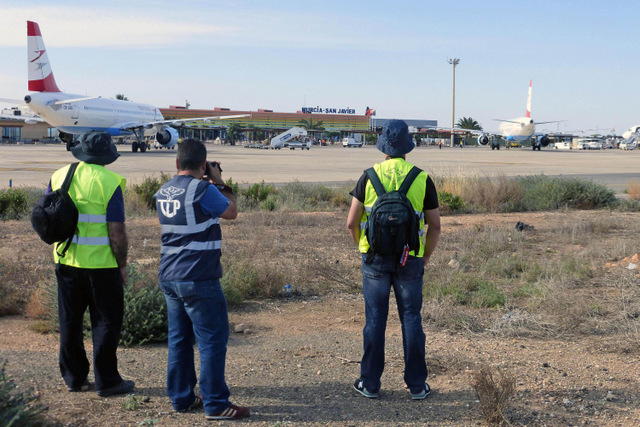 elected a majority Conservative government, the Spanish election campaign officially began with the pegada as politicians undertook the official poster pasting which traditionally heralds two weeks of fierce campaigning.
UK results have been scrutinised with interest by the Spanish media, as surprised as the UK pollsters who had anticipated a better result for UKIP with the vote more divided. For those of us in Spain the result has meant an instant improvement in the Sterling-Euro exchange rate, back up to near the 7 year high enjoyed recently after a fallback during the early part of the week. Long-term the implications for all of us here depend on the stance adopted towards Europe in the next 5 years. Although it was obviously unrealistic to expect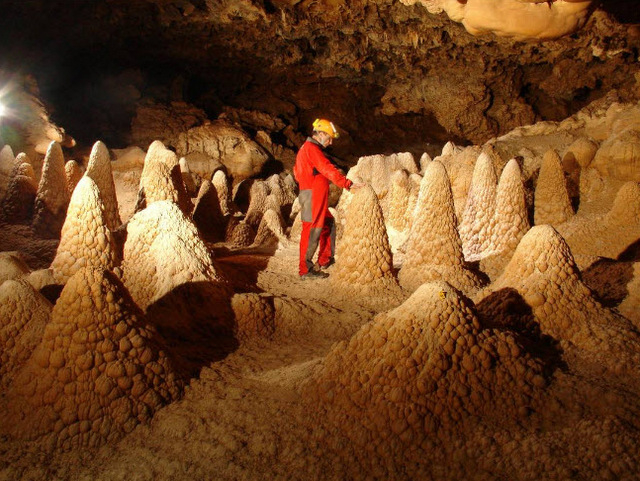 UKIP to storm to number 10, the Gibraltar Premier wrote an interesting article this week highlighting the dire effects which could be faced by Gibraltar were the UK to exit the EU, "leaving it at the mercy of Spain" were his exact words.
Here in Spain the UK results are a source of great debate: although the last four years have been marked by public protest, the rise of Podemos and Ciudadanos threatening to de-stabilise the established parties, the UK vote has proven that although voters will risk a protest vote in local elections, they're far more cautious when it comes to running the country, so will the same thing happen here at the end of May?
One politician who'll be delighted to be on the campaign trail this week is the Mayoress of Cartagena who has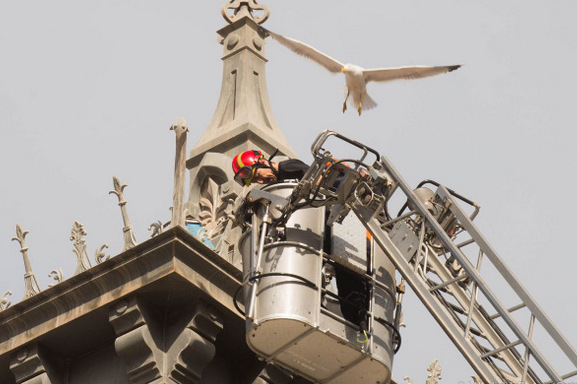 cleared her name of allegations of irregularities relating to the Novo Carthago case just in time for the elections. Accusing the opposition in Cartagena of "seeking to eliminate her in the midst of an election campaign" she has joined Mayors from across the region ( and 8,000 nationally!) on a concentrated 2 week charm offensive.
A group of people she has failed to charm this week is cat lovers, who have been up in arms about proposals to round-up colonies of feral cats after those who are supposed to be controlling their numbers have failed to do so. News about the protest spread abroad, resulting in the Brigitte Bardot Foundation sending a letter to the Mayoress, expressing their "shock at the council's extermination policy" and amazement that the council could project such a "brutal image to the public both in Spain and abroad."
Not surprisingly, with elections two weeks away, evasive action by the council was forthcoming, although with elections totally dominating the news it's been another fairly dry week on the news front in Murcia and subjects such as seagulls and toilet paper on San Javier flights made the front pages.
One topic which continues to always interest expats is the airport, and although it's unrealistic to expect any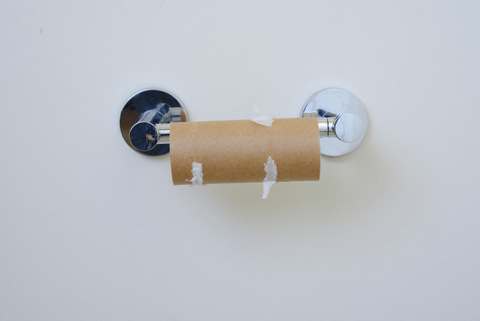 progress until elections are out of the way, the former concessionary continues to be a thorn in the side of the regional government and is now insisting that it be compensated for having employed a crew of firefighters and pest controllers in order to gain certification, so is claiming an extra 260,000 euros a month for maintaining them.
Meanwhile San Javier airport sent out a press release having permitted its "first" group of planespotters to spend a blissful morning photographing incoming flights: if anyone answers the email enquiring how more groups could join their numbers we'll let you know!
However, the one thing the amateur spotters obviously missed on their morning trip out was a pile of loo rolls and creamer sachets for the coffee which somebody left behind in order to meet the turnaround deadline on a Ryanair flight meaning passengers had no milky coffee and had to cross their legs for three hours on a flight back to Stansted. This was obviously major news for the Daily Mail who ran a story calling the situation "horrific". The Spanish press, always up for a spot of Ryanair bashing, leapt on the story and described conditions on the flight as "an absolute nightmare" and left the story live for three days to make their point.
This week we've had very little else happen other than a lorry driver nine times over the limit being picked up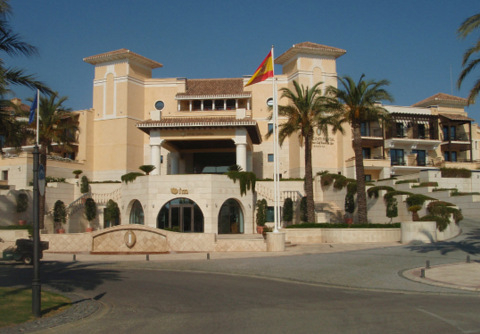 zig-zagging along the motorway, a fall in unemployment in Murcia, work continuing to licence a new ferry service between San Pedro del Pinatar and La Manga for the summer, improved mooring facilities in Mazarrón, firemen being called in for the annual seagull nest clearance campaign in Cartagena and Pliego seeking World Heritage Status for its stunning Sima de la Higuera caves, which probably stands a better chance than Benidorm which has also applied for World Heritage Status for its tourist industry. (It's election run-up!!!)
The only other story which really relates to expats is the news that Sareb ( the Banco malo or bad bank set up to absorb the fall-out from bank restructuring and the implosion of the construction sector which ended up as reluctant owner of thousands of unsold properties and assets) has decided to sell off a block of assets which formerly belonged to Polaris World. This package includes "two five star hotels, three golf courses and various completed residential developments".

Spanish News
The economy continues to be an important topic in Spain at the moment, with a whole range of tiny indicators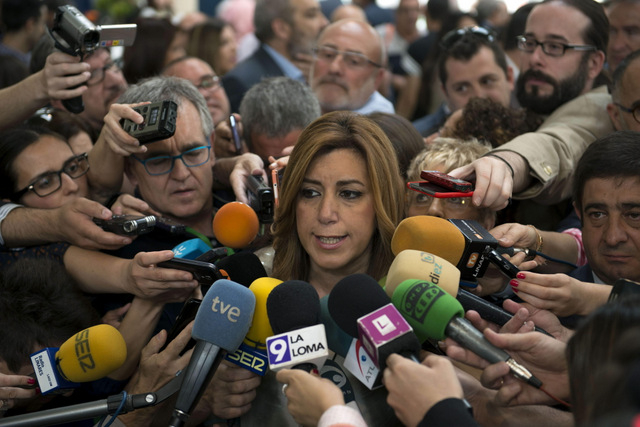 demonstrating a gradual improvement and recovery.
The Euribor, the figure by which most mortgages are calculated, continued to drop at the beginning of this month, starting May at under 0.2%. This makes borrowing easier, and helps to encourage young people to buy their first property. The rate has dropped considerably from the peak of the construction boom when it reached a high of 5.526% and represents a considerable saving for those of us with mortgages to pay.
In turn, household debt in Spain fell to its lowest level since 2006, showing that Spanish household are paying off their existing debts rather than taking on new debt. Consumer confidence has also increased this month and car sales are once again heading in a positive direction.
Unemployment also fell during the last month, April 2015 showing the largest fall in numbers of unemployed since 1996, and although the figures are falling from greater numbers, so therefore the numbers will logically be larger, this is still a positive evolution which brings unemployment back down to where it was before the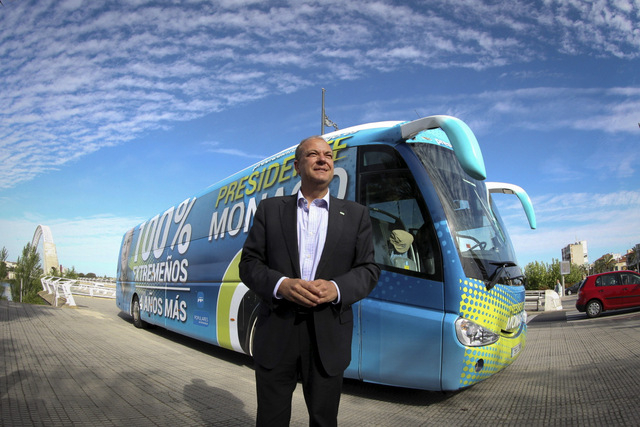 current government took office.

However, this is still way too high and beneath the surface of these figures is the problem of the long-term unemployed, a figure which continues to increase, and no matter how positively the figures are presented, Spain still has more than double the Eurozone average for unemployment and the second highest level of unemployment in Europe.
And jobs are still quietly being shed: this week Post office workers (Correos) have been protesting about internal staffing levels which have been quietly falling as staff are not replaced, creating a greater workload for remaining employees. As Spanish residents can testify in several parts of the country, the actual result of this is a lower quality postal service for end users, although the staff themselves were only interested in complaining about their own pay and working conditions, not the quality of service for end users.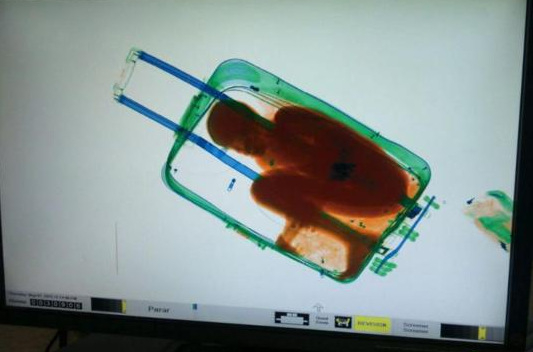 Immigration
This week the numbers of immigrants seeking a new life in Spain continued to make headline news, and although the regular trickle of those crossing the water between Spain and Africa was of little interest to the UK media, they did pick up on the story of a young 8 year old would-be immigrant who was found inside a suitcase on the Morocco-Ceuta border. Although human eyes failed to detect the presence of the youngster cramped up inside the trolley-case, the X-ray scanner left surprised border staff in no doubt at all that there was an attempt to illegally enter Spanish territory underway. There have been other cases in the past of desperate illegals attempting to enter Spain in a suitcase and we've regularly reported about illegals hanging underneath lorries, inside engine casings and inside hidden apartments in vehicles as well as on the outside of ferries or in their engine housing.
Another story relating to illegal immigration reared its head in the Almería area of El Ejido this week as the council moved in to demolish a number of "shacks" inhabited by largely illegal immigrants in the major tomato growing areas. This area of Almería is known as the Costa Plástica, as it's covered in plastic greenhouses in which a range of crops are grown, a natural magnet for those arriving illegally in Spain in search of a new life.
Over the years they have been the subject of many documentaries and media reports, and this week, just ahead of local elections, the council finally decided to take action and demolish a number of these residences. The former inhabitants will now be "subject to the Ley de Extranjería" which means the council take no responsibility for where they go or what they do, other than that should they be found to be living and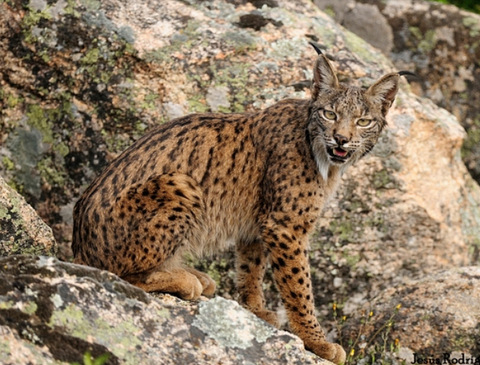 working illegally in Spain then attempts will be made to repatriate them. However it's no secret that almost half of the illegal immigrants detained by border forces cannot be repatriated as it's impossible to prove where these people actually came from, so they are permitted to remain on European soil, although have no working papers to enable them to earn a living.
Another pair of immigrants came to an unhappy ending this week, two escaped chimpanzees from a zoo in Mallorca becoming the centre of international media attention after they escaped from their pen and out into the countryside of the island.
Eve was shot by police, provoking widespread condemnation about not only the death of the primate, but also conditions in which the animals in the zoo were kept, and the body of Adam was found three days later in a wastewater pool.
Other wildlife in the news has been the native Iberian lynx, which is the subject of a re-introduction programme to try and prevent the extinction of the species in the wild. Although populations have slowly increased throughout the programme, numbers have been knocked back down again during 2014 due in the main part, to road accidents. New releases are currently underway to try and boost the numbers once again, but at a cost of nearly a quarter of a million euros per animal to rear and monitor, is enough being done to prevent un-natural deaths from roadkill, poisoning and hunting?
Other Spanish national news includes the political struggle in Andalucía, as the Andalucian parliament fails to reach an agreement over who will be the new president of the region following two rounds of voting. Although the PSOE won the most seats in the recent regional election, they lack a sufficient majority to form a government without a coalition, causing severe political disruption in the region.
However, life goes on as normal, and Spain continues with its Spring Ferias and Festivals, one of the best-known being the Patios Fiestas in Córdoba which has this year been extended to include other areas of the Córdoba Province and Málaga has opened the roof of its Cathedral for public visits after a long bureaucratic fight.

Property news round-up, 8th May 2015
The big news in Spanish property this week is that at long last it's official: the crisis in the market is over.
Of course nothing can really be so cut and dried in the real estate market in Spain, but this is the conclusion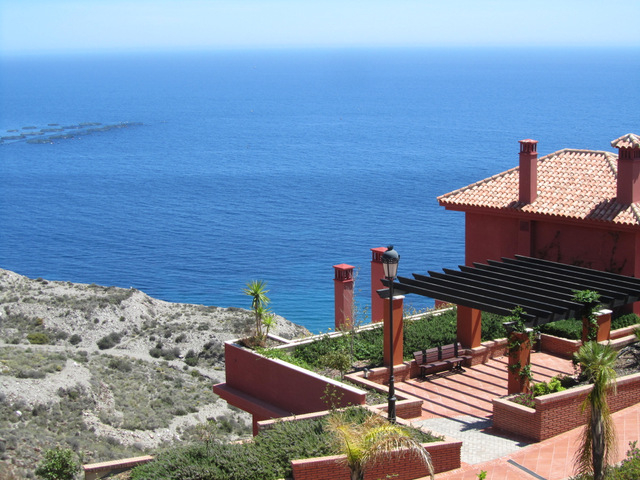 which has been reached by analysts at the Banco de España, who believe that price stability has now been reached in many areas of the country and that there is a chance that a genuine recovery can now begin.
However, there are good reasons for not falling into the trap of over-optimism: the optimal conditions for recovery depend on continuing low interest rates, a prolongation of the general recovery of Spain's economy, rising consumer confidence, continued interest from non-Spanish buyers, the banks continuing to extend credit to purchasers and low interest rates, and all of these factors are subject to fluctuation.
The feeling that price stability is at hand is now practically universal, and this was further backed up this week by the latest statistical bulletin to be issued by valuation firm Tinsa. Their figures show that no price decrease has been noted in the first four months of this year, and that the yearly depreciation rate has fallen to 1.7%.
Even more optimistic is the fact that on the Mediterranean coast, where according to Tinsa prices have fallen by 48.9% since 2007, there has actually been an upward adjustment of 1.3% since the end of last year. If this is the start of a recovery then there may never be a better time to buy in the Mediterranean regions of Spain!
Further good news concerns renewed activity in the construction sector of Spain's economy. If on the one hand reduced unemployment favours more activity in the property market, then in return more property sales means greater demand for new housing and therefore less unemployment in construction, and sure enough the latest figures available show that there are 12% more people working in the building trade now than a year ago. The amount of construction is nowhere near what it was in 2007 and 2008, but at least residential property in Spain is slowly becoming a dynamic market again. This is also starting to feel the effects of increased tourism in Spain as the country records record tourism figures, with plans already being laid for developing this sector further in the future( see below)
Murcia
In Murcia this week Águilas showed its positivity towards the potential for this tourism market in its approval of the PGOU which lays down the development plan for the municipality in the future. In their plan they approved a significant extension of the land allocated for "tourist use" to enable new construction to take place to target tourist trade as part of a plan for increasing tourism revenue and generating more local employment.
Click here to see a full selection of properties for sale in the Murcia Region with the Murcia Property Page
Currency Exchange rate: Get more for your money!"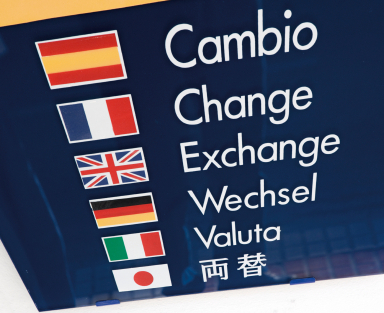 Today the Pound Euro currency exchange report rate is bobbing around 1.38
The shock election results have pushed the exchange rate back up to 1.38, after it dropped down to 1.33/1.34 earlier in the week as the markets waited to see what would happen in the UK elections. The relief at the result has pushed the exchange rate back up, meaning now is a good time to transfer money while the rate is back up near that 7 year high point.
This means that those who transfer their pensions across to Spain are getting more euros for every pound sterling at the moment than they have for over seven years, and it also makes Spanish property even cheaper for those buying with Sterling, because with the historic currency exchange trading rate for the Pound Euro having been at 1.18 / 1.16 not so long ago, if you exchanged 100,000 Pounds now to Euros you would be over 20,000 euros better off. But rates change constantly, so you need to keep an eye on currency rates if you are planning to make a transfer any time soon.
Click for this weeks currency round up showing the exchange rate between Sterling and the Euro.
If you still use a bank to transfer money, ask our currency experts for a quote to use a money transfer service, youll be amazed how much more you get for your pounds using this method and its really easy to do!
Click here for a No-commitment quote to transfer money to Spain . Find out how much you can SAVE!
Would you like to receive this bulletin?
If you enjoyed this free weekly round-up, then please forward it on to your friends. If you have received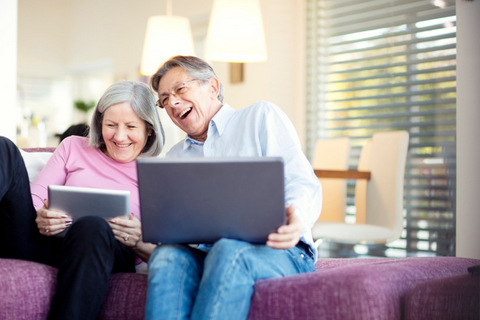 this from a friend and would like to have it sent directly, then click Register for weekly bulletin to sign up.
NONE OF THE TODAY PRODUCTS HARVEST, OR SELL EMAILS IN ANY WAY and we GUARANTEE your details will not be passed on, sold, or used for any other purpose, and are maintained in an off-site facility from which you can unsubscribe at any time.
We also welcome contributions from local charities or clubs, including post event reports, news items and forthcoming events. Use the contact us button in the top header to contact our editorial team.
Images: Copyrighted Murcia Today and Efe. Full or partial reproduction prohibited.
Murcia Classifieds

Why not give Murcia Classifieds a try?
It,s FREE up to €500 for non commercial ads.

article_detail
Thank you for supporting Murcia Today
article_detail
.
.
Contact Murcia Today: Editorial 966 260 896 / Office 968 018 268