Weather has been an important topic all week as autumn storms hit Spain
It had been a fairly quiet week on the news front in the Murcia Region until teatime on Thursday, when the largely expatriate community on the Camposol Urbanisation in the Mazarrón municipality found itself on the receiving end of a torrential Gota Fría.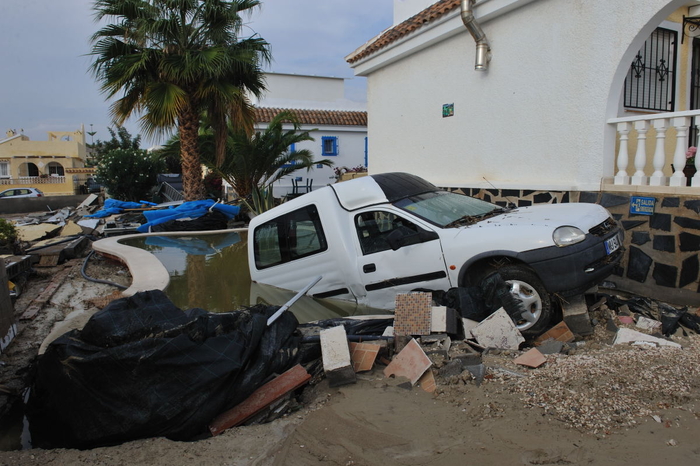 This week the summer came both officially and physically to an abrupt end as the normal autumn storms followed their natural course, although this year the drier and warmer than normal summer ( the driest on record in Murcia ) has left the ground baked dry. Yellow storm warnings have been a regular feature of the news this week, with flooding in many coastal areas of Spain, not just Murcia, our neighbours over the border in Torrevieja and Orihuela on the receiving end of a big downpour on Monday, and central Murcia subject of two such episodes on Monday and Wednesday. On Friday night the grand battle of the Romans and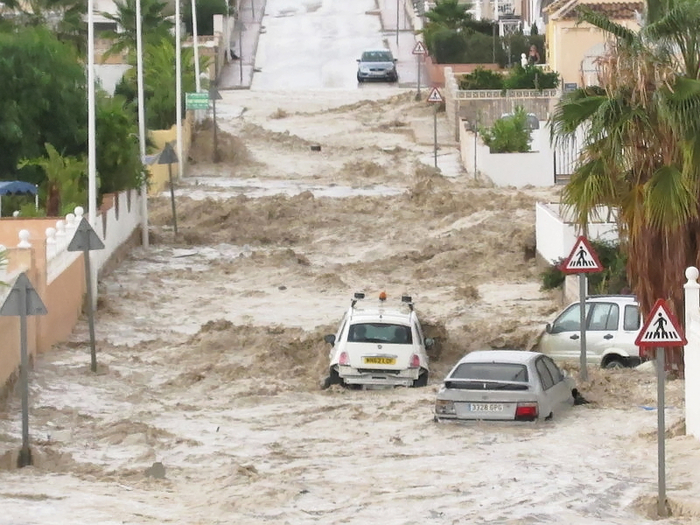 Carthaginians in Cartagena was suspended following a torrential storm and on Thursday night it was the ex-pat community in Mazarrón, specifically on the D sector of Camposol, who were at the centre of a localised storm, torrential rains provoking a foot high river of water to flow through the streets. But then the "Masa factor" kicked in, lack of foresight when building the urbanisation and the naked greed which prompted a developer to fill in a natural rambla in order to squeeze another couple of hundred properties out of the development ( illegally of course, not that the town hall in charge at the time noticed either) cutting off the natural route through which water could escape. Tubing was put through the centre of the rambla which was then blocked in so the houses could be built over the top, but of course, a rambla has been cut by the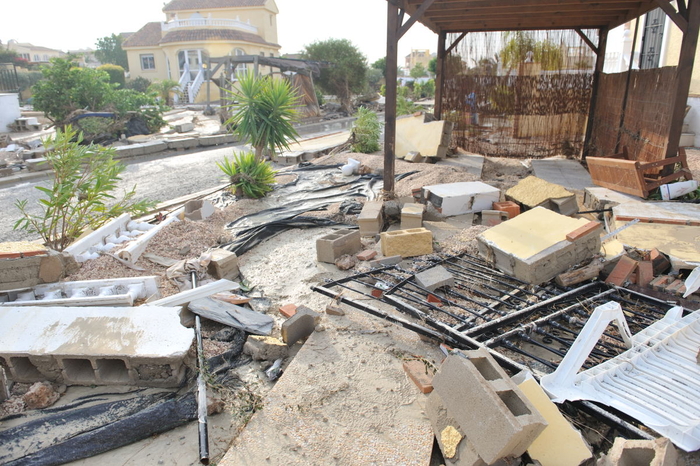 passage of time and may be 20 metres wide and 6 deep because at some point, the volumes of water were sufficient to gouge out the landscape to these dimensions, so inserting three concrete tubes which allowed a fraction of that potential volume of water to pass through was a recipe for disaster….one day. Well that day came on Thursday, when too much water tried to get through three holes which were insufficient for the job, leaping over the top of the defences build to hold it back and down into the urbanisation.

The results can be seen in the photogallery, Click photogallery.

To read the full report of the aftermath, click Camposol clean-up, or to see the video footage and images taken as the volume of water grew, click Camposol Gota Fría.

On Friday the expat community began the big clean-up, and meanwhile the region remains on yellow alert for more rains.
We also have a special report with original images showing the rambla being filled in and the original flood pipes laid which will be published over the weekend. On Monday the council are issuing information to help those affected which will be translated and posted on Murcia Today.

Other Murcia Region news this week
Another story for Mazarrón residents is the news that former Mazarrón Mayor Francisco Blaya Blaya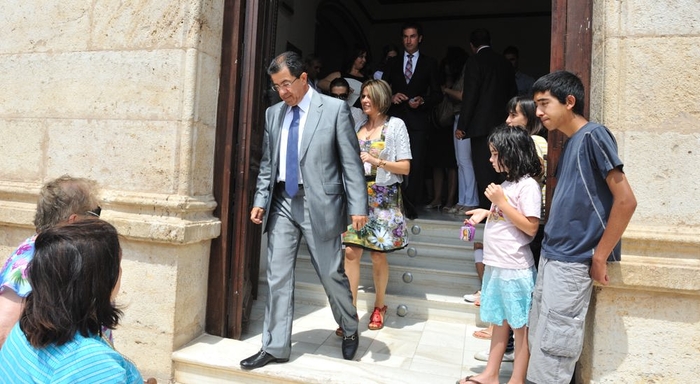 resigned as leader of the municipal PP this week and will not be standing for election in May 2015. The former Mayor is a well-known figure amongst the ex-pat community and achieved national notoriety when he awarded himself a salary of over 80,000 euros for running a municipality of some 35,000 residents, just 7,000 short of the salary earned by the Prime Minister of Spain. His departure will lead to a very unusual situation in the municipality as expats start their own political party in an attempt to resolve some of their local issues, and will no doubt be a subject of much internal debate over a pint in the months to come.

Elsewhere in the region, the Mayor of Calasparra has also resigned in the same week that the organisers of the bullfighting festival in the town announced the loss of 30,000 euros for the second consecutive year during the recent fiestas. The economic downturn is being blamed for falling attendances, although the bull-running appears to have been popular as the local hostelries apparently ran out of beer due to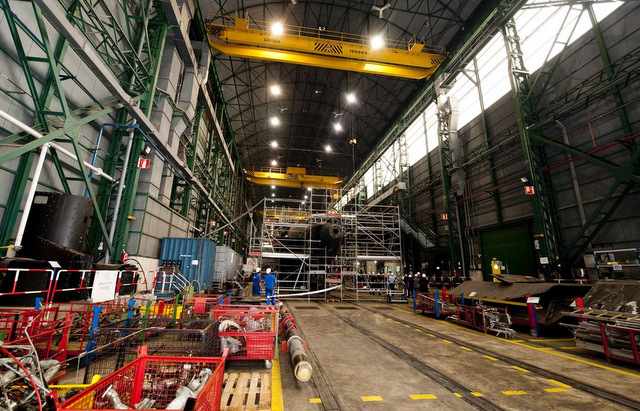 unexpectedly high attendances at the morning event.

Also in the news this week was the Navantia shipyard in Cartagena, which was the subject of a visit by the regional president who said that design issues with the new S-80 submarine series under construction in the yard have now been resolved, welcome news for the yard workers who had been concerned about the future of their jobs. Another sector with positive news was the tourist sector, which reported record tourist figures for August at a national level, and Murcia itself also recorded positive tourist figures, the British continuing to be the most important development market for Murcia, accounting for a whopping 65% of the foreign tourist traffic during August.

And property news was also good this week, official figures from the Ministry of Development showing that 12.2% more Spanish properties were sold in the second quarter of this year than in the same period of last year, almost one in five of the sales to foreign purchasers as bargain prices finally start to tempt those who have been waiting for Spain to hit bottom before buying.

Murcia what's on
Unfortunately rain disrupted the Romans and Carthaginians in Cartagena and the grand battle was cancelled,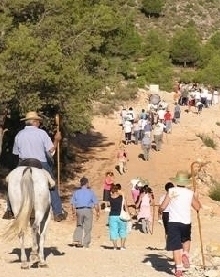 but there is hope that other activities can continue this weekend once the floodwaters have receded.

Other events on offer include the annual Antiques Fair at the IFEPA showground in Torre Pacheco, with a wide selection of antiques and collectables on sale and the Feramur artisan event in Lorca, which brings together an impressive collection of craftsmen selling hand-made items ranging from just a couple of euros to thousands. This is probably the best place to see the widest range of artisans as it tends to include more specialised craftsmen, many of whom only work on commissions. These range from master stonemasons to gilders, encompassing sculpture, stained glass, textiles and ceramics.

Feramur is part of the Lorca Feria, which offers a large fairground and other entertainments and there are also ferias in Mula, Moratalla and Yecla as well. Yecla also hosts its Jazz Festival, with all concerts free of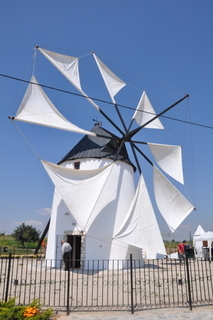 charge.

Torre Pacheco holds its annual Romería in honour of San Miguel, patron saint of millers, which follows a route on foot around the windmills in the town centre and Calasparra in the North-west also holds a Romería in honour of San Miguel, taking participants on a walk up into the hills surrounding the town, all welcome to join in with both.

Bullas is also celebrating its fiestas with wine related activities for adults and families, as well as plenty of standard fiesta fun.

Lots more events and activities in the what's on and sporting sections, accessed via the header tab on every page: simply scroll down the articles displayed and then use the arrows at the bottom to click onto the next page of article, NB, Whats on displayed in date order..

Spanish news round-up
( Apologies, atmospheric conditions continue to make it very difficult to load info, so please click Spanish News to read articles written about below)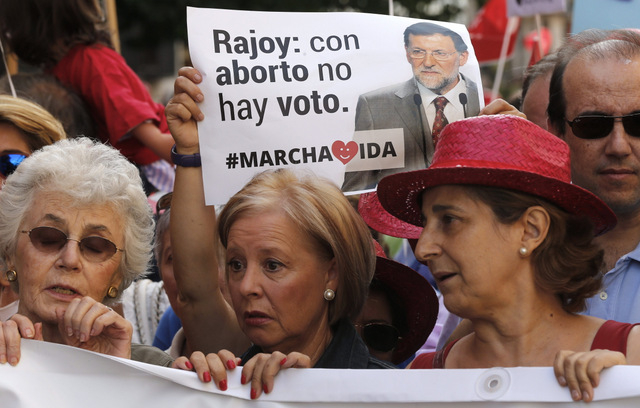 The biggest story of the week has been the decision of Prime Minister Mariano Rajoy to drop proposed amendments to the controversial abortion law which threatened to remove the right of Spanish women to decide whether they wished to abort a pregnancy or not. International media condemnation, internal disagreements and a concerted campaign by those against the proposed amendments forced the government to re-think its proposals, and with local elections looming in 2015, the decision was taken to shelve the amendments due to "insufficient consensus" while the government sought alternatives. This prompted the resignation of Justice Minister, Alberto Ruiz- Gallardon, stating that he "was not the right person to lead the government's revised approach to abortion reform."

Another major story this week is the continued intransigence of Artur Mas, head of the Catalan government who has this morning signed documentation authorising an independence referendum in Catalunya for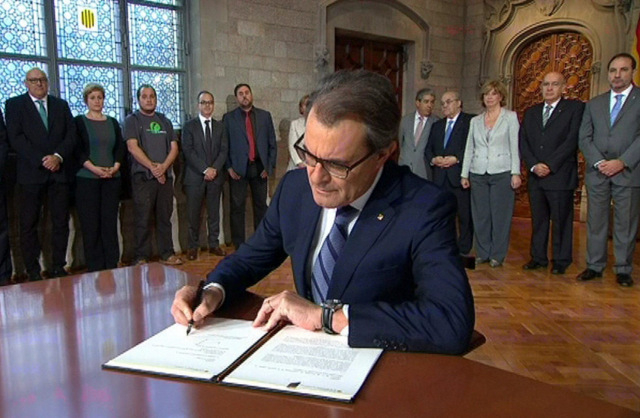 November 9th. Catalunya is one of the most important of Spain's 17 autonomous communities, with Barcelona as its capital, and the Spanish government has repeatedly refused to allow a referendum for independence, calling it "illegal and unconstitutional." Last week the Catalan regional parliament voted in local legislation of their own which would permit a referendum, but on Monday the Spanish government will launch their own legal offensive to ban the referendum and quash the law passed by Catalunya last week. Artur Mas knows this full well, and knows that the path he has chosen to follow will create public disturbances, protest and direct confrontation with the Spanish government, which could also cost him his own political career, this confrontation unwelcome just months before Spanish local elections.

Other stories this week
The new ten euro note has entered circulation this week, with a host of security features to try and prevent fraud, yet in the same week the spread of "digital currency" continues its onward march as the controversial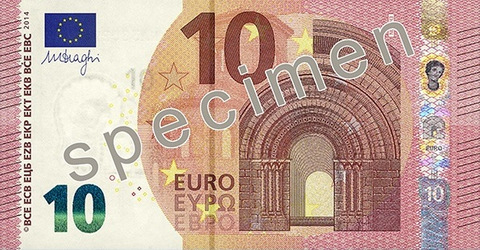 Bitcoin currency opens its first ATM machine in Madrid. The onward progress of technology is unstoppable and it is almost inconceivable that a "digital currency" already being used to feed crime should be now becoming acceptable to such a degree that cashpoints are being installed for Bitcoin in the centre of Madrid.

Other stories this week include the arrest of "public enemy number 1" in Madrid, a paedophile believed to be responsible for the abduction and rape of at least 5 young girls, record tourist figures for Spain, more positive property news in the form of good sales figures for the second quarter, an interesting collaboration by anti-bullfighting protestors who forced a council to withdraw its facebook page ahead of a bullfighting festival, as well as preventing a concert taking place during the same festival by bombarding both the council page and that of the act booked to perform with anti-bullfight messages and the death of the second Spanish ebola victim.

Murcia remains on yellow alert for heavy rains, so be prepared. Yellow warnings, power and watercut warnings are always pushed out via our facebook page or via a newsflash if an orange alert is decreed. These warnings can be received by liking our facebook page or signing up for this free weekly news round-up ( see below).

Lots more stories on www.spanishnewstoday.com and in the product dedicated specifically to the neighbouring Comunidad Valenciana www.valenciatoday.es

Currency round-up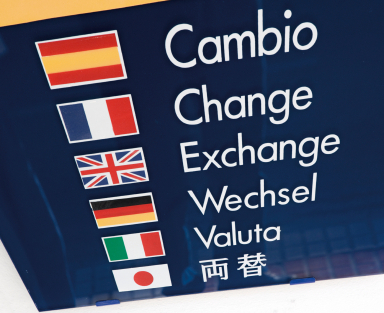 This week currency exchange rates reached 1.28, and could climb even higher,which is good news for those changing Sterling to Euros. Rates are at a 2 year highmaking Spanish property even better value and giving those who transfer their pensions across to Spain more for their money. If you still use a bank to transfer money, ask for a quote to use a money transfer service, youll be amazed how much more you get for your pounds using this method!
Click for this weeks currency round up showing the exchange rate between Sterling and the Euro.
Would you like to receive this free bulletin?
If you enjoyed this free weekly round-up, then please forward it on to your friends. If you have received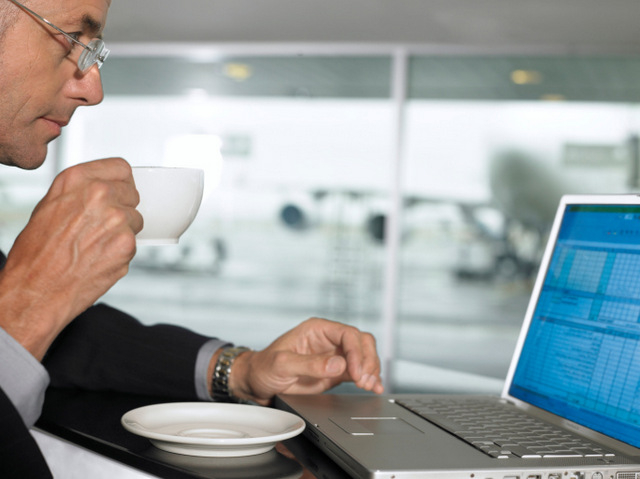 this from a friend and would like to have it sent directly, then click Register for weekly bulletin to sign up.
We GUARANTEE your details will not be passed on, sold, or used for any other purpose, and are maintained in an isolated off-site facility from which you can unsubscribe at any time.
We also welcome contributions from local charities or clubs, including post event reports, news items and forthcoming events. Use the contact us button in the top header to contact our editorial team.
Images: Copyrighted Murcia Today and Efe. Full or partial reproduction prohibited.
Murcia Classifieds

Why not give Murcia Classifieds a try?
It,s FREE up to €500 for non commercial ads.
article_detail
Thank you for supporting Murcia Today
Contact Murcia Today: Editorial 966 260 896 / Office 968 018 268