Don´t forget to move clocks forward on Saturday night!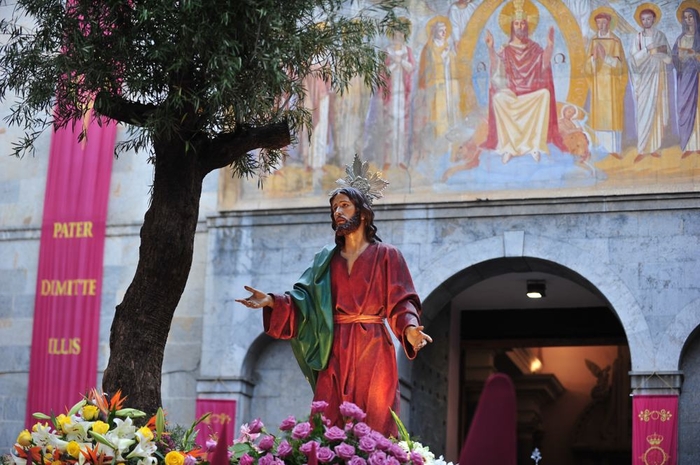 As this week ends the Easter holiday season begins, and throughout the Region of Murcia the streets are about to be taken over by processions and festivities for the next nine days. On the coast too Easter is an important time of year for the tourist sector, and following the recent rainfall which has left reservoirs in this part of Spain two-thirds full after the prolonged drought, it appears that the spring is finally arriving in time to provide a boost for hotels, bars, and restaurants throughout the Costa Cálida. Hotel occupancy was only 41% during February, although this was a considerable improvement over the 2014 figures.
Unfortunately, though the news this week has been dominated by less optimistic topics, the main one being the plane crash in southern France in which two people from the Region of Murcia were among the victims.
One of them was from Águilas, where the Friday evening procession is finally going ahead with a far more austere tone than usual in honour of 35-year-old Fernando Martínez Rubio, one of the two men who were on their way to Germany to pick up a new vehicle when they were killed.
One of the consequences of the Germanwings crash is that all official engagements have been cancelled by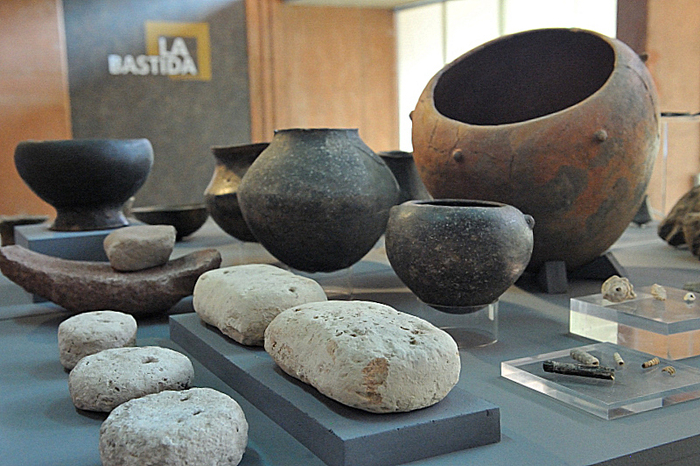 local and regional politicians after the national government declared a three-day mourning period, allowing the preparations for Semana Santa to feature more prominently in the headlines than might otherwise have been the case. In relation to the forthcoming processions the residents of Cehegín were pleased to welcome back to her home the 18th century statue of Nuestra Señora de las Maravillas this week after a pre-Easter facelift, and in Lorca the future of the glorious embroidery which is featured in the processions looks bright as a result of an unusual job training program which has just finished teaching these skills to jobless young people. Fruit of the labour of the Paso Blanco was presented this week as the cloak of the Anti-Christ was presented ahead of the forthcoming processions: 12,000 hours of work have been dedicated to just this one magnificent piece.
Another important cultural story this week was the full opening of the La Bastida Argaric site in Totana following works to improve the lay-out and condition parks and parking areas. This important site was home to an Argaric population, a culture which embraced a defined class system, controlled food production and the distribution of materials across a vast area and built a defensive fortification using technology which archaeologists had not believed to be available in Europe at this point. The more archaeologists find out about this culture, the more questions it generates.
Also in the news is Medina Sîyasa in Cieza, which is the subject of new preservation techniques to try and protect the area already excavated of this large Moorish settlement high above the agricultural valley floor and in Murcia works are underway to change the disabled access to the Cathedral.
A different type of builder was also in the news this week as police arrested clever consters who set up a large-scale marijuana plantation in all ten apartments of an unoccupied building in Sangonera la Seca, running up an illegal electricity bill of over 100,000 euros. In order to avoid attracting attention the group dressed as construction workers every time they entered the building, leaving locals under the impression that work was still going on to complete the flats. The group used highly imaginative ways to transport their completed produce, even packing it into a car and then faking a breakdown so that the recovery lorry would tow it across the border into Torrevieja so they could then break into the pound and steal their own hash stash from the vehicle!
Animals have also been in the news this week in a variety of stories. It has been announced that the new regional animal protection law which would increase fines and make Town Halls responsible for strays will now be placed on hold until after the May elections. Evidence that greater control over animal cruelty is urgently needed was swiftly presented when 120 dogs were taken into police custody after the pounds in which they were being kept in Fuente Álamo and Mula were found to be illegal. The pedigrees were being illegally shipped over to Germany. In Calasparra in the North-west meanwhile, an elderly mastiff was unceremoniously hauled up a rockface by firemen after becoming wedged in a crevice just below the Castillo de San Juan.
In central Murcia Moma the Wonderdog as she has become known across the social networks has finally won the right to travel on public transport in a victory for common sense. Murcia council has amended the law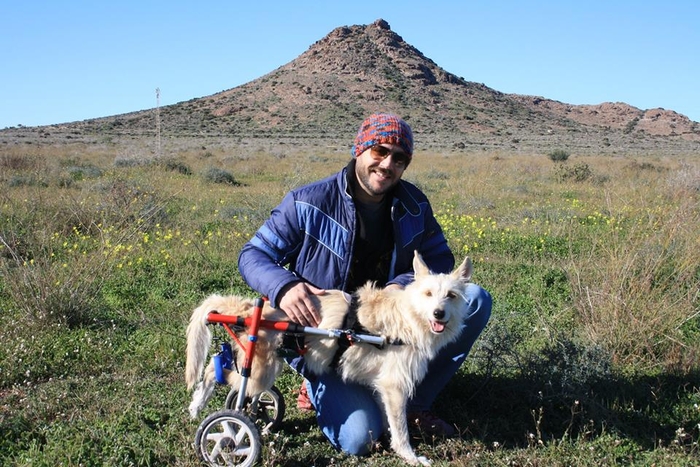 to afford disabled dogs the same rights to travel on public transport as those who operate as guide dogs for their owners.
Common sense suddenly seems to be abounding in bucketloads as politicians prepare for the forthcoming elections, although in Mazarrón the danger of too many cooks spoiling the broth is set to cause an electoral headache for potential voters. The PP managed to finally name their candidate this week, but the PSOE are still in a dilemma over theirs and on Monday another new party officially launches meaning that at least ten, and possibly 12 parties will be busy making promises over the next few weeks in order to win votes.
Other areas have finally managed to conclude their decision making process (Aledo, Fuente Álamo and Torre Pacheco) and a frantic period of electoral campaigning lies ahead.
Finally a warning for expats everywhere that legislation relating to bank accounts which was passed 5 years ago is finally coming into force in April. All Spanish bank account holders must make sure that by the 28th April they have provided digitalized copies of their signatures to their banks: failure to do so by this deadline will result in their accounts being blocked until they can provide the required proof of identity.

Murcia What's on
Semana Santa is the big event which dominates the next 10 days and offers a multitude of opportunities to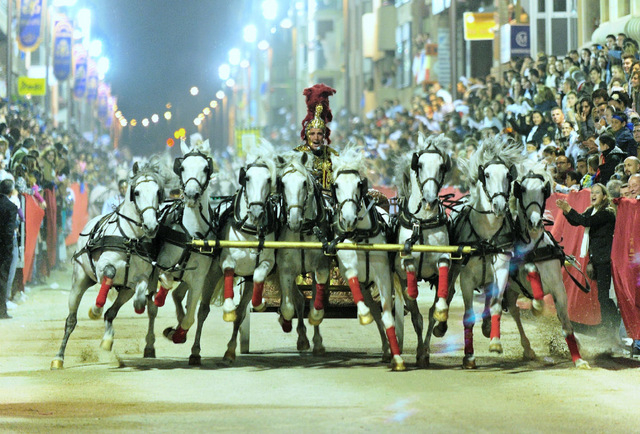 discover the customs and traditions in different parts of the Murcia Region.
The major cities each show a different facet linking to their own geographical location and the history that has defined their own cultural identity.
Lorca is famed throughout Spain for its astonishing embroideries, each of which represents thousands of hours of painstaking work to create, its biblical processions featuring hundreds of horses and chariots racing up the centre of the street, the crowd screaming in appreciative allegiance to the whites or the blues.
In Cartagena smooth rows of satin robes glide with military precision through the streets, their passage marked by the rhythmic clunk of metal staff on marble, followed by vast sculptural towers of lights and flowers which squeeze between the ornate modernist balconies of the old quarter, its processions tinged with deep seated rivalry and naval tradition.
In Murcia the Baroque ebullience of sensuous carving is the perfect backdrop for an admirable collection of Salzillo masterpieces and vibrant robes, yet the Murcia Semana Santa is characterized not by pomp and scale, but by the warmth and generosity of spirit which moves penitents to stuff their robes until they're grotesquely distorted with kilos of sweets, boiled eggs, sweet bread and even broad beans to distribute to onlookers.
Elsewhere the tamboristas of Mula make the earth tremble on Tuesday night on the stroke of twelve as thousands play in unison, the little municipality of Lorquí offers a living passion play which culminates in crucifixion on the hillside above the town, Alhama de Murcia is the scene of joyous flowers and light as the pasos dance on their way back to church on the morning of the resurrection and in Totana bizarre braying sounds are emitted from the processions as the Bocina passes by.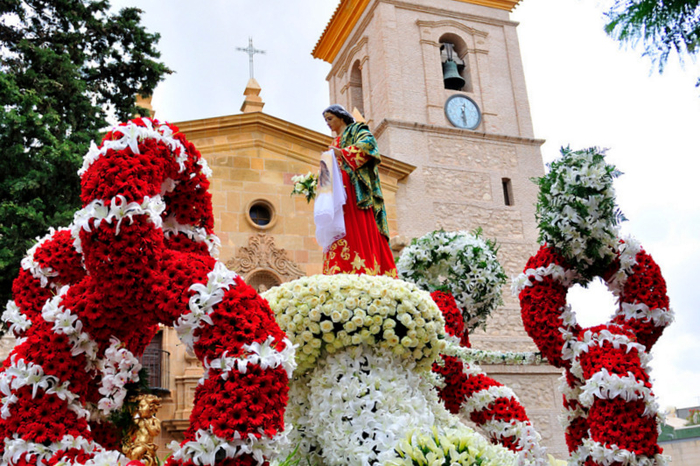 There's so much to discover and no-one can truly say they've "done" Semana Santa.
To help you enjoy this week, we've translated over 20 individual programmes into English, compiling them all in one area of the site together so you can scan through them easily. Along with the programmes are several reports written after attending previous events and basic information about what Semana Santa is all about: Click Semana Santa in the Region of Murcia
There are also a series of English language guided tours to take you behind the scenes of Semana Santa as well.
There are lots more events in the What's on section, so just scroll down to see the events in date order, or use the Events diary facility to search day by day. This weekend there's a classic car and bike event in Caravaca de la Cruz, a secondhand market is on offer in La Manga, San Javier hosts its annual gathering of associations, offering residents the chance to get involved and integrate with local activities, La Unión is holding a volunteer clean up environmental day, there are several free concerts in Calasparra, Caravaca de la Cruz, and Archena and family activities at the Eco-finca La Torrecilla in Corvera, amongst other things.
More events still coming in, so keep an eye on the What's on section for more events next week heading up to Easter weekend itself.

Property round -up
The cautious recovery of the Spanish property market continues to be confirmed by data from all sides, and the statistics published this week seem to back up hopes that the fall in January sales reported by Spain's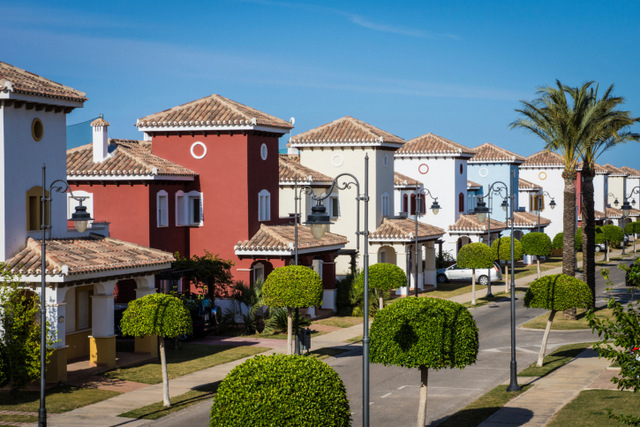 notaries is probably an unimportant blip.
The figures reported by the country's central statistics unit are generally a little out-of-date compared to the notaries, but nonetheless those concerning the number of mortgages being granted on residential property show a comforting trend for those who may have been worried by the sales figures. For the 8th month in a row the number of mortgages registered on homes in Spain was significantly higher than twelve months previously in January, and at the same time the average amount of capital loaned in the mortgages concerned was 4.3% higher than a year ago. With banks keener to lend and interest rates being about as low as they can possibly get, the mortgage market is proving to be one of the driving forces behind the stabilization of the market across the whole country.
Another positive sign is the improving health of the economy as a whole – the Banco de España has this week upgraded its forecast for 2015 to a 2.8% increase in GDP – but a report issued by Fitch ratings points out what has been said many times before, namely that the real estate recovery is likely to be "slow and uneven".
The weight of unsold new-builds still hangs heavily around the neck of the market in many parts of Spain, particularly in the Mediterranean coastal areas and on the outskirts of large cities, while in Madrid and Barcelona the problem is less serious as there is a notable shortage of apartments following years of construction inactivity. As a result Fitch predicts that significant price increases may occur in some parts of the country, while in others (such as the Mediterranean) the recovery is likely to be slowed down by the excess of properties still remaining from the boom years of construction.


Spanish news round-up
Since 10.47 on Tuesday only one story has dominated the Spanish news this week, namely the plane crash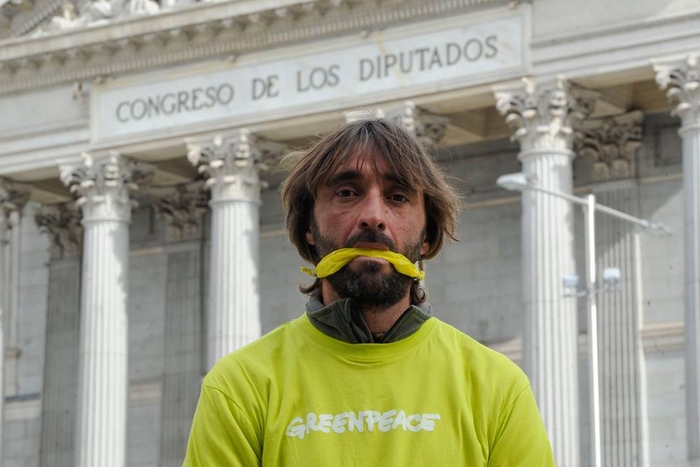 in Seyne-les-Alpes in which it is now believed that a total of 50 Spaniards lost their lives. The country went into shock over the scale of the tragedy and then when news emerged that the co-pilot had deliberately crashed the plane taking all those innocent lives with him, sadness became bewilderment and bewilderment, anger. The Spanish media have, along with the rest of the world, spent the week trying to understand how this could happen, mourning the lives which were smashed on impact and offering its support to the relatives for whom the impact is yet to come. How the parents of the 28 year-old who deliberately drove that plane into a mountainside will feel is beyond comprehension.
King Felipe and Queen Letizia had literally been on French soil for an official State visit to France for a matter of minutes when the news filtered through and immediately cancelled the rest of their visit before embarking on meetings with the French authorities as rescue attempts began.
Not long afterwards the national government announced a three-day period of mourning, which meant that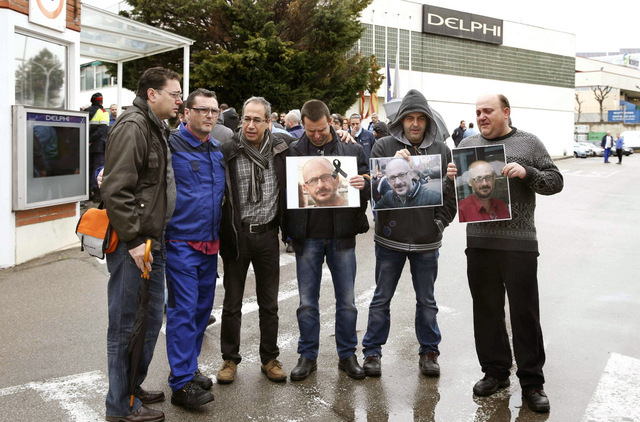 most official engagements were cancelled across the country.
However, a number of other important stories have been in the headlines this week, amongst them the regional election which was held last Sunday in Andalucía. The results left few in doubt that the traditional party system in Spain is under serious threat in other regional elections in May and the general election later this year, with the biggest loser being the governing PP: in Andalucía the party lost a third of its seats and almost a third of its voters, with many transferring their allegiances to the new Ciudadanos and Podemos parties, who will hold 24 of the 109 seats in the regional parliament between them. The PSOE continued to be the most voted-for party in Andalucía, but will have to govern in minority or make a pact similar to the one which was previously agreed with the IU party.
At the moment this is proving to be difficult and should the current regional head, Susana Díaz, (PSOE) fail to agree a pact there may have to be second elections before the summer.
On Thursday the controversial Citizen Security Law and modifications to the Penal Code were passed by parliament despite not attracting a single vote from any of the opposition parties, with members of Greenpeace outside the Congress building protesting at what they see as the restriction of the right to protest. There are important modifications in this legislation which go way beyond the right to protest and this text covers wide-ranging issues such as the age of consent, changes relating to the length of imprisonment for convicted terrorists and murderers and the question of illegal immigrant repatriation. Should there be a change of government later this year it is very likely that this law will be repealed almost immediately.
The economic recovery of Spain continues to become more and more apparent in terms of the major economic indicators: the Banco de España this week not only revised its 2015 forecast to a growth rate of 2.8% in GDP, but also predicted continuing falls in the number of people unemployed and even an end to the negative inflation which has worried analysts over the last nine months or so. How long it will take for this improvement in indicators to be noticeable in the sectors of society most affected cannot be predicted with such accuracy: stats published by Asempleo on Tuesday show that among the under-25s the unemployment rate has tripled to over 51% in the last seven years.
Earlier in the week official figures showed that foreign investment in Spanish companies increased last year and highly positive tourist figures showed that yet again the British continue to lead the foreign tourist market, with the British, French and Germans accounting for nearly half of all foreign tourists in Spain.
The Banco Madrid situation continued to evolve following the freezing of the bank's assets ten days ago, and this week it has been announced that no State rescue package is to be mounted, the bank will enter official bankruptcy proceedings, and a new fund manager will take over investment funds run by the bank.
Another court decision this week relates to the "plight" of the toll road concessionaries, as a judge rules that lack of traffic is a "forseeable risk" and is also an "acceptable risk" which should have been taken into account when analyzing the potential risks of such large-scale business ventures. His decision is that no compensation should be paid to these companies, a number of which are on the verge of bankruptcy.
Another money-related case this week was the recommendation of Judge Pablo Ruz that six people should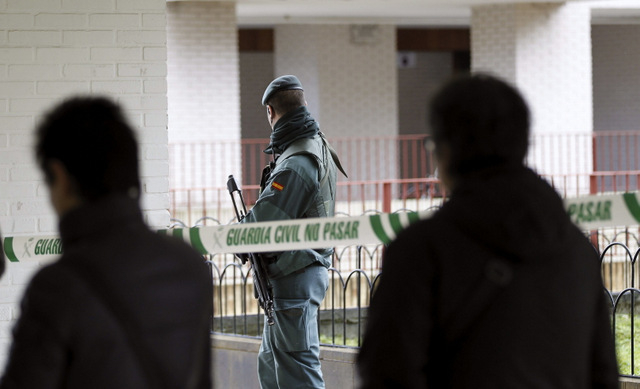 stand trial in the Caso Bárcenas, and that the ruling PP party bears Civil responsibility in the case. The judge has concluded that there were false accounting practices within the ruling party which financed reform projects and supplemented the salaries of senior party members. 22 other suspects are absolved of any crime.
Police have also swooped on 4 further individuals accused of collaborating with ETA and one of Britain's ten most wanted criminals who are believed to be hiding in Spain was arrested in Málaga.
Meanwhile the fruits of another police investigation were returned to Huesca in the form of a 16th century tapestry which was stolen in 1979 by one of the 20th century's best known art thieves, René Alphonse van der Bergen, alias Erik the Belgian who is alleged to be responsible for "hundreds" of fine art thefts from across Spain. The tapestry had been located in America and was this week returned to its rightful owner.
The 16th century has been to the fore in another news story as well this week: off the coast of Galicia a shipwreck thought to date from 1596 was discovered by Navy divers and if their theories are correct this is the first time that the Ángel Gabriel has been seen since it was on its way to offer support to the Irish Rebellion.
This week it was also announced that a selected few visitors would continue to be admitted to the Altamira caves in Cantabria, although there have been reports of serious internal disagreement, with accusations this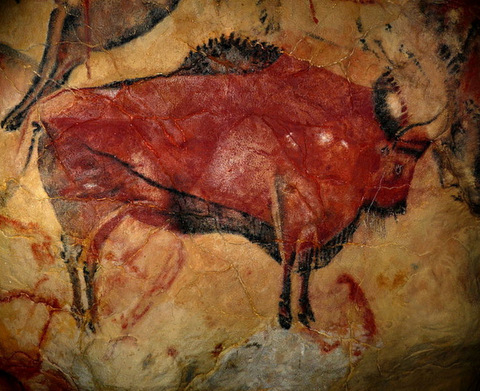 fragile and unique environment is being compromised in the name of commercial exploitation.
On the sporting front most of the headlines were stolen by Barcelona's 2-1 defeat of Real Madrid last Sunday, but Barça defender Gerard Piqué was in the news again a couple of days later when he agreed to pay a 9,000-euro fine for a minor offence which would normally incur a punishment of around 300 euros. The reason given for this heavy punishment is that it has been adapted to correspond to the football star's earnings!
Don´t forget the Bank Holidays on Thursday and Friday: the government are anticipating a massive movement of traffic on the roads on Wednesday afternoon/ Thursday morning, so buy bread now and avoid severe congestion at the fish counter by filleting your salmon in advance and freezing it.
This weekend we also move into Spring, so don´t forget to change the clock before going to bed on Saturday night: Spring forward, fall back.
Have a good Easter!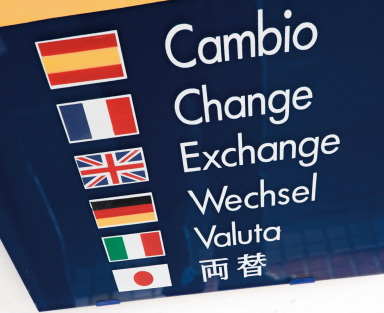 This week currency exchange rates remain high at 1.36€

Click for this weeks currency round up showing the exchange rate between Sterling and the Euro.
This means that those who transfer their pensions across to Spain are getting more euros for every pound sterling at the moment than they have for seven years, and it also makes Spanish property even cheaper for those buying with Sterling, but rates change constantly, so keep an eye on currency rates if planning a transfer any time soon.
If you still use a bank to transfer money, ask our currency experts for a quote to use a money transfer service, youll be amazed how much more you get for your pounds using this method and its really easy to do!
Click here for a No-commitment quote to transfer money to Spain and see how much you can save!
Would you like to receive this free bulletin?
If you enjoyed this free weekly round-up, then please forward it on to your friends. If you have received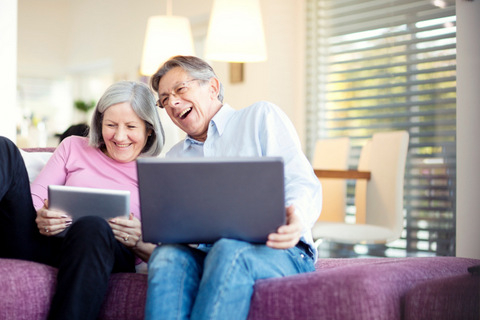 this from a friend and would like to have it sent directly, then click Register for weekly bulletin to sign up.
NONE OF THE TODAY PRODUCTS HARVEST, OR SELL EMAILS IN ANY WAY and we GUARANTEE your details will not be passed on, sold, or used for any other purpose, and are maintained in an off-site facility from which you can unsubscribe at any time.
We also welcome contributions from local charities or clubs, including post event reports, news items and forthcoming events. Use the contact us button in the top header to contact our editorial team.
Murcia Classifieds

Why not give Murcia Classifieds a try?
It,s FREE up to €500 for non commercial ads.
Contact Murcia Today: Editorial 966 260 896 / Office 968 018 268