Date Published: 06/04/2018
ARCHIVED

- Murcia and Spanish news round-up, week ending 6th April 2018

Seagulls at San Javier airport, elephants on the motorway and a whale killed by litter in the sea as animals hit the headlines in the Costa Cálida
The week after Easter has provided a variety of talking points in the Region of Murcia, including a controversial accident which saw elephants blocking the motorway between Murcia and Madrid, the confirmation that a dead whale which beached in Cabo de Palos had died from indigestion after swallowing 29 kilos of plastic and other litter and a vandal burning a 5-metre floral monument in the regional capital as "a prank".
But perhaps the most important story of the week is the news that water is to be transferred via the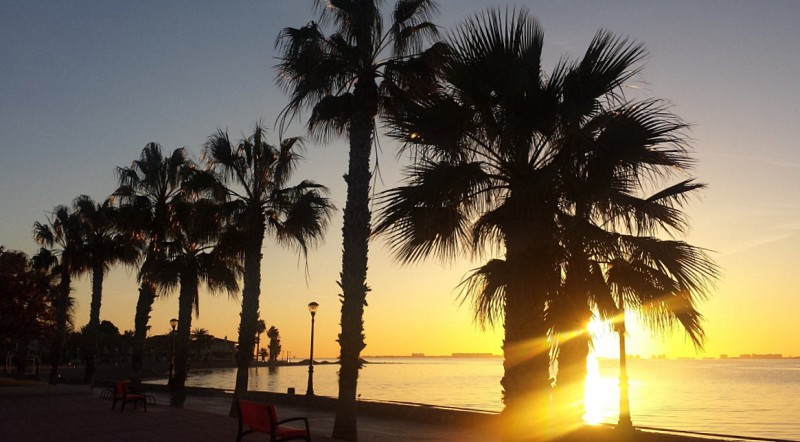 300-kilometre canal which runs from central Spain to reservoirs in the Segura basin, helping to guarantee domestic and agricultural supplies over the summer. This has been made possible by the climatic phenomenon which has this week once again led to Murcia enjoying days of almost unbroken sunshine while the rest of Spain suffered cold and wet conditions – the "Foehn effect", as it is known by meteorologists, is great for winter sun-seekers in the Costa Cálida, but a constant thorn in the side of the crop farmers who have come to rely on water transfers from the centre of Spain such as the ones which have been authorized for April, May and June.
Elephants on the road block the A-30 heading towards Murcia!
Emergency services train to cope with every eventuality, but even seasoned veterans found
themselves at a complete loss on Monday afternoon when a trailer carrying 5 circus elephants overturned on the A-30 close to Pozo Cañada north of the Murcia border in the province of Albacete.
At first the major concern was the huge tailback which ensued, but it soon transpired that one of the elephants had been killed in the accident, with two others injured. At this point a widely supported campaign began to ensure that surviving animals are not returned to the owners of the Gottani circus, to which they belong, with animal rights party PACMA reaffirming their view that "the life of a circus animal is hell".
Tourism and airports
Over 90 cent occupancy rate at Murcia hotels over Easter: no vacancies signs were needed in Lorca and at the thermal spa of Archena, while other major cities, coastal areas and rural tourism also reported very positive results.
In Lorca the number of Semana Santa visitors reached a new record of 345,000 and the number of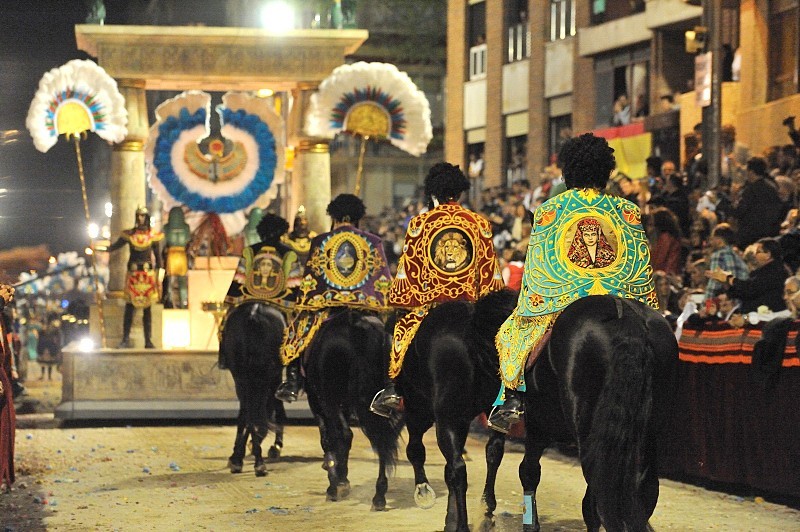 requests for information from both Spanish and foreign visitors rose by over 40 per cent, while in Mazarrón it is reported that hotels in the municipality were 90 per cent full over the weekend of Easter. Here hostels and campsites reported an occupancy rate of 84 per cent, far exceeding the figures which were expected just a few days beforehand.
Cartagena Roman forum museum to be completed within a year: the next addition to the archaeological attractions in Cartagena will open in 2019.
More flights this summer at San Javier airport as detailed checks continue at Corvera: Over 1.1 million seats are available on San Javier flights between now and October.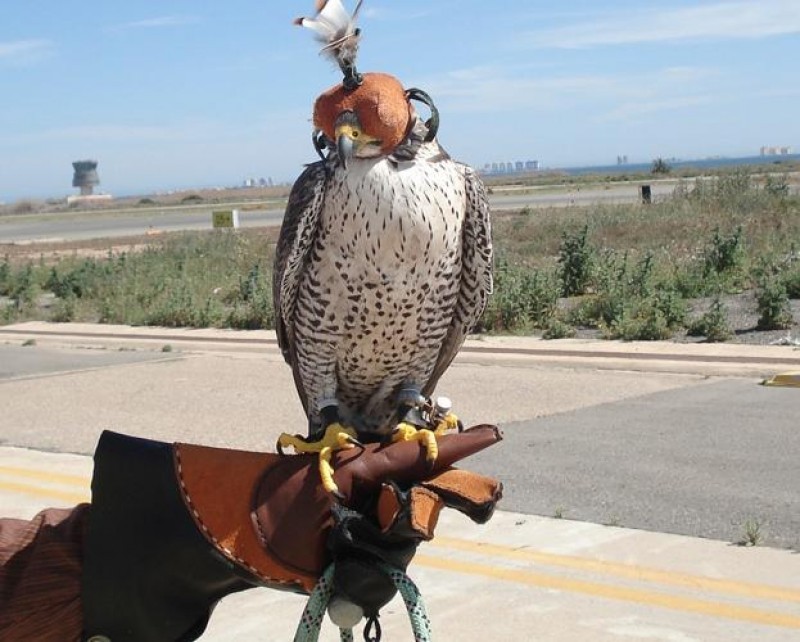 Good-looking birds in charge of flight safety at San Javier! An aborted take-off at Murcia San-Javier airport last week highlighted the usefulness of falconry patrols.
International tourism in Spain continues to grow despite the Catalan crisis and Brexit: figures regarding international tourism which were published on Wednesday show that the sector continues to grow, but at the same time there is a slow-down in that growth which is due in part to a fall in the number of visitors from the UK. This may be down to Brexit and the lower value of the pound, to the re-emergence of competition from north African destinations, or to a combination of both, but it has led to visitor numbers and spending increasing by between 3 and 5 per cent during the first two months of the year – that's still very good, but far less significant than those of around 10 per cent which were being reported a year ago!
Agriculture and the environment
Drought relief for Murcia with the first water transfer for 11 months: the heavy rain and snow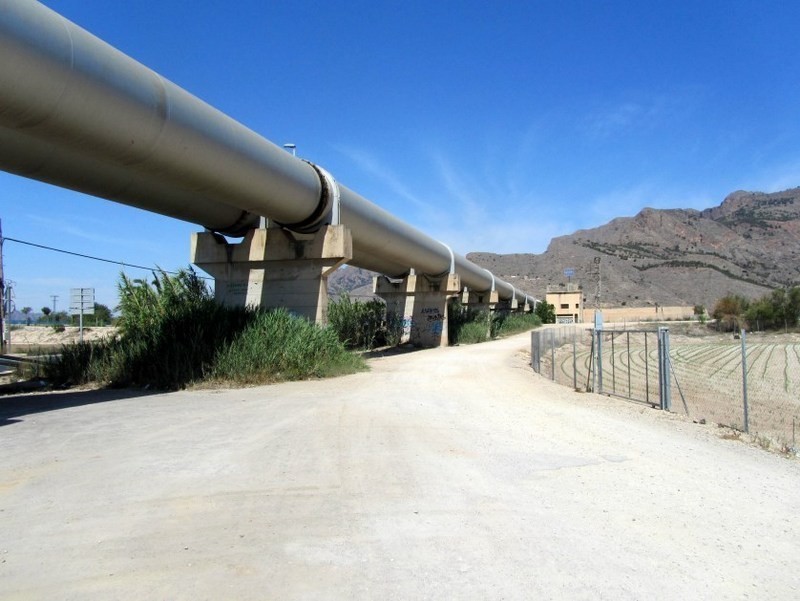 which fell in much of Spain during February and March has brought a little relief to the drought-parched Region of Murcia, with confirmation that approval has been given for the transfer of 60 cubic hectometres (or 60,000,000,000 litres) of water from the reservoirs in the headwaters of the Tajo basin to those of the Segura basin.
The water will reach the Segura via the 292-kilometre "trasvase" canal which leads to the Talave reservoir in the province of Albacete, from where it will be distributed to Murcia and the rest of the basin for domestic supply and irrigation purposes.
Pipeline to divert agricultural water runoff away from the Mar Menor remains unused: insufficient reports were compiled prior to the construction of a 1.7-million-euro pipeline which has never been used.
Monitors installed to measure flow rate between Mar Menor and Mediterranean: Europe's largest saltwater lagoon continues to recover from the algal bloom of two years ago.
6-million-euro modernization of Lorca waste recycling plant begins: the plant deals with 64,000 tons of waste from south-west Murcia every year, and the aim is for at least 50 per cent of the waste entering the facility to be recycled as raw materials.
New environmental control vessel on duty along the coasts of Murcia: the Cerro de Lobos will patrol marine reserves and monitor water quality in the Mar Menor among other duties.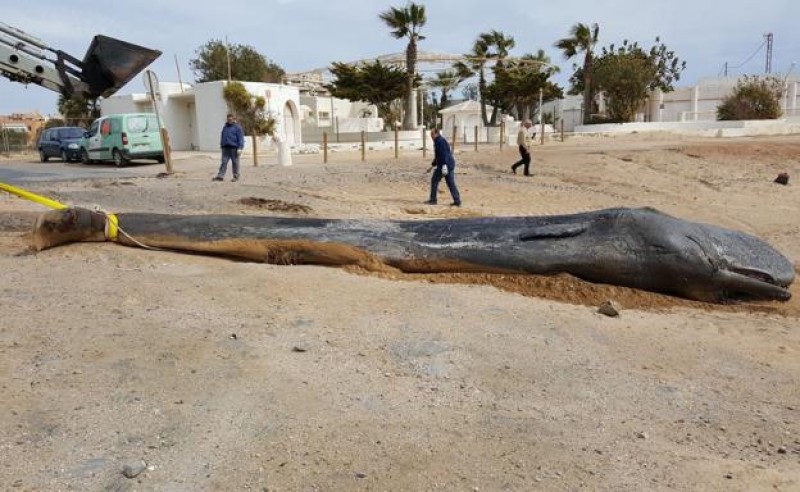 Whale washed ashore in Cabo de Palos died after swallowing 29 kilos of plastic and other waste: the 9-metre sperm was found on 27th February and it has now been found that it died from indigestion, providing a graphic example of how litter and waste discarded by human beings can represent a threat to even the largest of animal species in the sea.
The young whale, accustomed to a diet of squid, was unable to either digest or expel the waste he had inadvertently consumed, but his unfortunate death has had at least had one positive consequence, with the announcement this week that the Department of Culture, Tourism and the Environment is to launch a campaign to raise public awareness of the dangers of leaving litter at sea or on the shore.(let's hope words translate into actions in this instance and more is done to prevent plastic waste from entering our oceans and also being generated in the first place!)
Firefighters busy throughout the Region of Murcia
2018 wild fire season officially begins in the Region of Murcia: as the fine spring weather gradually becomes more settled in Murcia, the annual "Infomur" wild fire prevention and extinction campaign began on 1st April, and just three days later firefighters were in action combating two spectacular blazes.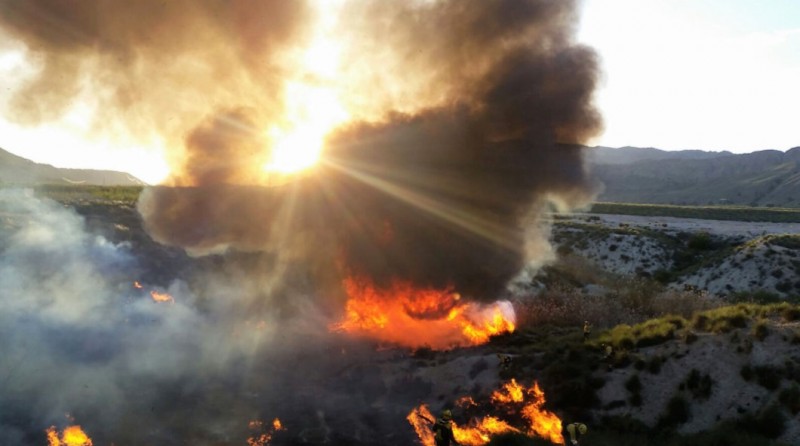 First, a pall of black smoke turned the sky dark over eastern Murcia as a huge fire ravaged a recycling plant in Santomera on Wednesday afternoon alongside the road which leads to the A-7 motorway and the town of Abanilla, and then later the same day 3 hectares were razed by wild fire in the Ricote valley, where flames of up to 20 metres devoured vegetation in the countryside of Ojós.
And then in the earlier hours of Thursday morning a vandal set fire to a floral monument in the city of Murcia: the Italian arsonist destroyed a sculpture created for the Batalla de las Flores parade in Murcia, and when arrested described his actions as "just a prank".
Other items in the Murcia news
Costa Cálida schoolchildren offered subsidised water sports: it is hoped that 6,500 students will take advantage of the programmes and learn to sail, dive, or enjoy one of the many other activities available in coastal locations.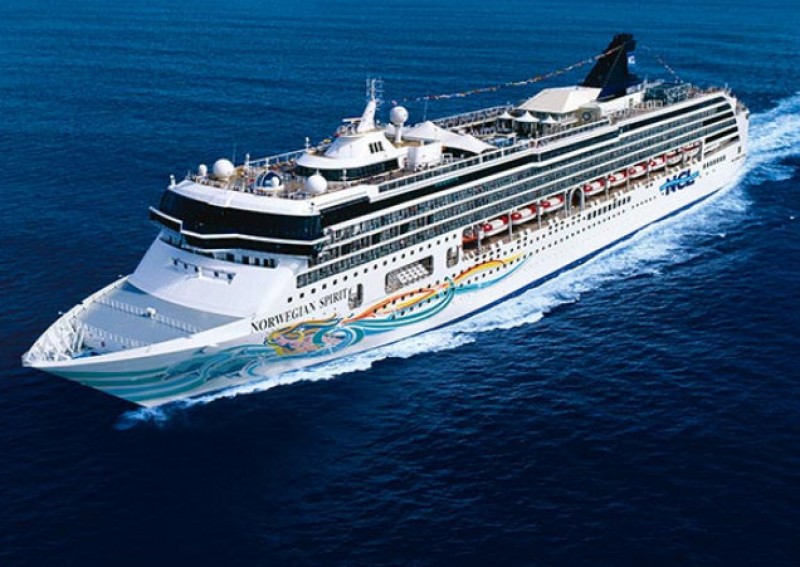 Cruise ship passenger missing 30 miles off the Costa Cálida: missing presumed dead, the 34-year-old Saudi Arabian is being searched for between Mazarrón and Cartagena after falling into the Mediterranean in the early hours of Tuesday morning.
Ghost motorway reverts to government ownership: traffic levels have started to recover on the Cartagena-Vera motorway, which was boycotted by locals when it was opened due to the high toll charges.
34,000 diesel cars could fall foul of new ITV testing rules in Murcia: the new tests could mean the end of the road for a total of 69,000 vehicles which over 20 years old, due to stringent measures relating to harmful exhaust emissions.
Yacht gifted by Richard Burton to Elizabeth Taylor finally removed from the port of Águilas: the 34-metre "Jazmine" was first owned by Aristotle Onassis, and although she had been quietly rotting in Águilas for 15 years until her condition became dangerous, her presence lent the port a little glamour, albeit rather faded and jaded, to the town!
Murcia and Spanish property news
There was little property news of note in the week following Easter, but reports published by two of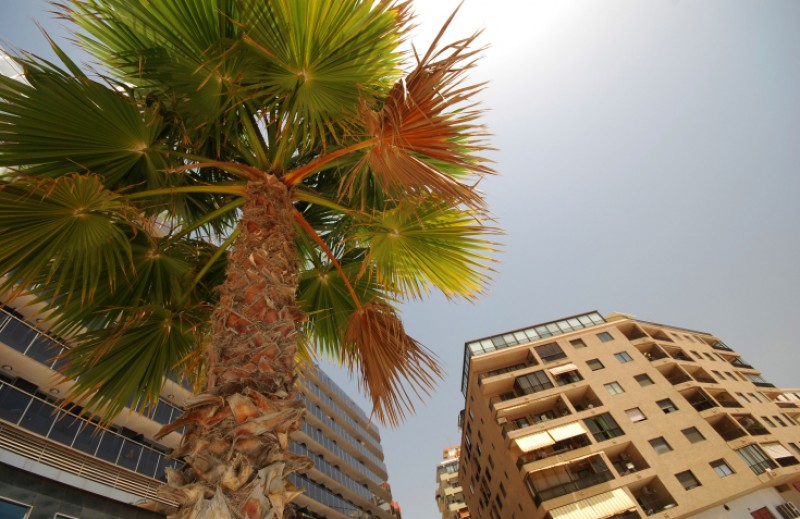 Spain's leading valuation firms concurred that the recovery in market prices is gathering momentum and spreading to more parts of the country.
On the one hand, Tinsa report that the average price of Spanish property in the first quarter of 2018 was 3.8 per cent higher than a year ago, due largely to double-figure increases in Madrid and the Balearics. The other 14 regions saw less significant appreciation but in none was a fall in price observed, and in Murcia the increase is calculated to have been 3.5 per cent.
Almost simultaneously, ST published their summary for 2017, concluding that during the year average prices had experienced a 4.3 per cent increase. This time the most significant rises were reported in Catalunya, the Balearic Islands and Madrid, and in the Region of Murcia market value was found to have risen by just 0.3 per cent during 2017. But then again, there is a feeling that the Murcia market has become considerably more vigorous since the start of this year, so the discrepancy may be explicable!
Spanish news summary: indignation at tragedies on a Mallorca road and an Alicante beach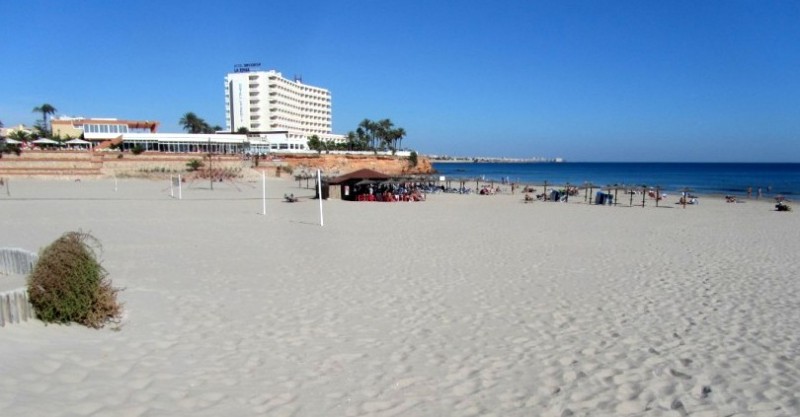 Two very different tragedies in Spain this week caused demands that "something must be done" to prevent them being repeated in the future.
One of them was yet another incident involving a careless driver ploughing through a group of cyclists, this time in Mallorca, where a woman who was found to have traces of cannabis in her bloodstream left one man dead and another eight cyclists injured. Accidents of this kind are all too common in Spain, and despite government proposals to stiffen fines for misdemeanours behind the wheel it seems impossible to prevent them.
The other one will strike closer to home for many readers, involving as it did the death of a 9-year-old British boy who collided with a friend while playing football on the beach in La Zenia, in the province of Alicante. Residents in the area are angered by the fact that it took 40 minutes for an ambulance to arrive at the scene after the boy's heart stopped beating, and although they managed to restore a faint pulse he lost his battle to survive the following day in hospital.
This delay has added fuel to the resentment among residents of Orihuela Costa at what they feel is the disdain with which they are treated by the Town Hall, but of course the immediate priority has been to share the grief of the bereaved relatives.
Elsewhere, the elephant motorway crash in Albacete was a long way from being the only bizarre story in the Spanish news this week: click the links to read about pigeon kidnappers who were handed a 2-year jail sentence in Albacete, a Segway user who collided with a car while under the influence of amphetamines, cocaine and cannabis and two Italians who attempted to leave a restaurant without paying after racking up a 4,000-euro wine bill!
Scroll down below for more stories in the Spanish news this week…
Would you like to receive this bulletin?
If you enjoyed this free weekly round-up, then please forward it on to your friends. If you have received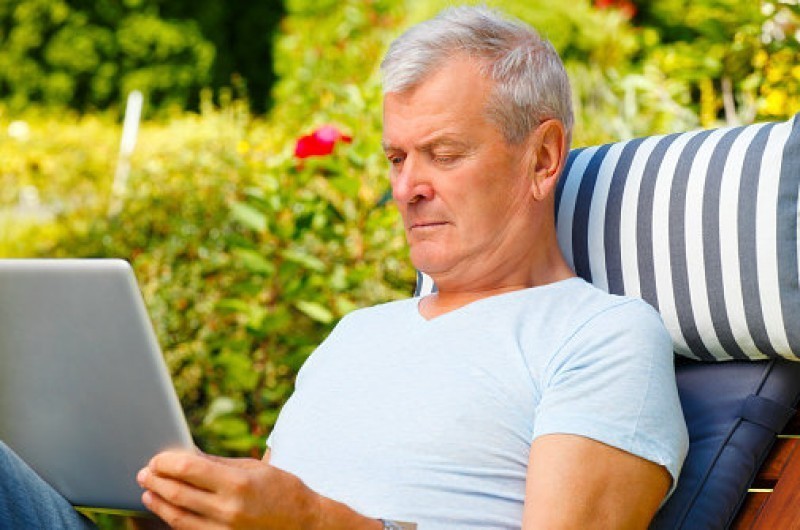 this from a friend and would like to have it sent directly, then click Register for weekly bulletin to sign up.
NONE OF THE TODAY PRODUCTS HARVESTS OR SELLS EMAILS IN ANY WAY and we GUARANTEE your details will not be passed on, sold, or used for any other purpose, and are maintained in an off-site facility from which you can unsubscribe at any time.
We also welcome contributions from local charities or clubs, including post event reports, news items and forthcoming events. Use the contact button in the top header to contact our editorial team.
Images: Copyrighted Murcia Today and Efe. Full or partial reproduction prohibited.
Contact Murcia Today: Editorial 966 260 896 / Office 968 018 268