Date Published: 04/05/2018
ARCHIVED

- Murcia and Spanish news round-up week ending 4th May 2018

A spring public holiday and fiestas in much of Murcia as Corvera, the weather and the drought hit the headlines
As the spring continues to bring a mixture of sunshine and showers to the Costa Cálida there has been something of a holiday mood in the Region of Murcia this week: a national holiday on Tuesday, the Wine Horses race and annual fiestas in Caravaca and the Mayos in Alhama de Murcia and other locations have all contributed, and it would be understandable if attention focussed more on these events and the dissolution of the Basque separatist terrorist group ETA than on goings-on in Murcia.
Certainly it seemed that the president of the regional government had become distracted when he stated in a national television interview that flights will soon be in operation between Corvera and Manchester United (see below), but on a more serious note there have been plenty of other issues in the headlines.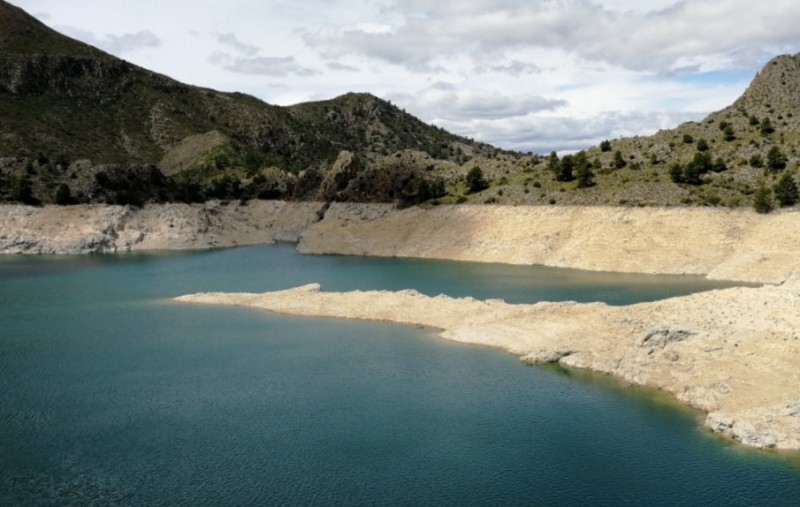 Among them is the weather and its implications for the on-going drought in Murcia: it may have rained a little during the week but water reserves are still very low, the only good news being that March and April have been very wet indeed in the rest of Spain. This means that the amount of water being transferred to the Segura basin can be increased, but the leader of the PSOE party appears not be wholly convinced that this is desirable and failed to convince farmers that he supports them during a meeting in Molina de Segura.
Also in the news are the iconic Rio de Janeiro-style statue of Christ in Monteagudo, which is danger of collapsing, the proposal to set up a ferry service between Cartagena and the Balearics and an unprecedented strike by bar and restaurant owners in the city of Murcia this Saturday in protest at changes in the local noise regulation rules.
Tourism news
Proposed Cartagena-Balearics ferry service gains regional parliament backing: the service would connect Cartagena with Ibiza and Palma de Mallorca, and could be up and running within three years.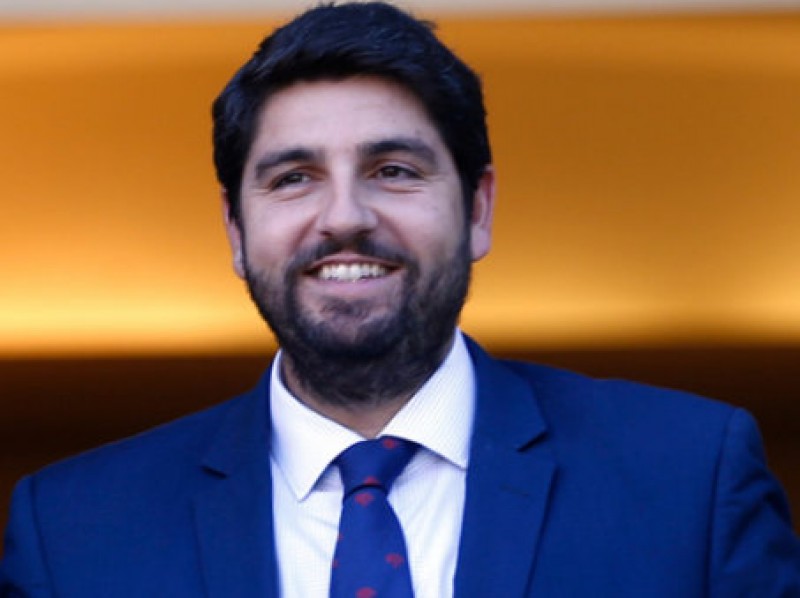 Murcia president announces Corvera - Manchester United flights! City fans should not be offended – Fernando López Miras rectified the error shortly afterwards!
9.6 per cent more foreign tourists in Spain during March: Easter boosted the figures while the estimated tourist spending rose by 12 per cent to 7.7 million euros per hour! The UK accounted for 22 per cent of all those visiting this country from abroad.
The first official dog-friendly beach in Cartagena will be in Isla Plana: La Calera is alongside the seafront walk between Isla Plana and La Azohía, and in reality many dogs are already allowed off the lead to enjoy a frolic on the stony stretch of beach at almost all times of year.
Majestic baroque palace in Lorca to re-open to visitors on 19th May: the magnificent Palacio de Guevara dates from the late 17th century and has been closed to the public for just over seven years since the earthquakes of 11th May 2011.
80-kilometre greenway to be created from Totana to Caravaca: the new route will make it possible to follow Vías Verdes from Cartagena all the way to Caravaca, and will pass through La Santa, Las Terreras, Avilés and Coy.
Mar de Músicas season tickets on sale in Cartagena: Gregory Porter, Texas and The Human League are among the acts performing in Cartagena this year.
Environmental and agricultural news
May Day snow on the high ground of Lorca! Winter still refused to give way to spring as May began in Murcia.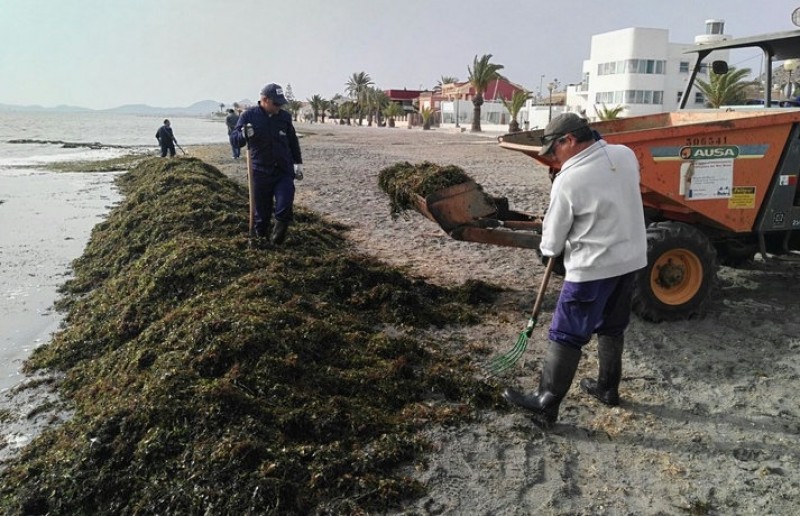 1,400 m3 of seaweed removed from Mar Menor beaches by hand so far in 2018: low-tech manual cleaning ensures that any damage to the marine environment is minimal, and all work is overseen by a biologist.
2,800 hectares of fruit orchards in Murcia damaged by hailstones: the storm last Friday brought more grief to fruit growers in Jumilla and Fortuna following another similar episode in March.
Drought goes on in Murcia as last month was one of the driest Aprils this millennium: a top temperature of 31 degrees in Murcia in a month of heavy rain in the rest of Spain, meaning a likely increase in the amount of water transferred to the Segura basin.
PSOE leader fails to convince Murcia farmers over water supply policy: Pedro Sánchez struggled to clarify his policy regarding water transfers from other regions.
Brexit to lead to less Common Agricultural Policy funding for Murcia farmers: the next EU budget could mean 13.5 million euros less for agriculturalists in Murcia.
Other items in the Murcia news
24-hour strike at bars and restaurants in the city of Murcia this Saturday! Owners are angered by noise regulation changes imposed by the Town Hall of Murcia and their gesture coincides with the WARM UP music festival in the capital.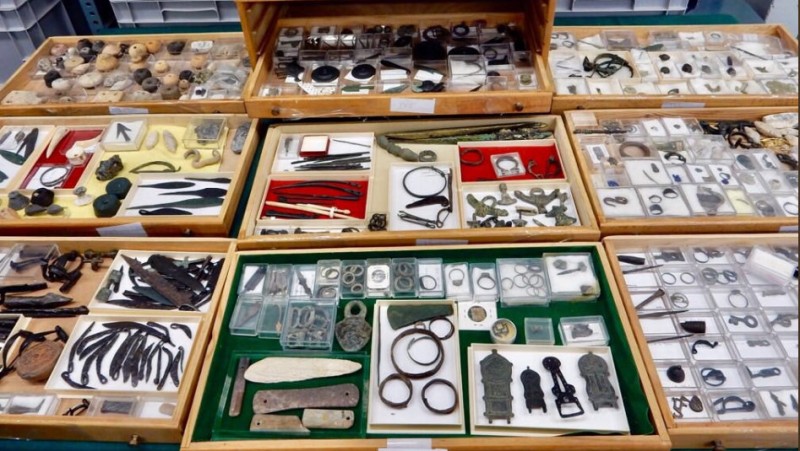 Guardia Civil present the largest private archaeological treasure trove ever found in Murcia: over 10,000 items from prehistoric times to the Middle Ages are now public property having been confiscated from a chalet in the residential development of Agridulce, just outside the regional capital.
Murcia jobless total almost down to 100,000: a drop of 3.3 per cent in April reflects the traditional spring downward curve.
Murcia economy growing at annual rate of 3 per cent: 0.6 per cent growth in GDP in the first quarter of 2018.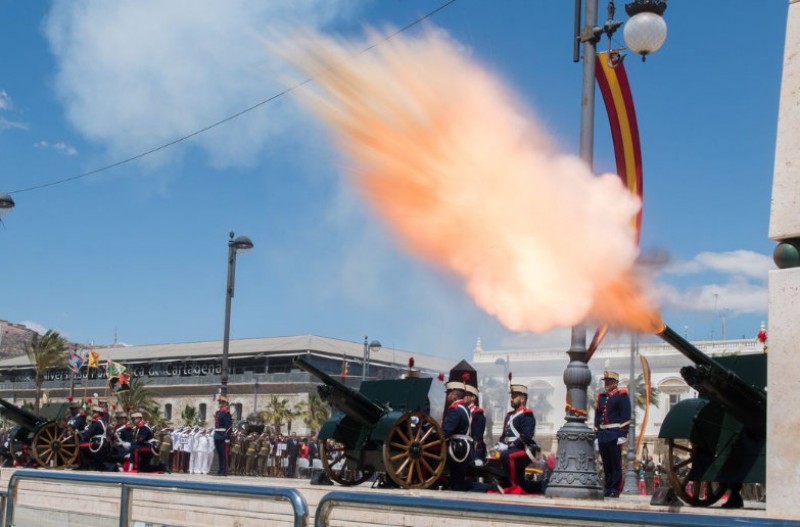 Cartagena commemorates the uprising against Napoleon: an uprising in May 1808 led to victory six years later, and it has become a tradition in Cartagena to celebrate the anniversary.
Spectacular boat fire in La Aparecida in Cartagena: the blaze occurred alongside the Avenida de San Javier in La Aparecida.
Cala Cortina – Escombreras road in Cartagena re-opens: improvements have been completed on the spectacular mountain road just outside Cartagena.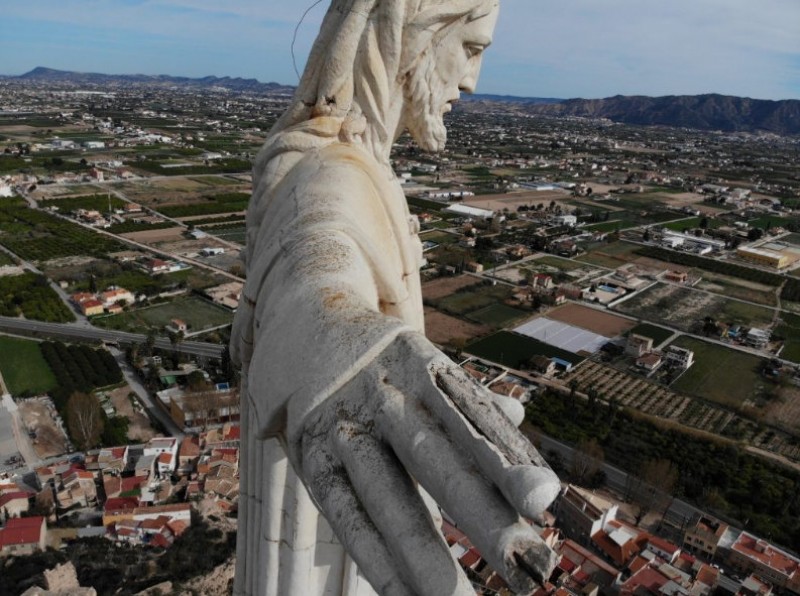 The Christ of Monteagudo is missing a fingertip: drones reveal signs of deterioration in the iconic statue just outside the city of Murcia, which stands on top of the 12th-century Moorish castle of the Wolf King.
3 injured in collision on the old road between Mazarrón and Águilas: the accident occurred in the district of Cañada de Gallego, and the victims were taken to hospital in Lorca.
Notorious ETA terrorist leader treated at the Arrixaca hospital in El Palmar: "Kantauri" is serving time in Campos del Río after plotting to assassinate Juan Carlos I and being involved in some of the highest-profile ETA killings.
Cycling classes in primary schools as San Javier prepares for La Vuelta stage finish: 8- to 12-year-olds are being given expert instruction in road safety for cyclists as the town prepares to welcome the Tour of Spain on 30th August.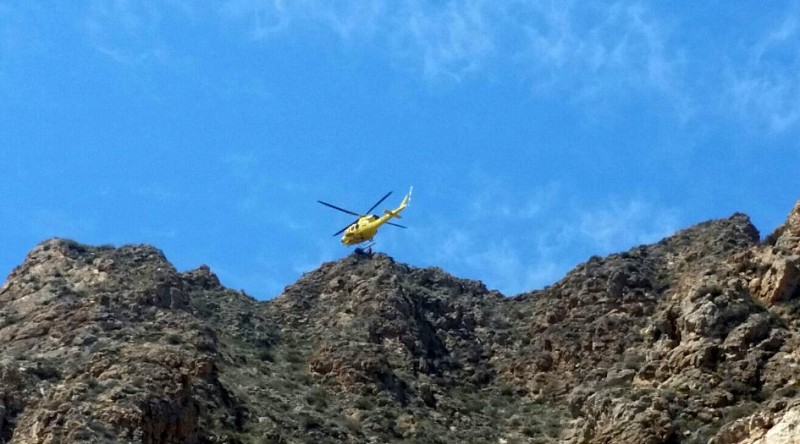 Injured walkers rescued in the countryside of Campos del Río and Águilas: emergency services were called out to the ravine of Los Rodeos and the countryside close to the ruined castle of Chuecos. Another expedition also ended in drama when a 23-year-old had to be airlifted from the cliffs of Cabo Cope in Águilas.
Public opinion wins the day and the Totana Romería returns to its traditional date: the Romería de Santa Eulalia will take place on 7th January in 2019 by public demand as it always has done!
6,700 falsely branded garments confiscated in Lobosillo: the clothing included sportswear, t-shirts and polo shirts.
Murcia and Spanish property news: residential building licence figures up by 15 per cent in Spain this year
The property market recovery is having a significant knock-on effect in the construction sector, both in Spain as a whole and in the Region of Murcia, where building licence figures are up by 84 per cent so far this year.
However, the extent to which the construction sector suffered when the market bubble burst a decade ago is illustrated by the comparison with figures in 2007: in the whole country the 12-monthly running total of 83,000 is still under 10 per cent of the peak which was reached in April 2007, and in the Costa Cálida the proportion is as low as 2.4 per cent!
Spanish news summary – the end of ETA after decades of killing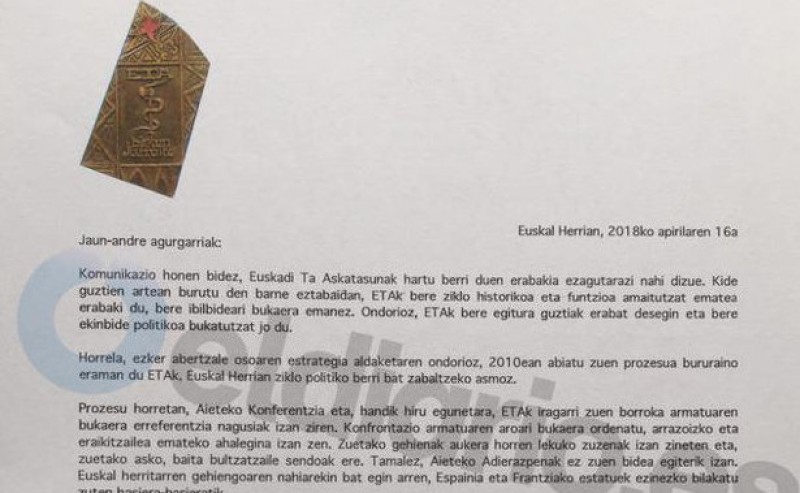 There is little doubt that the main story in the Spanish news this week is the dissolution of the Basque separatist terrorist group ETA, which has finally announced its complete disbanding almost 60 years after it was formed to fight for independence from France and Spain.
For those who have been living in Spain for only a few years it is hard to explain how deeply this matters to Spaniards. Between 1968 and 2010 ETA's violent campaign of bombing, assassinations and kidnappings left over 820 people dead, and there were periods when it seemed that barely a month could pass without fresh incidents of bloodshed, killings and kidnappings of innocent victims. Even as far from the Basque Country as the Region of Murcia there were bombings and other attacks, and although various ceasefires were declared none of them proved lasting until the one which was announced on 5th September 2010.
This was followed in 2011 by a "definitive cessation of ETA's armed activity", and as arrests and imprisonments of members and former members continued the group dwindled in size, at least in terms of those who were still at liberty. Last month it was announced that the group is no longer armed, and a letter and a video have been made public confirming ETA's "completely dismantling all of its structures" and a definitive end to their "historical cycle and functioning". While there is bitterness over ETA's failure to make any form of explicit apology, or even reference, to the victims and their relatives, the news is welcomed in all quarters.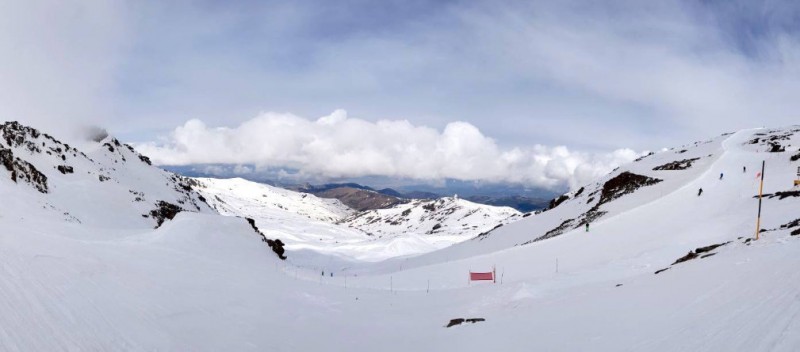 Elsewhere the week started with heavy snow in the mountains as the weather signally failed to behave for the May Day holiday (except for skiers), and other items to catch the eye include an impressive April drop in unemployment, a Guardia Civil investigation into a case in which a 7-year-old sat on his father's lap and took the wheel of the family car in Sevilla – harmless fun or a serious threat to public safety? – and the outrage over a woman who killed a cat by putting it into the washing machine and turning the device on. Not only did the 19-year- old see fit to carry out this act of atrocious cruelty, which resulted in the death of the animal, she also found it appropriate to record her exploits and show them off on social media. No editorial comment is required.
To view other items in the Spanish news this week scroll down below…
Would you like to receive this bulletin?
If you enjoyed this free weekly round-up, then please forward it on to your friends. If you have received
this from a friend and would like to have it sent directly, then click Register for weekly bulletin to sign up.
NONE OF THE TODAY PRODUCTS HARVESTS OR SELLS EMAILS IN ANY WAY and we GUARANTEE your details will not be passed on, sold, or used for any other purpose, and are maintained in an off-site facility from which you can unsubscribe at any time.
We also welcome contributions from local charities or clubs, including post event reports, news items and forthcoming events. Use the contact button in the top header to contact our editorial team.
Images: Copyrighted Murcia Today and Efe. Full or partial reproduction prohibited.
Contact Murcia Today: Editorial 966 260 896 / Office 968 018 268