Date Published: 21/02/2017
ARCHIVED

- Murcia and Spanish news round-up week ending 24th February 2017
The San Javier and Corvera airport debate hogs the headlines as Spain prepares for Carnival weekend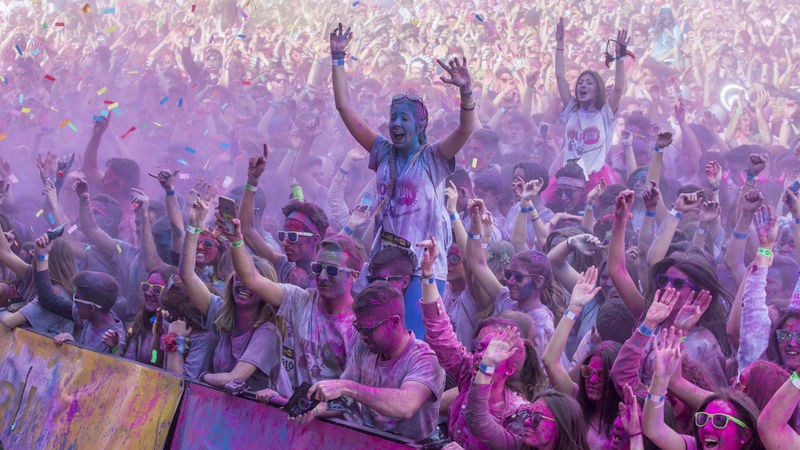 All over Spain this weekend there will be outrageous costumes and partying in the streets to celebrate Carnival - the image shows the Holi Run curtain-raiser in Cabezo de Torres last weekend - but Pedro Antonio Sánchez is likely to be rather less than enthusiastic in his partying than he would have hoped, as doubts continue over the future of the airports at San Javier and Corvera and his own future as president of the regional government appears to be in serious jeopardy.
San Javier and Corvera, the great airport debate rumbles on
The degree of interest in the unopened Region of Murcia International Airport in Corvera was illustrated on Monday by the publication on Facebook of a fake video, in which an aircraft appears to land on the main runway a few kilometres south of the regional capital.
As word spread over 3,000 people viewed the 16-second video in just five hours, but no-one should get their hopes up: still no date has been set for the first "real" flight at Corvera, and the new management contract at the airport has not yet been put out to tender!
However, that could be imminent according to Pedro Rivera, the minister for Development in the regional
government, who stated on Wednesday that an agreement had been reached with Aena to close the airport of San Javier to civilian flights, and to transfer traffic to the new, as yet unopened facility in Corvera. Sr Rivera said that this leaves the way clear for the new management contract to be put out to tender, and expressed confidence that Murcia "will be much more competitive with the International Airport".
But it is being reported in the regional press that the version presented by the regional government may not tell the whole story. According to La Verdad and La Opinión, Aena are not as optimistic as Sr Rivera, and Aena may not be quite as willing to sign the San Javier closure agreement in a hurry as the Murcia government, as they first need to compile an internal report to evaluate the proposals.
On Thursday, Sr Rivera added to his original comments, stating that even if the San Javier closure terms are not finalized the government will put out the Corvera contract to tender, although clearly it would be preferable if the situation at San Javier were clarified first.
Mar Menor regeneration
30,000 cubic metres of sand from Marchamalo for the beaches of the Mar Menor: 30,000 cubic metres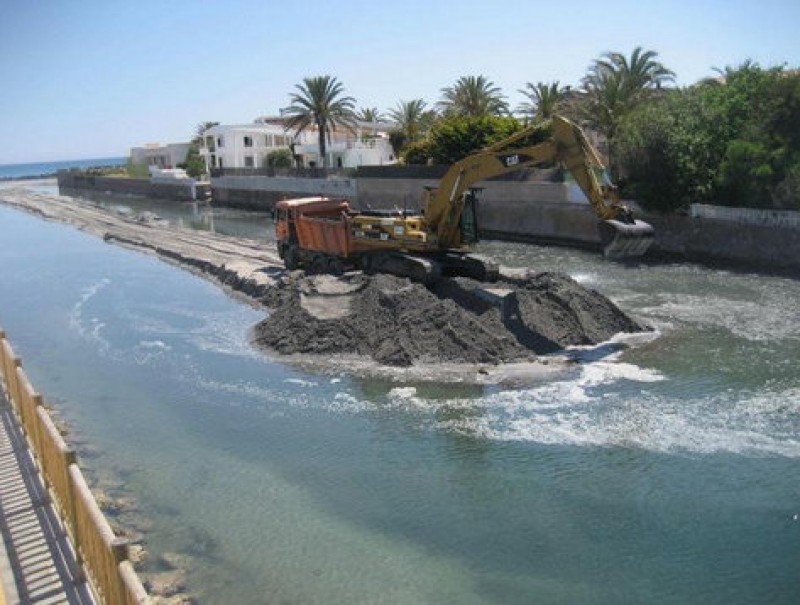 of sand will be extracted from the Marchamalo canal, which is one of the five "golas" running across La Manga between the Mediterranean and the Mar Menor, to replenish the beaches of San Javier and Los Alcázares, and another 15,000 cubic metres will be redistributed from El Estacio to beaches in the northern half of La Manga itself.
Drone technology to the rescue in the Mar Menor: the regional government of Murcia is determined to use all of the tools at its disposal in the campaign to clean up and protect the marine environment of the Mar Menor, and the latest recruits are two aquatic drone devices designed to reach hidden corners of the lagoon which have previously been difficult to access, map and monitor.
The drones, one of which operates on the surface of the water while the other is submersible, were presented on Thursday in San Pedro del Pinatar.
Other agricultural and environmental news
Murcia government investigates Mazarron bee massacre: an investigation is being carried out by the Department of Agriculture and the Environment in the regional government of Murcia into the deaths of thousands of bees at an apiculture centre in Cañada de Gallego, in the north of the municipality of Mazarrón.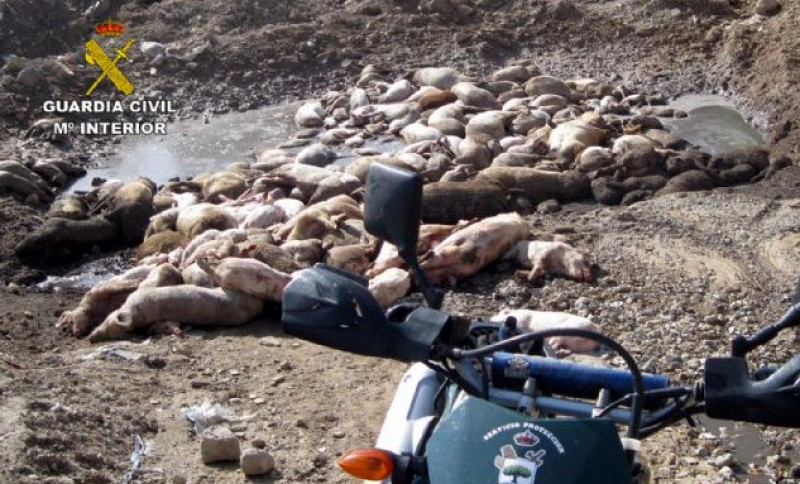 100 dead pigs found rotting in the Mazarron countryside: the presence of the dead pigs was reported by a member of the public, and when they were found they are reported to have been in an advanced state of decomposition. They were exposed to the elements and to the attentions of animals hunting for carrion, as well as to insects, and the possibilities of infection of the water and sub-soil were clear to see. Two local pig farmers face charges.
Resignation pressure mounts on Murcia president
The calls for Pedro Antonio Sánchez to resign as head of the regional government of Murcia following his being named in two cases of alleged misuse of political power are growing louder and more widespread, and on Tuesday reached the national parliament in Madrid. Ciudadanos party spokesman Juan Carlos Girauta called on Tuesday for his immediate resignation, although party leader Albert Rivera backed the imposition of a seven-day deadline, while underlining that he is willing to continue with the agreement by which the PP was allowed to form a government in Murcia, but with a different person at its head.
In the meantime, Podemos in Murcia have begun preparations for a possible vote of no confidence in the regional government in the event of Pedro Antonio Sánchez remaining in office, and a date has been set for him to testify in relation to the Puerto Lumbreras auditorium. That date is 6th March, and the president has publicly welcomed what he sees as a chance to clear his name by informing the court of all he knows regarding the case.
In the past, he says, he has requested to be allowed to help the investigation but has been denied permission: now, he adds, "fortunately I will be able to do so", and he vows to supply documentation so that the workings of justice can proceed as quickly as possible.
However, as the weekend nears Sr Sánchez's position begins to look less and less tenable, after motions demanding his resignation were passed by the Town Halls of the cities of Murcia and Cartagena on Thursday.
It must be stressed that no charges have been brought against the regional president and the judicial requirement for him to answer questions is part of an investigative process undertaken by the judiciary before deciding whether to press charges or not.
Other news in Murcia this week
Murcia shoe sector tops 100 million euros in exports: the 147 Costa Cálida shoe exporters increased the amount sold overseas by 14.5% last year to 108 million euros, competing most successfully in the field of quality shoes, rather than cheap ones.
Stray pony dies in motorway access road accident outside Murcia: the animal was hit by a moped and a car near Guadalupe de Maciascoque.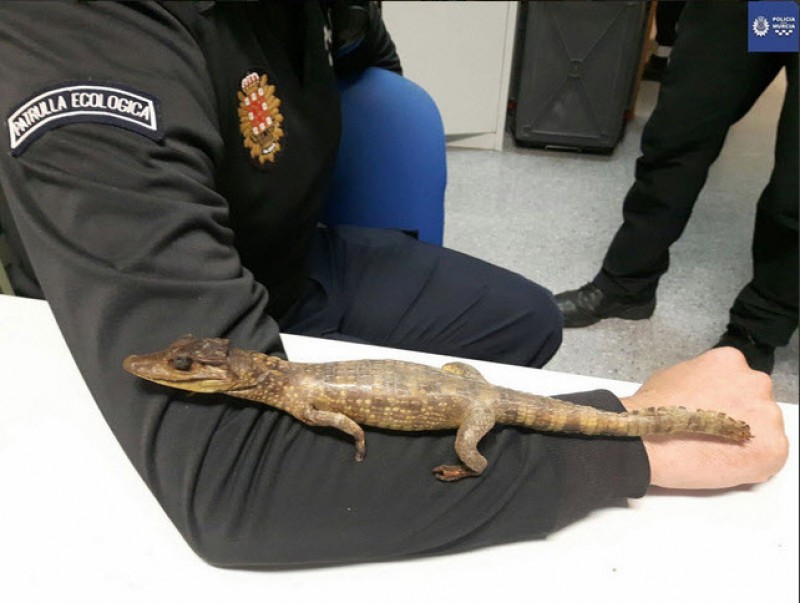 Crocodile causes alarm in the centre of Murcia: police received a number of calls on Thursday morning alerting them to the presence of a crocodile alongside the river Segura in the centre of Murcia. A patrol was despatched to investigate and confirmed that there was indeed a crocodile on the bridge opposite the Hospital Reina Sofía.Click to read full story.
Murcia traffic authorities prepare for smart junction signals: junction warning signs and central rumble strips are set to appear on Murcia roads in an effort to bring down accident numbers.
Murcia motorhome park project changes location: the plans to create a large motorhome park for tourists at the Thader shopping mall in the northern outskirts of Murcia, next to the A-30 and A-7 motorways, have been altered by the Town Hall and will therefore suffer a delay, as well as some of the park's capacity being lost.
Those heading for Murcia in camper vans and motor homes will now be asked to set their satnav devices to take them to El Puntal, approximately half a kilometre from the junction of the two motorways, where the area occupied by the proposed park will be 1,400 square metres less than was originally planned. The Town Hall still estimates, though, that it will be able to host 42 vehicles at any one time, avoiding the congestion caused by campers when they attempt to take their caravans into the city centre.
Cartagena shooting leaves one dead and one seriously wounded: a 40-year-old man was shot dead in the José María de la Puerta district of Cartagena on Sunday afternoon, when the killer also seriously wounded the victim's partner before holing up in a nearby garage and then surrendering to the police.
A baby who was also in the car was not harmed, and it has since emerged that the killing was most probably related to drug dealing debts.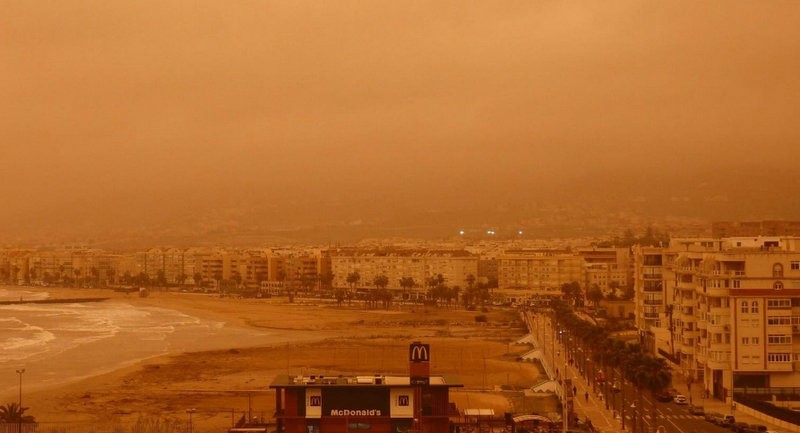 Lucky escape as train smashes into vehicle in Pozo Estrecho: a female driver had a lucky escape on Wednesday evening when her car was hit by a train on the railway line between Pozo Estrecho and La Palma. Click for story.
Cartagena council acquires former Playa Honda health centre at a bargain price: Cartagena municipal council has become the owner of the property which was formerly home to the Playa Honda Medical Clinic, closed down by the Ministry of Health at the end of 2015. The building has been purchased for just 4,000 euros, and there are now plans for reforming and refitting it and re-opening the former medical centre.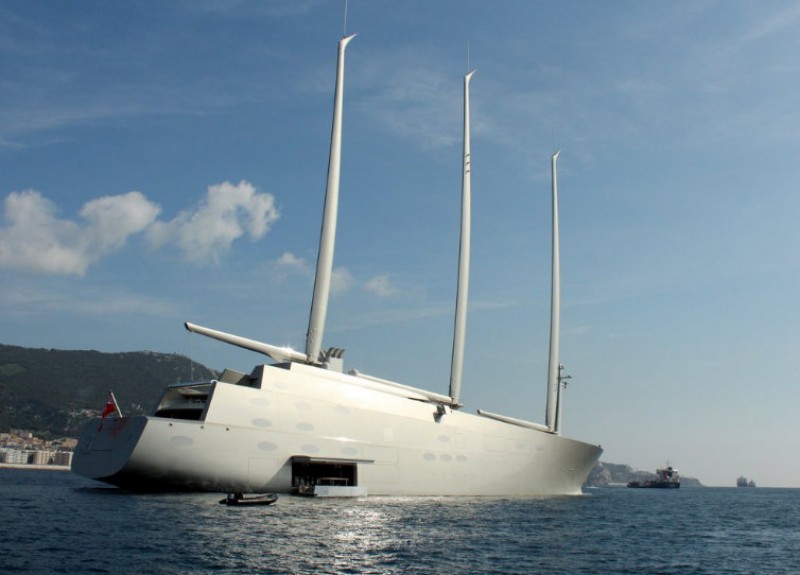 Cartagena welcomes the largest yacht in the world: following an unscheduled prolongation of her stay in Gibraltar the world's largest yacht arrived in Cartagena on Friday for a little fine tuning at the Navantia shipyard prior to the start of its summer 2017 season. The Sailing Yacht A is owned by Russian magnate Andrey Melnichenko, and reportedly cost around 400 million euros to build, although the shipyard in Kiel where it was built claims that it is still owed over 15 million, hence the delay in Gibraltar.
Madrid doctor to stand trial in Murcia stolen baby case: Inés Madrigal was illegally offered for adoption in Murcia in 1969, and has now succeeded in bringing Dr Eduardo Vela, the former Madrid doctor at the centre of numerous allegations regarding the "stolen babies" in Spain during the rule of General Franco, to stand trial in Madrid.
UK residents in Fortuna can vote in the first bullfight referendum in Murcia: Blanca and Fortuna illustrate the two sides of the bullfighting debate in Murcia, and the 400 or so UK nationals in Fortuna can make their opinions known between 23rd and 26th March.
Murcia property news
Since June last year numerous companies in the Region of Murcia have been attempting to weigh up the probable effects of Brexit on their continued viability, especially in the property sector, but after eight months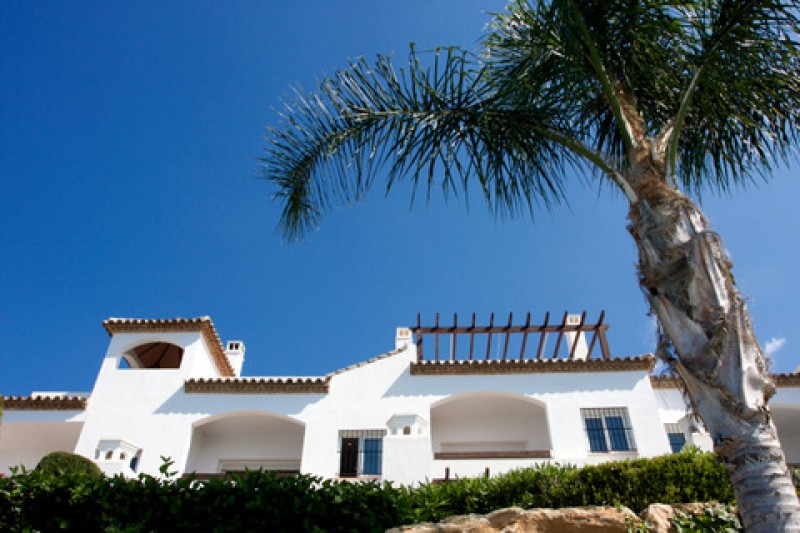 the regional property developers and promoters association Apirm appears optimistic that the Costa Cálida will not be too badly hit.
Association president José Hernández is quoted by the Spanish press as saying over the weekend that the property sector in the Region of Murcia depends less on the UK market than in other Mediterranean coastal areas, citing recent data regarding sales figures and building licences as examples of this. Sr Hernández is of the opinion that property sales to UK nationals in Murcia have not been greatly affected by the devaluation of the pound and the decision to leave the EU, and that while British buyers are of course important in the Region, accounting for over half of sales to non-Spaniards, they are not as vital as in the neighbouring province of Alicante.
In Alicante the number of building licences issued has fallen by around 40% in the last couple of months as developers suffer a post-Brexit crisis of confidence, but it has to be remembered, again according to Sr Hernández, that in Alicante 43% of all sales are to foreign buyers, the majority of them British. In Murcia the equivalent proportion is only 17%, leaving the market less vulnerable to Brexit-related problems.
In Murcia, meanwhile, the number of licences issued has remained steady, and there is a belief that the attractive prices and the numerous golf courses in the Costa Cálida will minimize any effect among UK buyers with medium to high purchasing power.
Spanish national news
Spain celebrates Carnival as the King's brother-in-law escapes prison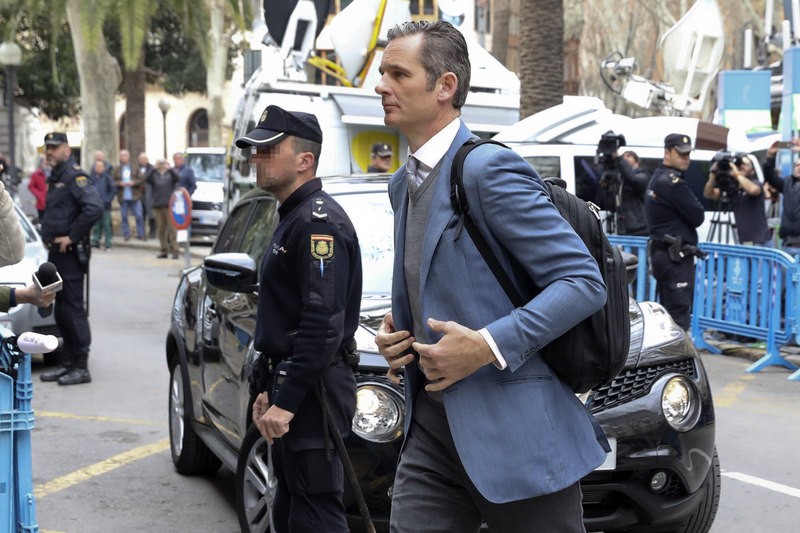 The Carnival celebrations will be joyous ones indeed this year at the Geneva home of Princess Cristina, her husband Iñaki Urdangarín and their two daughters.
Sr Urdangarín was a relieved man on Thursday morning after he attended the court in Mallorca where last Friday he was found guilty of tax fraud, misappropriation of public funds and money laundering, as there had been speculation that he and his former business partner Diego Torres would be required to enter prison immediately, but instead it was confirmed that substantial bail payments will be sufficient to keep them out of jail for the time being.
Perhaps in expectation of a more severe bail requirement, Iñaki Urdangarín had travelled to the court from his home in Geneva without incurring undue expense, using a public bus service before catching a low-cost flight to Mallorca!
The freeing of the former Duke of Palma did not please everyone, and the issue of Spain's apparent inability to put those guilty of corruption behind bars surfaced again later the same day, when Rodrigo Rato, the former vice-president of the Spanish government who later became the head of the International Monetary Fund, was found guilty along with 64 others by the National Court in the "tarjetas black" trial regarding the use of company credit cards by the management of Bankia and Caja Madrid to pay for private expenses. He has received a four-and-a-half year sentence, but will he serve it?
On the other side of the coin, a Mallorca rapper was given 3½years in prison for producing offensive lyrics there has been widespread outrage at the sentencing of Mallorca rapper Miguel Arenas Beltrán, alias 'Valtonyc', to three and a half years in prison by the National Court after he was found guilty of glorifying terrorism and insulting the monarchy in various of his songs.
Some of Valtonyc's lyrics are clearly insulting to Felipe VI and the Crown, and threats against Esperanza Aguirre, the former president of the regional government of Madrid, are violent, explicit and personal in his songs. But however unpleasant and vindictive the rapper's words might be, there is concern that the courts may have been too strict with him. Pablo Iglesias of Podemos is among those who see discrepancies in how punishments and crimes sometimes seem ill suited, criticizing the "impunity" of high-profile corrupt politicians and other individuals while a sentence of three and a half years is deemed appropriate for writing a song.
Sr Iglesias posted his Twitter comment before the news that Iñaki Urdangarín will be allowed free on bail, but his indignation will have been fuelled still further by the decision of the Palma court.
Illegal immigration in Ceuta
The pressure on the Spanish border in the north African enclave of Ceuta, on the southern side of the Strait of Gibraltar, appears to have reached the point recently where the frontier guards and 6-metre barbed wire fences are unable to resist any longer, and on Monday morning at least three hundred more illegal immigrants crossed from Morocco into Spanish territory.
Combined with another assault in which almost 500 sub-Saharans made it into Ceuta last Friday, this forced the Comandancia General de Ceuta to install field tents to accommodate the volume of immigrants who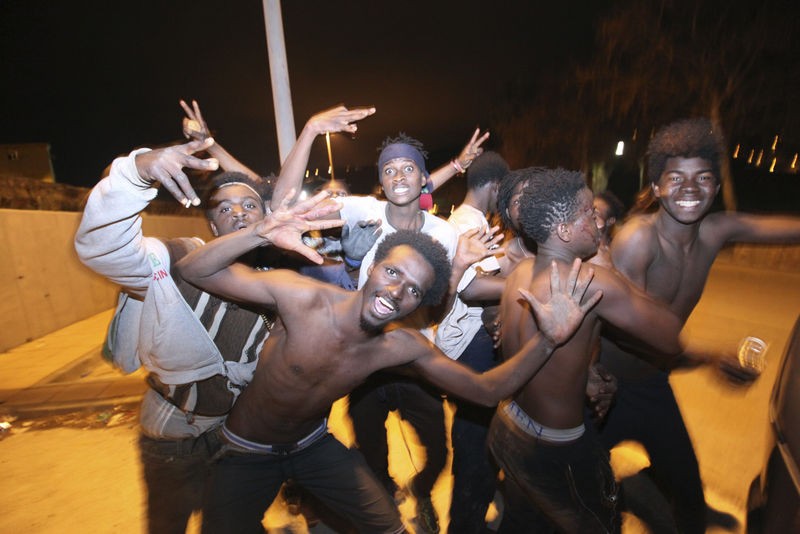 arrived in the city at the Temporary Immigrant Shelter Center (CETI): about 1,400 people are currently crammed into a facility designed to hold 512, and will eventually be transferred to other holding centres on the Spanish mainland to reduce the pressure on Ceuta, while the authorities attempt to identify their country of origin in order to repatriate them.
In this context it has been confirmed by José Antonio Nieto, the Secretary of State for Security, that the Spanish government is determined to enlist airborne reconnaissance devices as soon as possible, and is weighing up the advantages and disadvantages of employing
static balloons or drones
equipped with heat-detecting cameras for this purpose. The aim is to be aware of the approach of groups of would-be immigrants to parts of the fence which are not easily visible from the ground early enough to deploy additional security staff there when needed, and to monitor and coordinate frontier protection from Madrid.
Catalunya independence debate
A confusing week in the ongoing dispute over the proposed independence referendum in Catalunya began with indications that there still appears to a chance, however slim, that such a vote could be avoided.
On Sunday the regional government of Catalunya claimed that they are willing to negotiate with the authorities in Madrid, although Carles Puigdemont added that there is considerable scepticism over what Sr Rajoy might have to offer in such discussions. This followed a statement in which Enric Millo, the central government delegate in Catalunya, reported that there have been contacts in private "at all levels" in an effort to find a way out of the conflict regarding the proposed poll.
On Wednesday, however, it became clearer what both Sr Puigdemont and Sr Millo had been referring to, with the revelation that the former had secretly met President Mariano Rajoy to discuss the referendum in Madrid on 11th January. Although the conversation was "cordial", there was no progress towards any agreement being reached by the two men over the referendum or the "route map" to independence which has been approved by the Catalan parliament.
The only thing on which the two leaders appear to have been in full agreement was that they would not reveal that they had met, but even this plan has now fallen through!
Economic news
Spain's trade deficit fell 22.5 percent to 18.8 billion euros (£16 billion) in 2016, the second lowest since 1997, as exports rose to their highest level on record while imports shrank, the economy ministry said on Monday.
In 2016, exports were up 1.7 percent to 254.5 billion euros, while imports fell 0.4 percent to 273.3 billion euros.
On the downside, though, the European Commission's latest report on Spain warns that the country's much-vaunted economic recovery is not as solid as the government claims, and that the scars of the crisis of a few years ago are as apparent as ever.
The banking sector has stabilized, unemployment is falling and progress is being made in many aspects related to the economy, but the worry of the EC is that there is now more inequality in Spain than during the years of crisis. The proliferation of temporary and part-time employment contracts does nothing to provide people with the stability they need, and low salaries mean, for example, that as many as 13.1% of those who are in work are still at risk of poverty. This compares with a figure of 10.9% in 2010, when the economic crisis was perceived to be at its worst.
Dogs and other animals in the news...
Beniarbeig man mauled to death by five dogs: pitbull crossbreeds killed the man in the Marina Alta area of Alicante.
230 trained fighting dogs rescued from violent deaths across Spain: the dogs were trained for combat in Madrid, Alicante, Murcia and Tenerife, were fed anabolic steroids and were kept in conditions described by the police as "deplorable".
Five more lynx released into the wild in Toledo and Ciudad Real: there have now been 49 introductions into the wild in Castilla-La Mancha since 2014, and last year 19 cubs were born in the wild, representing a great achievement for the Life+Iberlince project.
Unusual weather in Andalucía
Martian skies and blood rain in Andalucia: Saharan dust clouds provided unusual photo opportunities in much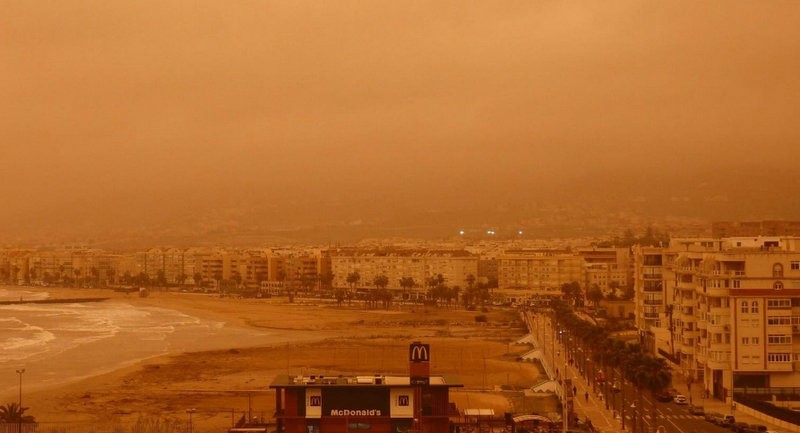 of southern Spain on Thursday, as the sky turned reddish-brown and liquid mud fell in most of Andalucía.
Malaga suffers flood damage in spectacular 2-hour cloudburst: 130 millimetres of rain and hail in just two hours caused chaos in the Costa del Sol, while astonished residents described the storm as "cataclysmic" and "apocryphal"!
Other news
Spanish courts rule that Facebook portraits may not be republished: in a controversial ruling which is causing much comment in the Spanish press the Supreme Court has ruled that it is illegal to publish images of a person which have previously been published on his or her Facebook page, on the grounds that this represents an infringement of the individual's image rights.
At the same time, though, the issue surely also underlines a message which many people seem determined to ignore: if you don't want an image to be seen, don't publish it on the worldwide web in the first place!
86-year-old Briton murders wife at El Campello care home: the wheelchair-bound murderer then turned his weapon on himself but survived his suicide attempt.
Thousands watch on as lovers die tragically in Teruel: the legend of the lovers of Teruel is 800 years old this year, and the re-enactment of their tale attracted more tourists than ever to the annual event in the south of Aragón.
Alicante man electrocuted in the shower: it is unusual for there to be electrical appliances in Spanish bathrooms – in most even the light switches are on the wall outside rather than inside the room – and this unfortunate incident in the Costa Blanca goes a long way towards explaining why.
Jealousy cited as cause of deliberate explosion which kills woman and her former husband in Galicia: Firemen found two bottles of gas with their hoses cut along with petrol near to the calcinated bodies of the former couple in the house inhabited by the woman and her new partner. Arguments were frequent between the two as the former husband resented her new relationship
Spanish Royals to visit Japan in April: this is the first visit of Felipe to Japan since he became King
Spain to participate in mini-summit at Versailles as the UK prepapres for its Bre-scape from Europe.The leaders of Spain, Italy, Germany and France have a lot to talk about!
Broad daylight jewelry heist in central Barcelona: passers-by looked on in astonishment on Thursday in the Barcelona district of Gràcia as four men wearing motorcycle helmets used a sledgehammer to carry out a robbery at an establishment which buys and sells gold and other jewelry in the centre of the city.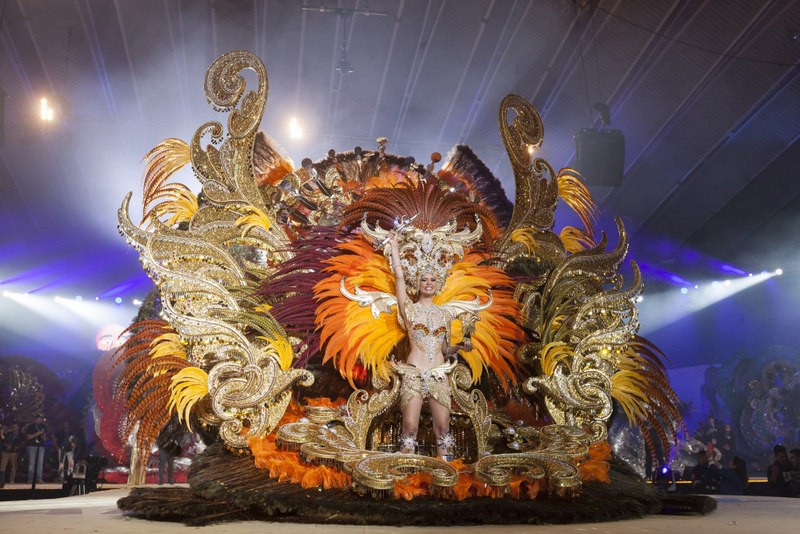 Las Palmas Carnival Queen 2017 elected: fancy dress all round as Spain prepares for Carnival weekend.
32 year old Swede detained after terrifying Barcelona speed chase in a stolen gas bottle truck: Police chased the vehicle for 10 minutes as the driver shed gas bottles, and wove from side to side to avoid hitting oncoming traffic on the wrong side of the busy Ronda Litoral ringroad. Initially it was feared that this could be the start of a terrorist attack although this was later ruled out by the Ministry of Interior.
Fraud and homophobia in football...
Striker Neymar, Barça and FC Santos will face trial for fraud: top Barcelona player Neymar da Silva, along with football clubs Barcelona and Santos FC, will stand trial on fraud and corruption charges over the transfer of the Brazilian forward after their appeals were turned down by Spain's High Court on Monday.
The case stems from a complaint by Brazilian investment group DIS, which owned part of Neymar's transfer rights and alleges that it received less money than it was entitled to when Neymar joined Barcelona from Santos in 2013.
Investigations were carried out in Spain and Brazil into whether any part of Neymar's transfer fee had been concealed when he moved to Barcelona from Santos.
Neymar claims that he "has been exclusively dedicated to playing football, depositing his absolute blind confidence, and trust in his father, who has handled any other aspect of his affairs ", including handling his financial affairs, both before he came of age and afterwards.
The court pointed out that arguments used by the player in his defence were very similar to those presented by Barça player Leo Messi in another case, pointing out that Messi was finally tried and sentenced to 21 months in jail and 2 million euros in fines for tax evasion.
Bootlaces against homophobia in Madrid football teams: the La Liga team CD Leganes was among those commemorating the 56th birthday of Justin Fashanu.
Property news
Average property prices rose by 1.5 per cent in Spain last year: the latest property price data to be issued this week come from the Ministry of Development, who agree with other sources in identifying a slight increase during 2016 but quantify that increase at a modest 1.5%, whereas others have reported sharper rises.
According to the Ministry, the average price per square metre of residential property at the end of last year was 1,512 euros, the highest figure since the first quarter of 2013 following seven consecutive quarterly increases.
Madrid Mayoress bemused by failure to complete social housing purchases: Manuel Carmena, the Mayoress of Madrid, has this week made a plea for cooperation in her bid to provide more social housing in the Spanish capital, urging the owners of residential properties which are for sale to consider offers made by the Town Hall. Since Sra Carmena took office in mid-2015 the Town Hall has only acquired six homes for social housing purposes despite efforts having been made to purchase 150.
Would you like to receive this bulletin?
If you enjoyed this free weekly round-up, then please forward it on to your friends. If you have received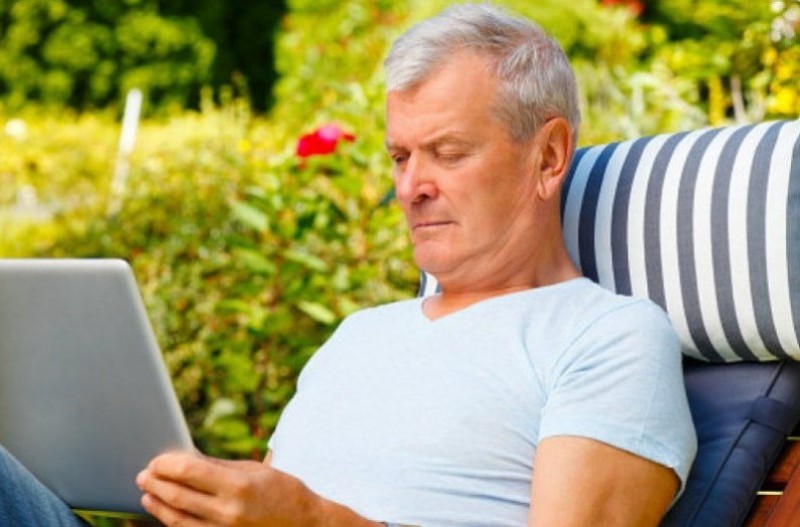 this from a friend and would like to have it sent directly, then click Register for weekly bulletin to sign up.
NONE OF THE TODAY PRODUCTS HARVESTS OR SELLS EMAILS IN ANY WAY and we GUARANTEE your details will not be passed on, sold, or used for any other purpose, and are maintained in an off-site facility from which you can unsubscribe at any time.
We also welcome contributions from local charities or clubs, including post event reports, news items and forthcoming events. Use the contact button in the top header to contact our editorial team.
Images: Copyrighted Murcia Today and Efe. Full or partial reproduction prohibited.
Contact Murcia Today: Editorial 966 260 896 / Office 968 018 268