Date Published: 22/06/2018
ARCHIVED

- Murcia and Spanish news round-up week ending 22nd June 2018

35 degrees, school holidays starting, San Juan bonfires this Saturday - it must be summer in the Costa Cálida!
As the summer officially begins (on Thursday at 12.07) and schools break up for over two months in Spain it seems that warm weather is now firmly in place in the Costa Cálida, with the long-term Aemet weather forecast suggesting that this summer will be cooler than in previous years in much of the country – but not in the Region of Murcia!
After remaining relatively dry throughout the wettest spring in Spain for at least 53 years, Murcia will most likely continue to defy the national weather trend during the summer, along with the rest of the east of the country, and already this weekend temperatures are expected to reach close to 35 degrees in the regional capital. With the sun at its highest point the Murcia government issued a melanoma and skin cancer reminder this week as the UV ratings reached 10 on a scale of 1 to 11, pointing out that extra special care should be taken to protect children from the sun, and all along the coast the beaches are expected to be busy this weekend as many people take their first dips of the year in the Mediterranean and the Mar Menor.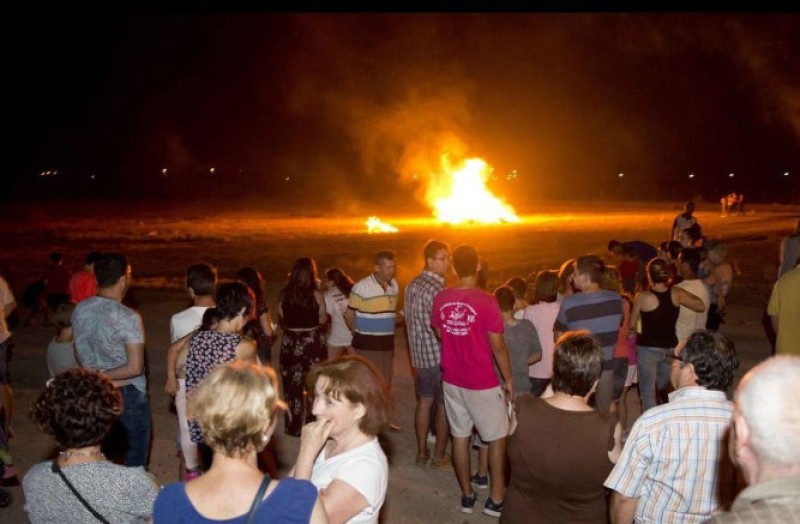 There are also likely to be numerous fires on the beach as Spaniards celebrate the night of San Juan, an occasion which coincides with the start of summer and is marked by the popular tradition of gathering around large bonfires and letting off fireworks. This is a tradition rooted in the ancient belief that fire cleanses away the old and brings new beginnings, and rituals include writing down all the bad things that have happened over the last 12 months on a piece of paper, throwing it onto the bonfire and leaping over the flames.
For most people, though, it's a good excuse to enjoy the spectacle of a bonfire – sometimes with the ceremonial burning of papier maché figures, as in the Cartagena district of Santa Lucía - enjoying the company of family and friends, and maybe cooling off with a midnight swim: enjoy the evening, but be careful with the fire!
Agricultural and environmental news
Consum supermarkets to phase out plastic bags: paper replacements are already in use for online purchases from Consum, and in-store sales will follow suit.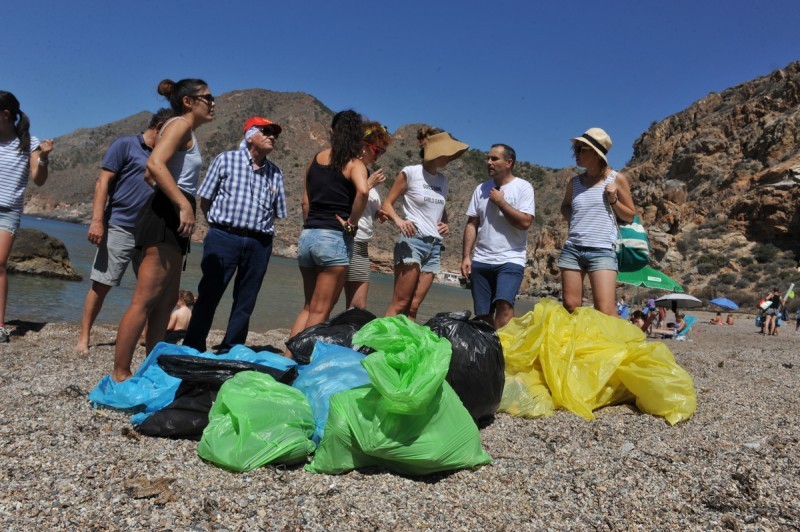 Hundreds join in plastic waste clean-ups across Murcia: growing public awareness of plastics contamination leads to increased numbers of public clean-ups.
Ecological mooring stations in the Mar Menor to protect the sea bed: the aim is to protect the giant fan mussel and other fauna and flora in the lagoon.
Glass collection bins turned into cat shelters by Fuente Álamo schoolchildren: the "Design for Change" scheme was aided by the Town Hall and an animal protection society.
Two unauthorized fishing boats confiscated in Los Urrutias: the owners deny that the nets on board their boats have ever been used in the Mar Menor.
New technology developed in Murcia to make waste water re-usable in agriculture: 83 per cent of contaminants can be eliminated by the use of bio-degradable substances.
Aromatic and medicinal plant cultivation, another string to the bow of Murcia agriculture: thyme, oregano and lavender plantations are expanding in the north-west of Murcia as farmers seek less thirsty marketable crops.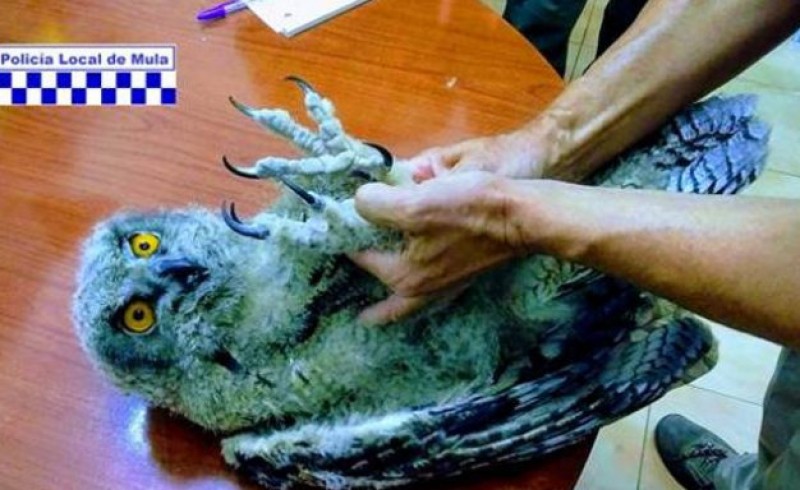 Eagle owl chick found in Mula delivered to wildlife recovery centre in El Valle: it is believed that the 40-day-old chick had fallen from its nest and walked to the spot where it was picked up.
Murcia government authorizes rabbit cull: excess population growth proves a menace to farmers in the Ricote valley and central Murcia, and hunting will be allowed on farmland at least until September.
Quality wine exports on the increase in Jumilla, Yecla and Bullas: 48 of the 68 Denomination of Origin wineries in Murcia are in Jumilla, where exports are increasing despite pre-Brexit reticence in the British market.
Cabo de Palos wages war on marine rubbish: the sperm whale incident in Cabo de Palos has helped to raise public awareness of plastic pollution in Murcia, and the village is now participating actively in initiatives to tackle the plastic waste problem.
Tourism news
4.1 million euros to promote Murcia to coincide with the opening of Corvera airport: part of the budget will be devoted to counteracting any Brexit effect on tourism in Murcia, with 42.1 per cent of international visitors to the Region coming from the UK despite efforts to diversify into other European markets.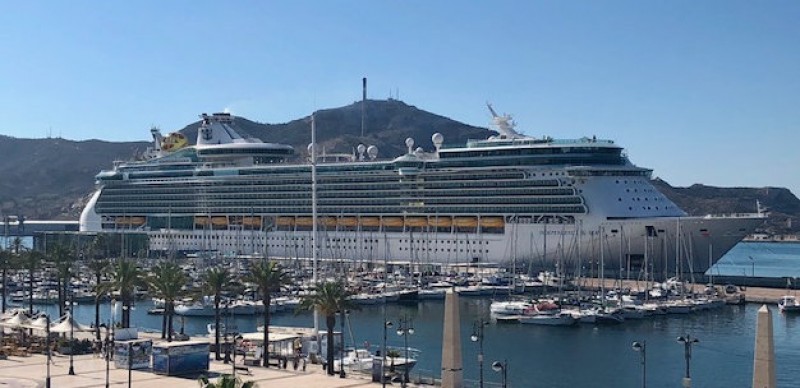 4,000 cruise tourists arrive in Cartagena on the Independence of the Seas: the visitors enjoyed a day in the Costa Cálida before returning to their floating jacuzzis on board the liner!
375,000 euros for cycle lanes and footpaths in La Manga: the investment is part of the "La Manga 365" project to encourage year-round tourism.
Tenders invited to create new Marchamalo viewing point in La Manga del Mar Menor: the project at the southern end of La Manga could be completed by the end of 2018.
Puerto de Mazarrón seafront walk extension moves a step closer: a road modification project in El Alamillo will make room for the Paseo del Rihuete to be lengthened.
Guest troupes named for Puerto de Mazarrón Summer Carnival: eight groups from outside Mazarrón will join in the festivities on 14th July.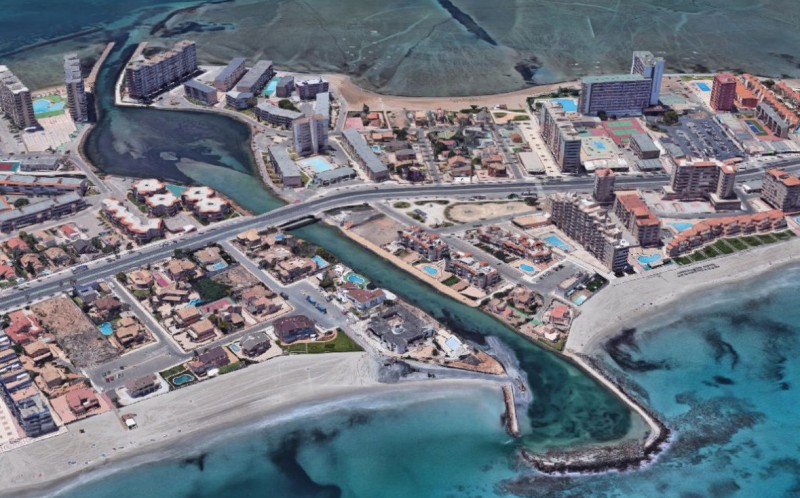 Bids invited to build new Marchamalo viewing point in La Manga del Mar Menor: the project at the southern end of La Manga could be completed by the end of 2018.
Eclipses and meteor showers in the summer just started in Spain: make a note not to miss the Perseid shooting stars, which will be at their most visible on 12th August!
Bather stung by Portuguese man o' war at the beach of Mil Palmeras: the dangerous pseudo-jellyfish has not yet disappeared from the Costa Blanca and the Costa Cálida, and the red "no bathing" flag was hoisted at the beach in Pilar de la Horadada on Tuesday.
Vandalism reported at Águilas nudist beach: a family who caused problems at the Playa del Charco last year may be related to the latest incident.
New central government delegate to Murcia prioritizes the Mar Menor and rail services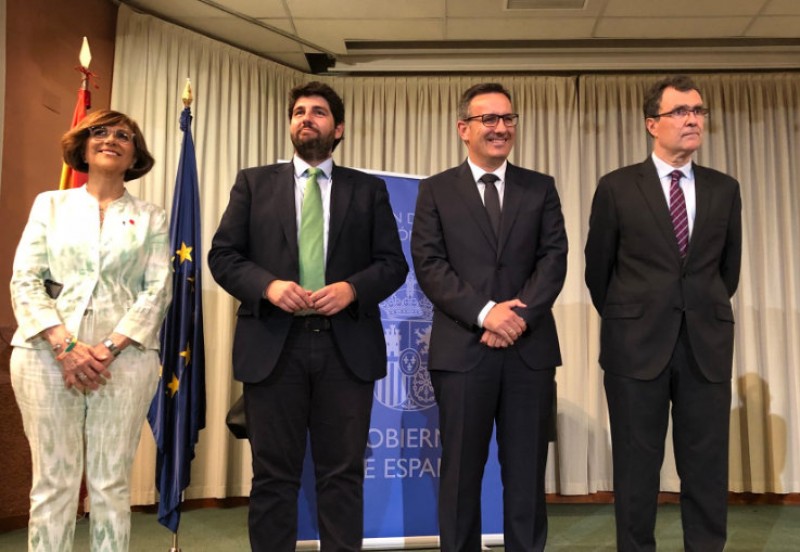 The political changes made in Madrid by the vote of no confidence which ousted the PP government of Mariano Rajoy and replaced it with a socialist administration has now resulted in the formal change of government delegate to the Murcia Region, a political appointment.
Diego Conesa, former Mayor of Alhama de Murcia has now officially taken over and will remain in the post until he contests the 2019 regional election as PSOE candidate for the presidency, and during his initial speech he underlined a few pointers as to what to expect from him. It may at times be difficult for him to work in collaboration with the current president of the regional government, Fernando López Miras due to the broad political gulf between them relating to some key projects, but on Tuesday there was no sign of any political animosity as Sr López Miras deflected press questions and limited himself to congratulating Diego Conesa on his appointment.
Meanwhile, Sr Conesa cermoniously handed the Mayor's staff of Alhama to his successor Mariola Guevara on Saturday, having resigned from the post on learning of his new role. Sra Conesa thus becomes the first Mayoress in the history of Alhama de Murcia.
Other items in the Murcia news this week
Dog rescued from 30-metre well in La Aljorra: a full rescue operation was mounted on hunting land in the Campo de Cartagena.
Molina de Segura joins other municipalities offering to take in Aquarius refugees: 630 migrants arrived in Valencia after being turned away by Italy, having been rescued from the Mediterranean off the coast of Libya.
10 tons of hashish seized from sailing boat intercepted off Cartagena: two Bulgarians were arrested after attempting to smuggle drugs from northern Africa.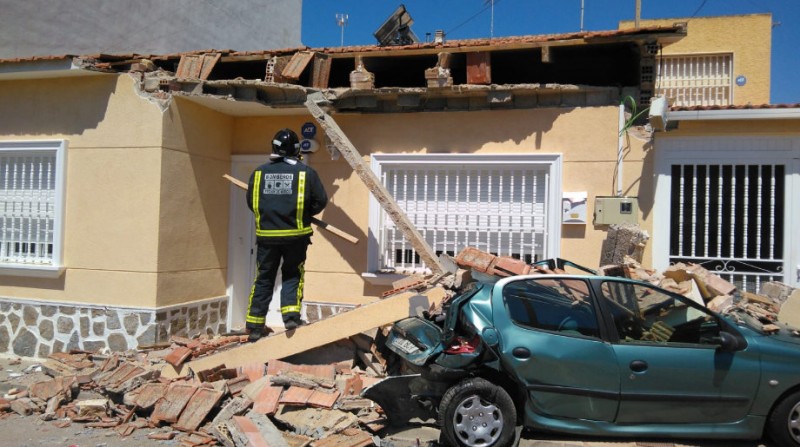 House partially collapses as driver collides with parked car in San Pedro del Pinatar: the driver was taken to hospital in San Javier after the incident in Calle Granada.
Murcia's last concentration camp survivor dies in France: Francisco Griéguez was among 23,000 Spaniards at the camp of Mauthausen, and died in Gardanne at the age of 99 this week.
None hurt in La Azohía Chinese store fire: stock was rendered worthless as the store prepared for the summer season in the bay of Mazarrón.
Murcia food bank distributed 2 million kilos to those in need last year: the economic crisis is not over for more than 28,000 people who received charity aid in Murcia in 2017.
Submarine rescue exercises this month in Cartagena: the Cartago-18 exercise includes the simulated re-floating of a sub in the port, and procedures for locating lost or missing submarines are also being checked and practised.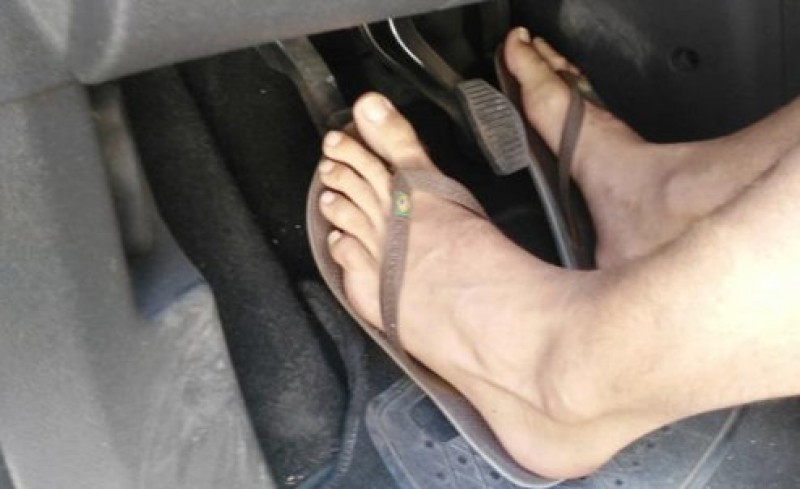 The great "driving in flip flops" debate: the Guardia Civil MAY fine inappropriately shod drivers. Following a huge amount of debate and disagreement on social network sites regarding whether drivers will be fined for driving while wearing flip flops this summer, the Guardia Civil has made its first pronouncement on the issue, appearing to leave the decision to the discretion of individual officers: a tweet warns drivers that they "may" be fined if the footwear they use is considered inappropriate for guaranteeing their freedom of movement.
6,600 "irregular" immigrants in Murcia to be re-issued with health cards: the Spanish government is to repeal the law by which unauthorized immigrants were denied health care in 2012.
New ITV vehicle roadworthiness testing centre for Mula: drivers in Mula will no longer have to travel to Alcantarilla or Caravaca for their ITV tests.
Murcia population still rising in contrast to the nationwide figures: the young immigrant population helps to make Murcia an exception to the general demographic trend in Spain, with women having more children than in any other region of Spain.
Two arrested for violent burglaries with homemade sword in La Aljorra: the men are being held in custody in Cartagena awaiting trial.
Rainbow benches vandalized in Cartagena as LGTBi week approaches: the damage illustrates the need for further LGTBi rights activities, says Cartagena councillor.
Murcia and Spanish property news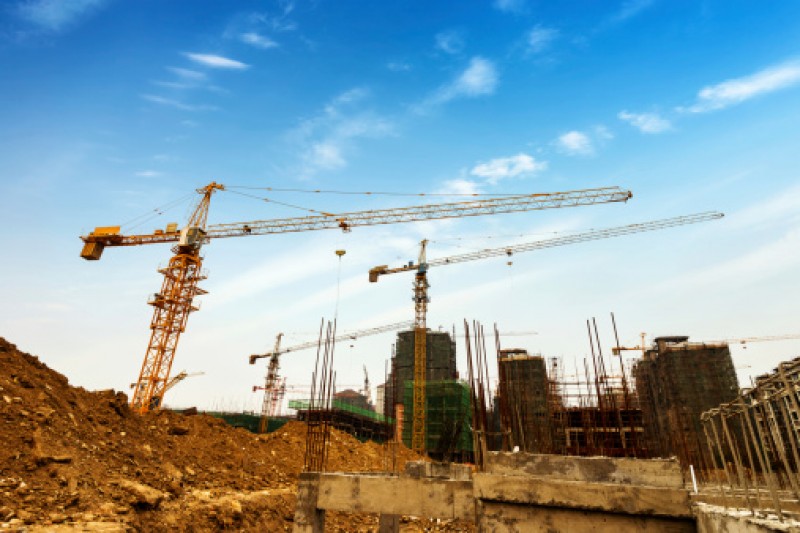 It has been a quiet week in terms of news in the property market in Spain, the only item to catch the eye being a forecast that construction activity in Spain is likely to increase by 4.8 per cent this year.
Most importantly, though, in the residential sector the rise is expected to be as much as 8 per cent, which although it is in relation to a very low starting point is nonetheless encouraging, reflecting a need for more new housing in at least some areas as demand at last begins to exceed supply. If the estimate proves correct it will be third consecutive increase, following double-digit rises in 2017 and 2016.
Spanish news summary: anti-tourism protest in Barcelona, former PM Mariano Rajoy goes back to the day job 28 years later and a 9-year-old boy wins applause for his humility and generosity
For two minutes on Wednesday much of Spain fell silent and the nation held its breath while the video evidence was weighed up, but in the end Iran's goal was disallowed for offside, so the week ends with optimism that the group phase will be successfully negotiated, and the World Cup dream is still alive!
But away from the football there has also been plenty else to attract the attention, with those competing to make the headlines including two anti-tourism activists who chained themselves to the dragon which stands in the Park Güell in Barcelona while brandishing a placard reading "Prou turisme massiu!" (No more mass tourism). They might be swimming against the inevitable tide, but there is a feeling in the city that mass tourism is harmful to the community in some districts, although few will be convinced by the activists' explanation that the protest was not "tourism phobia" but part of the "class war".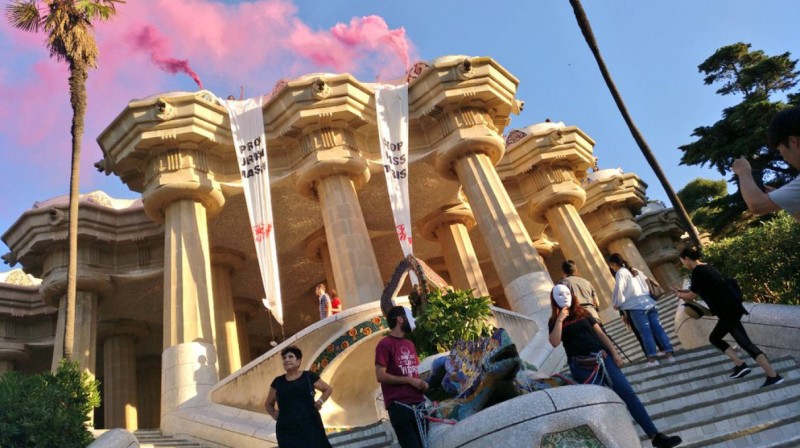 Also in the news was former President of the national government Mariano Rajoy, who this week made good his promise to leave political life and on Wednesday returned to his former job as a property registrar in the Alicante coastal town of Santa Pola. He was awarded the post in 1987 and worked in Santa Pola for two years before concentrating on his political career, and has now replaced the "temporary" substitute (and close friend) who stood in for him for 28 years, returning to the Costa Blanca.
Meanwhile, the new government has made more statements of policy during the week, including its intention to exhume the remains of General Franco from his monumental mausoleum in the Valley of the Fallen and the announcement that motorway toll charges will be scrapped on roads where the initial 50-year concession expires in the near future. This will affect the AP-7 between Alicante and Catalunya, bringing great delight to lorry drivers but considerable chagrin to those who currently manage the road!
Other items in the Spanish news include a huge swarm of jellyfish along the Costa del Sol in Málaga, the King of Spains' brother-in-law entering jail and opting for solitary confinement rather than mixing with fellow inmates and a 9-year-old boy in Valencia who urged guests at his First Communion to donate money to help Venezuelan children in need rather than buy him presents. In this way he raised over 1,000 euros, and although he remains anonymous his gesture has been applauded all over the country.
For more details on these and other stories, scroll down below…
Would you like to receive this bulletin?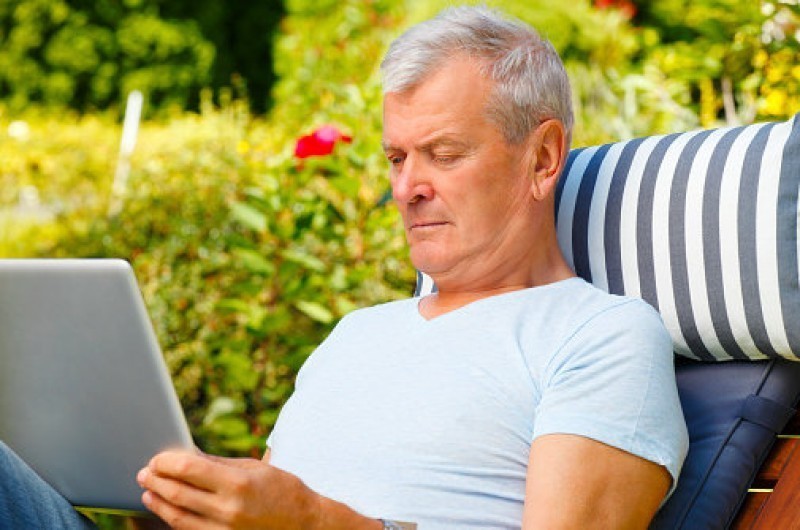 If you enjoyed this free weekly round-up, then please forward it on to your friends. If you have received this from a friend and would like to have it sent directly, then click Register for weekly bulletin to sign up.
NONE OF THE TODAY PRODUCTS HARVESTS OR SELLS EMAILS IN ANY WAY and we GUARANTEE your details will not be passed on, sold, or used for any other purpose, and are maintained in an off-site facility from which you can unsubscribe at any time.
We also welcome contributions from local charities or clubs, including post event reports, news items and forthcoming events. Use the contact button in the top header to contact our editorial team.
Images: Copyrighted Murcia Today and Efe. Full or partial reproduction prohibited.
Contact Murcia Today: Editorial 966 260 896 / Office 968 018 268