Date Published: 17/11/2017
ARCHIVED

- Murcia and Spanish news round-up week ending 17th November 2017
Water supply top of the agenda as the Murcia president meets Rajoy in Madrid
Image: Photograph using a slow shutter time, in which several leonids (meteor shower) from the Comet Tempel Tuttle can be seen. These are visible every year around November 17th -18th and have generated some spectacular slow shutter images this week.
It is often said that the British feel a compulsive need to talk constantly about the weather, but as the middle of November passes and still there has been practically no autumn rain to speak of in the Costa Cálida and much of the rest of Spain, it seems that the habit is also becoming an obsession with native Murcianos!
On the one hand this has been true this week on account of the sudden arrival of freezing temperatures in inland areas, when following a brief return to summer temperatures in the high twenties on Sunday the minimums reached minus 2 or 3 degrees in Yecla, Caravaca and Jumilla. Unused to such cold after the long summer, the Murcianos have been caught unawares!
On the other hand, though, in the longer term this looks like being the driest November in Murcia for 36 years, and with water reserves dwindling and agricultural supplies already limited it is hard to keep the topic off the front pages. Indeed, it was top of the agenda on Thursday when Fernando López Miras, the president of the regional government of Murcia, had his first formal meeting with national President Mariano Rajoy, and Sr López Miras communicated to Sr Rajoy his demand that any possible reform of the Spanish Constitution should specify "mechanisms to guarantee water for all Spaniards".
He also reiterated that this is not the responsibility of individual regional governments but of the national administration, and to underline his point still further he and the President consulted a weather forecast on a mobile phone, no doubt showing that according to Aemet the probability of rain in Spain over the next few days is practically zero.
In the Region of Murcia 30 per cent of all jobs depend on water, as does 25 per cent of the Region's GDP, and Sr López Miras concluded by saying "I don't understand how a country like Spain can export high-speed rail technology to Saudi Arabia, take part in the European Space Agency and widen the Panama Canal, but is unable to guarantee the water supply to all Spaniards".
Meanwhile, the Spanish government has already authorized more emergency anti-drought measures in Murcia, with drought wells to be brought into service and desalination to be stepped up in response to the amount of water contained in the reservoirs of the Segura basin currently standing at only around 13 per cent of capacity, and the effects of the drought are being reported from many sources. For example, farmers are warning of another winter vegetable shortage: since although some have moved their crops inland to avoid irrigation restrictions the lower temperatures there are likely to reduce production significantly, raising prices on supermarket shelves. Brace yourselves for another iceberg lettuce and courgette drought in the UK!
On a different tack, the warm dry weather has disappointed wild mushroom hunters in Murcia and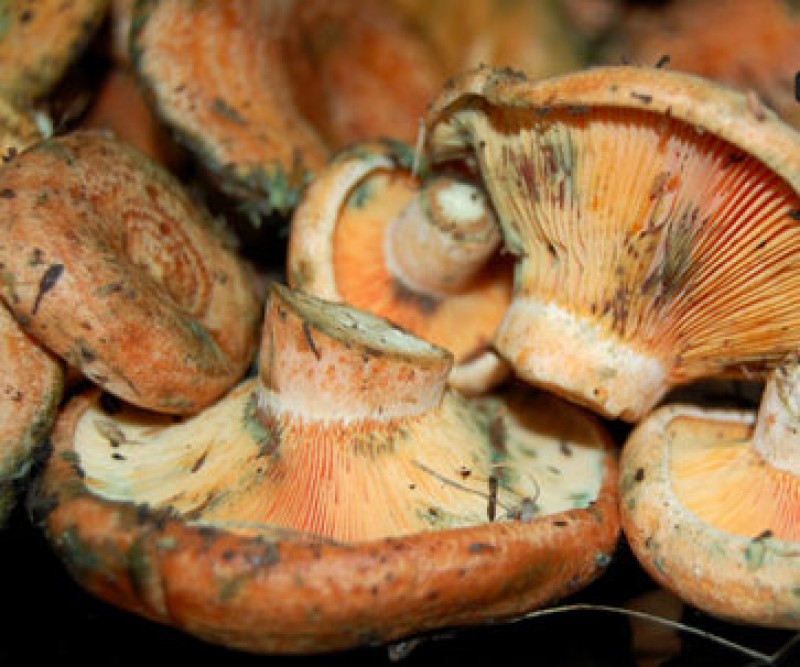 the rest of Spain - expect prices to mushroom here too! - while ecologists fear that the cutting off the supply to the networks of irrigation ditches used in agriculture may also have disastrous consequences for species such as the European eel, the Spanish pond turtle and the Andalusian barbel.
In short, water has been on the front pages in Murcia this week, and while the glorious autumn sunshine continues it is likely to remain there!
But there have also been plenty of other stories this week relating to environmental issue, including the following...
Environmental and agricultural news
Fire at Salto del Usero beauty spot in Bullas: 2,000 square metres of land were affected on the banks of the River Mula after a reed burning fire spread out of control.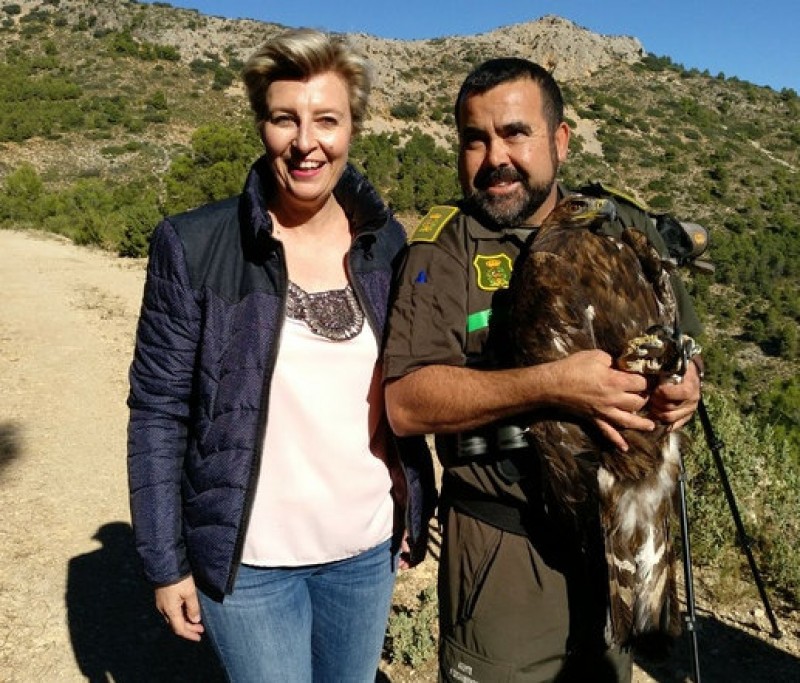 Golden eagle scours an area of 440 km2 to find a new home in north-west Murcia: the eagle was re-released into the wild three weeks ago from the wildlife recovery centre of El Valle after spending eight months recovering from injuries caused by hunters' bullets and embarked on a mammoth aerial inspection tour to find a new territory.
Bumper dorada gilthead bream catches in the Mar Menor: the advent of colder weather drives the dorada into fishermen's nets at the golas, bringing catches of up to 20,000 kilos in a single day at the fish auction in Lo Pagán! Buy fresh Mar Menor bream and bake it in a thick coat of salt....fabulous!
Murcia wildlife park installs stork nesting points: three mating pairs have set up permanent home at the Terra Natura wildlife park, and last year the four chicks which hatched were the first to have been born in Murcia since the species all but disappeared half a century ago.
Cyclists pledge year-round support for Águilas seed bomb scheme: the socially inclusive reforestation initiative in Águilas continues to grow in size as cyclists bombard the sierras with fertile seed bombs!
Close seasons for amateur octopus fishing next year in Murcia: no harpooning octopus at the beaches of the Costa Cálida in May, June, September and October 2018!
In addition, a couple of reminders to coincide with the arrival of colder temperatures. Firstly, the winter flu vaccination campaign is now under way in Murcia - the first day of the campaign coincided with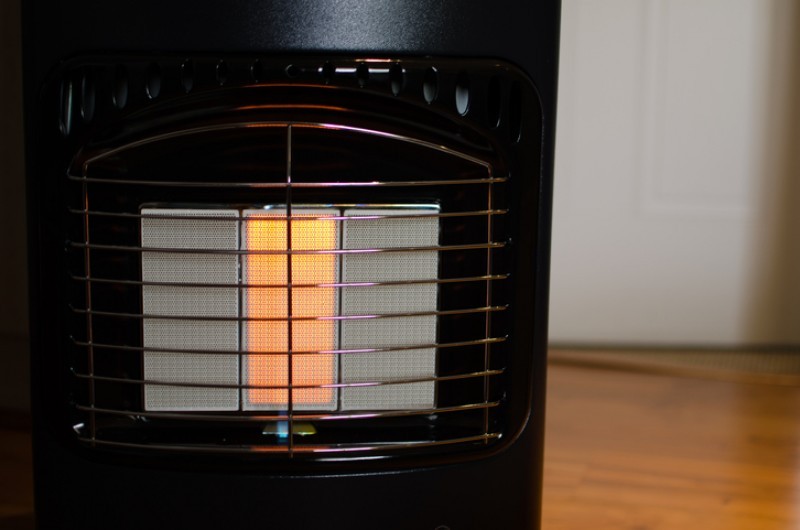 temperatures dropping below zero in Caravaca de la Cruz - and secondly, as people dig out heaters and radiators which they put into storage in the spring, an incident in San Pedro del Pinatar on Thursday morning illustrates how important it is to make sure that such devices are in full working order.
The 112 emergency services line received a call shortly after midnight reporting that an "estufa" (a gas or electricity powered stove or brazier) had caught fire, and a 37-year-old woman required medical treatment after inhaling a large amount of smoke, although in this instance fortunately the fire was put out before the rest of the family's home was affected.
It is estimated that in the Region of Murcia alone there are around 100 incidents related to faulty heaters every year, and heaters of this kind inevitably deteriorate during the long months when they are not required, so they should be checked before being brought into use again. In the case of gas stoves the devices can be checked for any fault or leakage, although in many cases if there is any doubt at all the quickest and cheapest option can be simply to buy another one for around 60 or 70 euros. A small investment to avoid becoming another statistic!
Don´t buy secondhand gas heaters; invest in a new heater!
Airports and tourism news
Already more passengers at San Javier airport this year than in the whole of 2016: British and Irish flights again accounted for over 90 per cent of passengers in October as the yearly total for 2016 was surpassed.
Aena announces free high-speed wi-fi at all Spanish airports: airports in Spain keep up with passenger demands and expectations as passengers can now enjoy full and unlimited internet access while awaiting flight departures or arrivals. About time too!
Record visitor numbers at the Roman Theatre Museum in Cartagena: over 200,000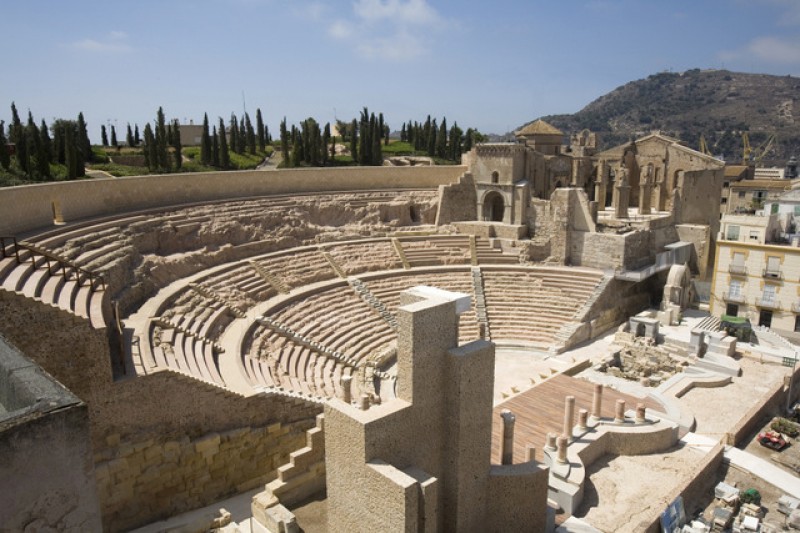 people have been to the most visited museum in Murcia so far this year, and in October figures soared by 30 per cent in comparison to the same month last year! Far from resting on their laurels, though the management is confident that hyper-realistic virtual reality tours will attract more visitors to the Museum : the new technology will allow visitors to enjoy 360-degree views of the theatre as it would have been in its heyday, transporting them back two thousand years to the time when "Carthago Nova" was a major Roman city and port!
Funding has also been confirmed for the Cartagena Roman amphitheatre excavation, adding another new monument to the list of attractions of the future: the Murcia government also has also agreed to subsidize work at three windmills, prehistoric rock art sites in Yecla and the ornamental fountain in the centre of Totana.
Lorca Town Hall hopes to uncover more of the medieval city wall: another 280 metres of city wall could soon make it easier to picture Lorca as it was in the Middle Ages, (imagine, the whole of the old centre of the city was once surrounded completely by an imposing wall) while at the same time the scaffolding is being removed from another historic Lorca building after over six years - the Palacio de los Irurita, which was damaged in the 2011 earthquakes, was originally built in the Renaissance style during the 16th century.
Christmas is coming and the El Gordo lottery ad is here!
Murcianos will spend an average of over 60 euros on the Spanish Christmas lottery, and the Spanish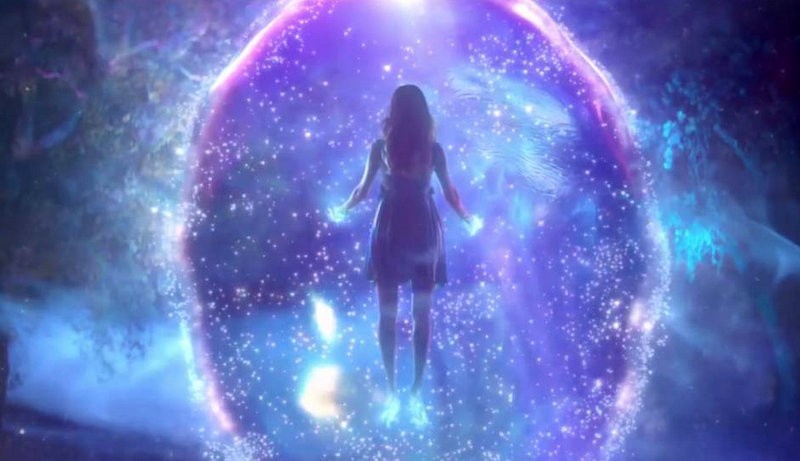 are getting in the mood already with this year's epic 20-minute TV commercial now ready to be broadcast. The draw takes place, as always, on 22nd December, and in the meantime viewers can enjoy the story of a romance between extra-terrestrial Danielle and a Madrid tour guide named (coincidence or what?) Daniel; somebody has got a wierd sense of humour, although the natives are not all bewitched by the extra terrestrial campaign.
In Cartagena, though, thoughts have already turned to next Easter! This week the poster design for the 2018 Semana Santa processions was revealed, and once again those in Cartagena will be the first to begin in Spain on 23rd March. Get those flights booked now for Easter next year before seat prices rocket after Christmas when the holiday ads begin!
Murcia and Spanish property news
British nationals bought around 2,300 homes in Spain during the third quarter: the property transactions summary for the third quarter of 2017 which was published by the country's registrars on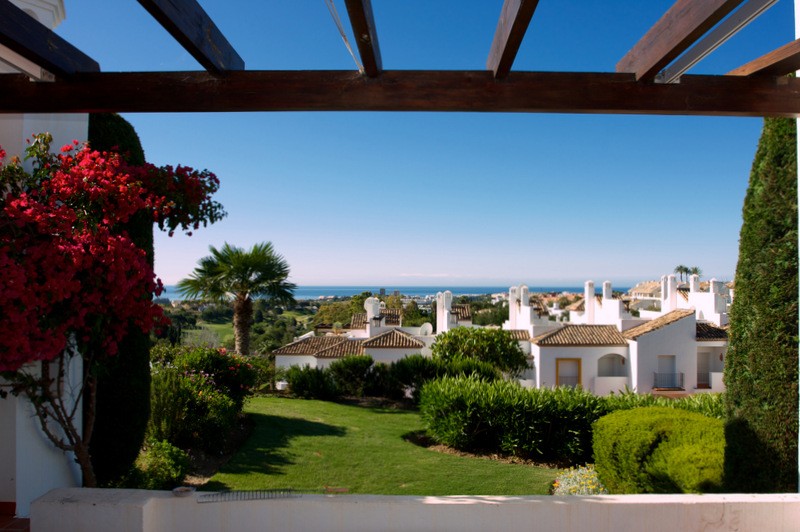 Tuesday reports an overall average year-on-year price increase of 6.8 per cent, and also highlights a 15.6 per cent rise in the number of transactions registered.
But perhaps the most eye-catching figure is that during the quarter the number of properties acquired by non-Spaniards in this country during the quarter was approximately 15,300, or 12.9 per cent of all those sold. Within that figure UK nationals account for 14.8 per cent of the quarterly total, equating to an average of around 25 homes bought per day.
Murcia records second sharpest property sales increase in Spain during September: a rise of 27 per cent saw the number of sales registered in September climb to 1,240, the fifth successive monthly figure of over 1,100, and the year-to-date total after nine months of 2017 now stands at 10,155 (more than in the whole of 2014).
In Spain as a whole, meanwhile, sales figures in September were up by 11 per cent and the only region with a sharper increase than Murcia was Castilla-La Mancha (44 per cent). It is interesting to note that the year-on-year increase in Catalunya, where the recovery in the property market has been among the strongest in recent months, was only 2.1 per cent, and it may be that this is due in part to the political uncertainty in the region during the build-up to the disputed independence referendum on 1st October: the figures for the month of October will doubtless provide further clues.
BBVA forecasts increased investment in Spanish residential property: analysts both in Spain and abroad are still confident that the recovery of the Spanish property market is not running out of steam, and this is reflected in the latest forecasts published by BBVA Research, who predict an 8.2 per cent rise in the amount invested in property during this year.
Other items in the Murcia news
12 Civil War martyrs from Murcia beatified in Madrid: many were killed simply because they were Catholics during the campaign to "annihilate" the Catholic Church, as during the Civil War churches were burnt and ransacked, monasteries closed down and religious schools taken over, while members of religious orders were victimized, tortured and murdered in many parts of the country.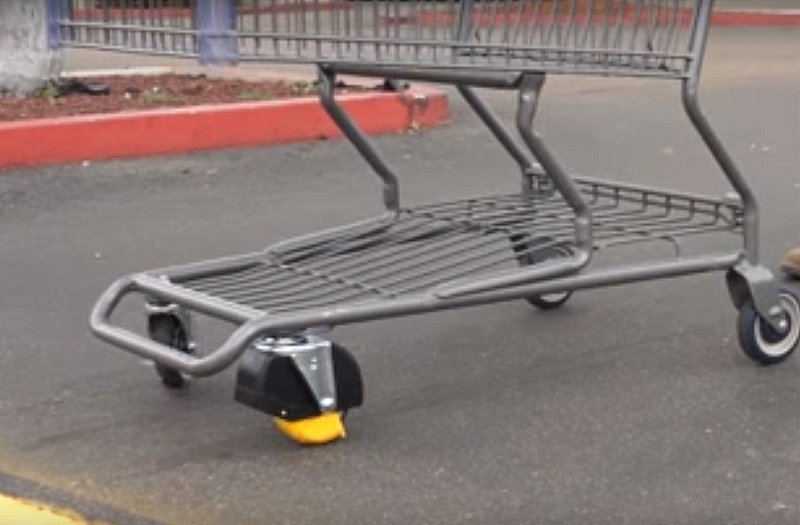 Mercadona to introduce anti-theft devices on supermarket trolleys: it appears that the 50 cents or 1 euro which it costs to use a supermarket trolley is a very small price to pay for those intent on stealing them: at least one Spanish newspaper reports that trolleys can be sold on for as much as 50 euros on the black market!
3,000-euro fine for allegedly painting 4-metre yellow line in Bullas: the 49-year-old is reported to be barely able to contain his anger at what he believes is persecution by the local police force!
Machinery in place for high-speed rail tunnel work to begin in Murcia: work is under way at last, with increased security around the Estación del Carmen in Murcia after recent vandalism threatened the project to bring the AVE line to the regional capital.
Nasty accident on the A-30 motorway in Cartagena: one injured as two cars collide close to the La Palma and Los Barreros exit.
Free hospital car park and new motor home park on the way in Cartagena: the motor home park will have space for at least 70 vehicles and offer waste disposal facilities, battery recharging points for electric vehicles, toilets, mains electricity and security cameras and a free car park may help to avoid some of the "dangerously close to the edge of the gulley" parking incidents as visitors attempt to squeeze into a tiny scrap of land to avoid paying for parking (which occasionally results with the odd vehicle being towed out of a deep ditch).
New central government delegate to Murcia sworn in: Francisco Bernabé, the former Mayor of La Unión and minister for Development and Infrastructures in Murcia, is now the official representative of the Spanish government here in Murcia. It's a róle akin to an ambassador, although he has direct responsibility for ensuring that the interests of the Spanish government are properly represented in Murcia. Likewise, he has to ensure that the Murcian government respects the mechanism which allows the region to opreate as a fully autonomous regional government.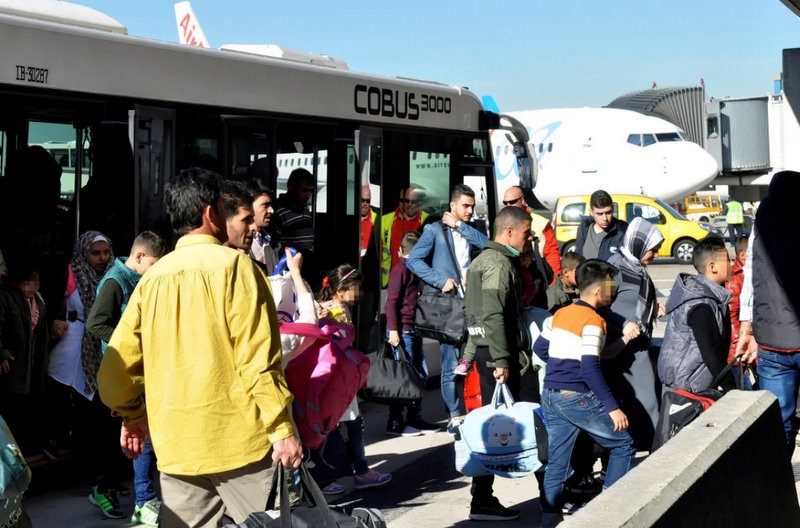 Six Syrian refugees on their way to new homes in Murcia: 214 more refugees arrived in Spain on Thursday, and total re-located to Murcia in the last two years now stands at 83.
Rainbow pavement in Cieza to show support for LGTBi community: road repairs with a message in the centre of Cieza!
4 months to renew identity documents in Fuente Álamo! The mobile Policía Nacional unit currently visits Fuente Álamo just once a month, a situation which is described as unacceptable in an area with 20,000 residents.
Former seafront kiosk reinstalled outside Cartagena sports pavilion: the "Quiosco Verde" is now clearly visible to those approaching Cartagena via Canteras and La Vaguada, and the other five Quioscos which were removed from the seafront will be placed in other locations next year.
Shoplifting teenage mother arrested in Alcantarilla for abandoning baby: the 20-month-old was left behind after the mother was caught red-handed and fled in haste. She was eventually arrested not for shoplifting but for abandoning her child.
Spanish news round-up: Catalunya begins to focus on the regional election as Tweety Pie leaves Barcelona after two months!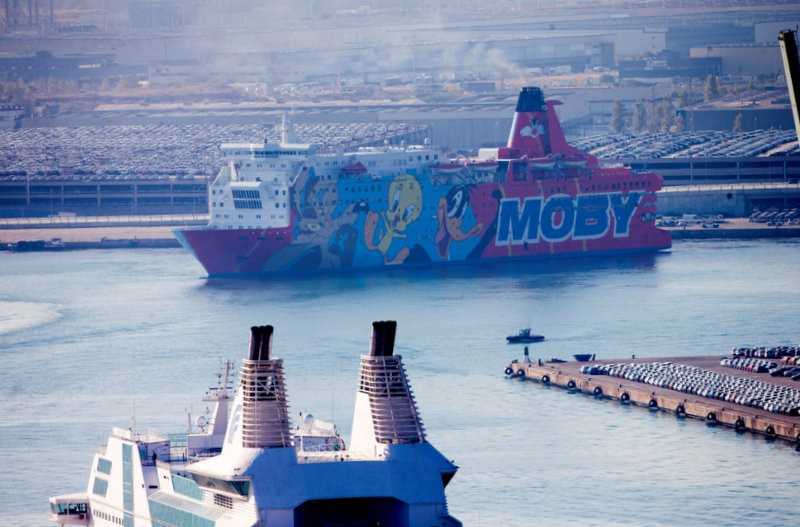 Although the independence crisis in Catalunya continues to dominate the Spanish news, this week has not seen any more of the tumultuous events which have threatened to change the face of Spain over the last couple of months.
Certainly there was another huge demonstration in Barcelona at the weekend demanding the release of former regional government ministers who are being portrayed by separatists as "political prisoners", and former Catalan president Carles Puigdemont remains in Brussels while extradition proceedings are weighed up by the Belgian authorities, but in essence the situation remains the same. While Sr Puidgdemont now says that he would be willing to consider alternatives other than independence, those of his colleagues who were in custody last week are still behind bars now, and all parties are finalizing their lists of candidates for the regional election on 21st December.
This has enabled the press to focus on other aspects, including the possible economic effects of the declaration of Catalan independence on 27th October and its subsequent annulment. Among the 2,500 businesses to have moved their registered addresses out of the region since 1st October around a thousand have also changed their tax residence, indicating a more permanent departure, while businesses in the textiles sector report a sharp drop in sales in Catalunya during October which is hard to attribute to the warm weather alone.
In addition, apart from the eye-catching property sales figures for the region (see above), some have pointed out that the year-on-year increase in passenger numbers at Barcelona-El Prat airport on October was the least significant for two years, a fact which may or not be attributable to recent events.
At the same time, a reminder of the implications on the international scene came with Spain accusing Russian sources of reporting fake news and manipulating internet coverage of recent events in Catalunya, an accusation which led to a warning from the Russian government that the relationship between the two countries could deteriorate. Not good news in a week when the US has also reiterated warnings that more terror attacks could occur in Europe this Christmas.
But for many, the lead stories this week are those which concern Tweetie Pie and The Exorcist. The former relates to the cruise ship which is decorated with images of Warner Bros cartoon characters and which for almost two months has been home to police and Guardia Civil officers drafted in to keep the peace in Catalunya, and which has now at last left the port of Barcelona, while the latter stems from a TV program which has landed broadcaster RTVE in hot water. Last Saturday a current affairs program accompanied images of Carles Puigdemont with the section of Mike Oldfield's Tubular Bells music which is on the soundtrack of the 1973 horror movie.
To judge by the reaction from members of the public, while many Spaniards may view Sr Puigdemont as a nuisance, they are not yet ready to be encouraged to see him as being possessed by the Devil!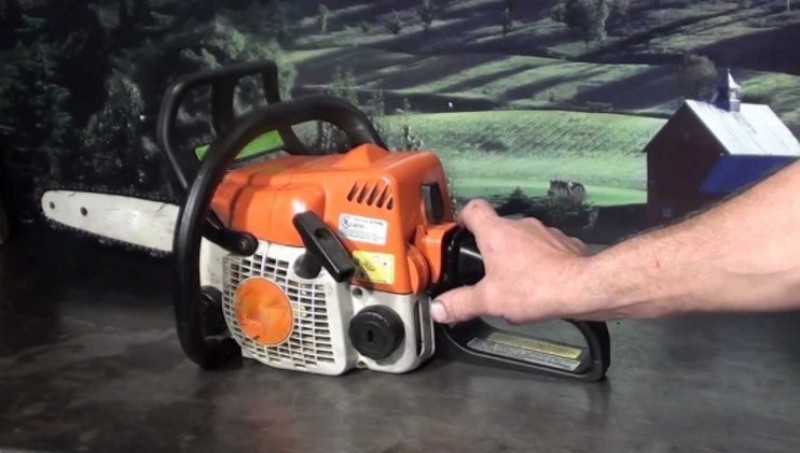 Elsewhere in Spain there has at last been room for some other news apart from the situation in Catalunya, including the cases of two men in Galicia, one of whom accidentally killed his wife with a chainsaw while cutting wood, while the other died after being attacked by a swarm of Asian predator wasps. In Alicante, meanwhile, a woman who was jailed three years ago for setting fire to the man who raped her under-age daughter, an incident resulted in the man dying from the burns sustained, has been granted day release and from now on will only have to return to prison to spend the night.
Scroll down for further details on these and other stories…
Would you like to receive this bulletin?
If you enjoyed this free weekly round-up, then please forward it on to your friends. If you have received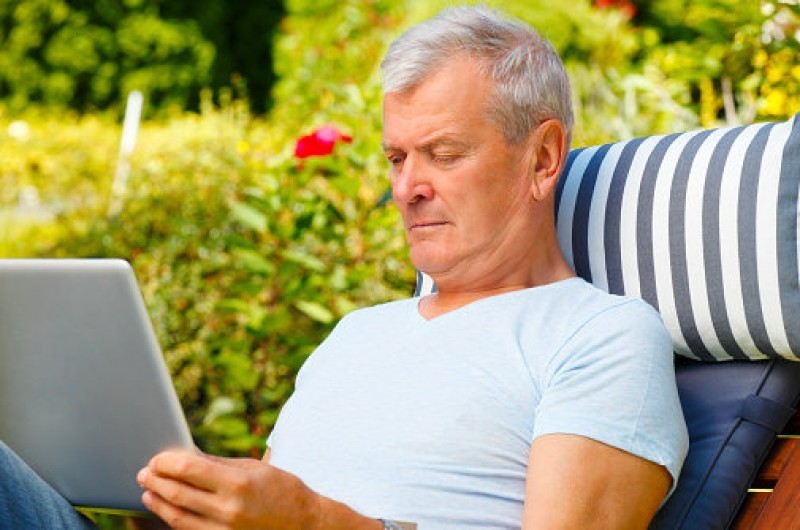 this from a friend and would like to have it sent directly, then click Register for weekly bulletin to sign up.
NONE OF THE TODAY PRODUCTS HARVESTS OR SELLS EMAILS IN ANY WAY and we GUARANTEE your details will not be passed on, sold, or used for any other purpose, and are maintained in an off-site facility from which you can unsubscribe at any time.
We also welcome contributions from local charities or clubs, including post event reports, news items and forthcoming events. Use the contact button in the top header to contact our editorial team.
Images: Copyrighted Murcia Today and Efe. Full or partial reproduction prohibited.
Contact Murcia Today: Editorial 966 260 896 / Office 968 018 268