Date Published: 12/07/2019
ARCHIVED

- Murcia and Spanish news round-up week ending 12th July 2019

Another week, another heatwave in the Costa Cálida...
It seems to be the case in recent weeks that the warmest weather in the Region of Murcia is being held back for the weekend, and yet again the thermometers are rising on Friday 12th July with forecast highs of 39 degrees, a yellow alert in place and the risk of wild fires described as "extreme". Thankfully things are set to cool down on Saturday and Sunday, although only slightly!
This follows a week of far more comfortable temperatures preceded by the thundery showers and strong winds of last weekend – the hot wind caused considerable damage in pear orchards in Jumilla - when a freak weather event in Almería saw the temperature rise by 13 degrees in just an hour to reach a new local record of 41.6 degrees, only to fall back to 28 within 30 minutes! Even the normally sensible and restrained meteorologists at Aemet described the phenomenon as being similar to "opening the door of a hot oven"!
At the same time, a man died in the northern Spanish region of Navarra on Monday night after being washed away by a flash flood in the municipality of Ezprogui, and at one point over 60 millimetres of rain fell in just an hour in Tafalla, Olite and Pueyo. Fortunately, this is over 700 kilometres away from Murcia, where it remained hot, hot and hot.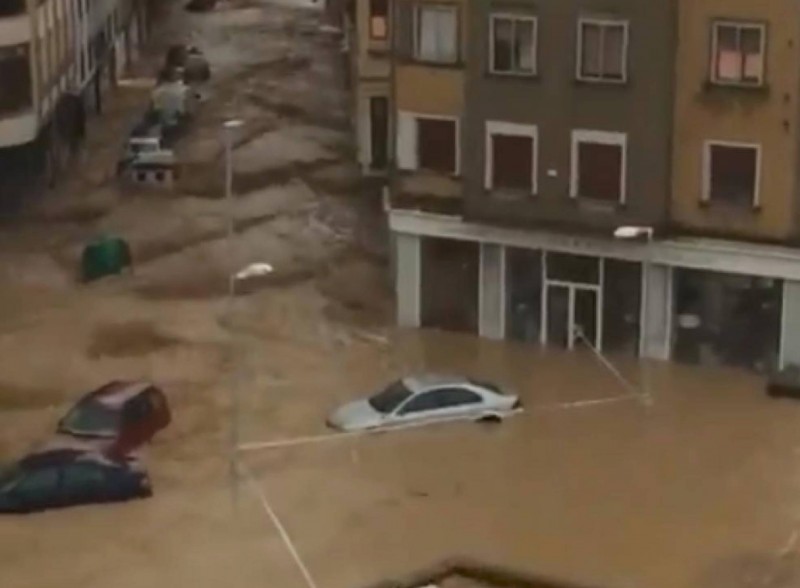 Meanwhile, although some Town Halls have been slow to present them, summer bus routes are now up and running throughout the Costa Cálida, providing cheap and easy transport without the onerous task of parking in coastal resorts – witness the publication of timetables this week in Alhama, the developments of Condado de Alhama, Camposol and Mazarrón Country Club, Mazarrón and Los Alcázares – and with the beaches filling up lifeguard teams are at full strength all along the coastline of Murcia. Unfortunately they were unable to save a 77-year-old man who drowned on Monday at the beach of El Castillico in Santiago de la Ribera but did undertake a dramatic rescue at 2am this morning when a young man got carried away after the huge free pop concert in san Pedro del Pinatar and went for a very late swim in the Mar Menor. Fortunately his cries for help were heard from the shore in neighbouring San Javier and he was retrieved after a substantial emergency services operation!.
Along with the heat there has been a reiteration of warnings this week concerning the importance of keeping food refrigerated, with medics highlighting the risk of food poisoning due to outbreaks of salmonella, norovirus and E. coli. Those who have lived in southern Spain for some time are well aware of this, but visitors can be careless and every summer there are outbreaks of food poisoning caused by food not having been properly preserved: last year there were 38 in the Region of Murcia, and in August 2012 over 300 people were affected by salmonella after eating kebabs with mayonnaise at a party held close to the regional capital.
Neither is it only foods containing egg which present a risk, with others including seafood and chicken, although in most cases salmonella can be traced back to aging Russian salad and other mayonnaise-based dishes in bars and restaurants. In other words, in the "marinera" tapa shown above the risk may not be in the mayonnaise, but in the anchovy laid on top!
Elsewhere, negotiations among political parties to form the next governments of Spain and the Region of Murcia are progressing slowly at best. In Murcia the PP are struggling to gain the support they need from both Ciudadanos and Vox, who find it difficult to sit down and talk to each other, let alone agree, while at national level the efforts of PSOE leader Pedro Sánchez to secure the backing of the Podemos party appear to be approaching stalemate.
Anything is possible, but at present, as the traditional August recess approaches, it appears that both the Region and the nation could continue to be without new governments until after the summer, although the caretaker Murcian regional government lead by the PP, expressed its satisfaction today that talks with Vox and Ciudadanos appear to be drawing to a satisfactory conclusion with agreements on several major topics.
Airport and tourism news: more disappointment as June passenger figures are released at Corvera airport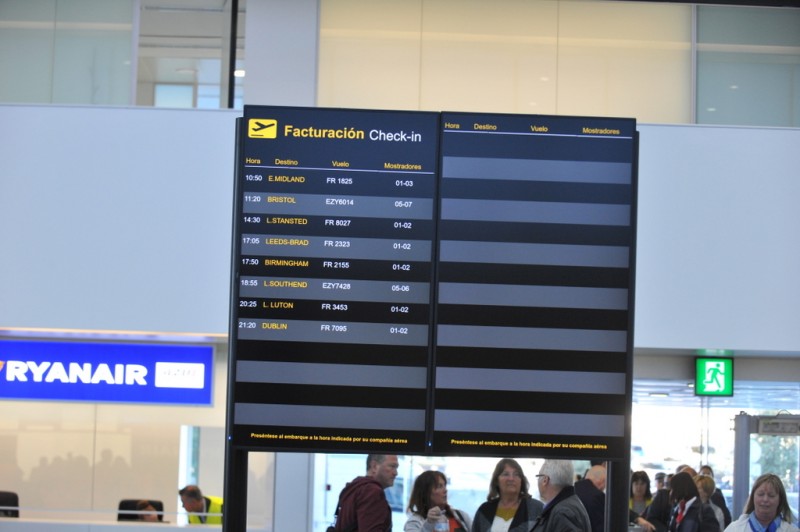 Since the new Region of Murcia International Airport in Corvera opened in January it has become clear that the first year of operations will see a drop in passenger numbers compared with the 2018 data at the previous airport in San Javier, and the figures for June which were published on Friday by Aena show that the trend will continue at least until the end of the current summer flight schedules.
During June the number of passengers passing through the terminal building at Corvera was 133,921, representing a "loss" of 20,313 travellers compared with the same month last year at San Javier. The cumulative total is now as many as 67,808 lower than at the half way point of last year.
However, one aspect of the June data at Corvera which did not change was the dominance of flights between the Costa Cálida and the UK and Ireland on the arrivals and departures boards. Passengers on UK-Murcia flights accounted for 77.9 per cent of the overall total, with many of the rest travelling on the services to and from Dublin (7.7 per cent). The absence of airports in the Netherlands and Germany from the arrivals and departures boards at Corvera continues to be particularly noticeable.
Agriculture and the environment
Biologists warn of increased jellyfish numbers along the Mediterranean coast: invasive jellyfish species are becoming more common along the Spanish Costas.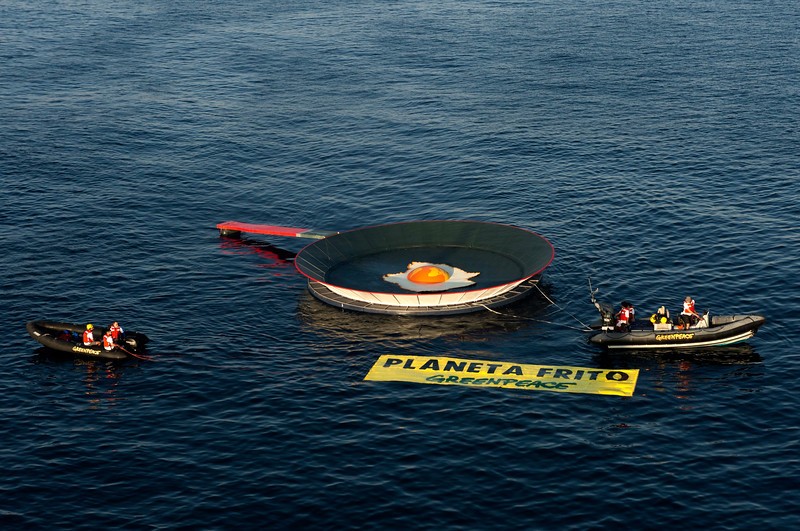 Greenpeace stage Fried Planet protest off the coast of La Manga: a 12-metre saucepan highlights global warming as the Rainbow Warrior visits the Mar Menor.
Coal-fired electricity production reaches record low level in Spain: only 1.7 per cent of electricity generation in May was reliant on the burning of coal, but there may be concerns over the extent to which fossil fuels production is being supplemented by nuclear power plants.
Electric and hybrid cars must no longer be silent after 2021: EU legislation seeks to reduce the dangers for pedestrians and cyclists.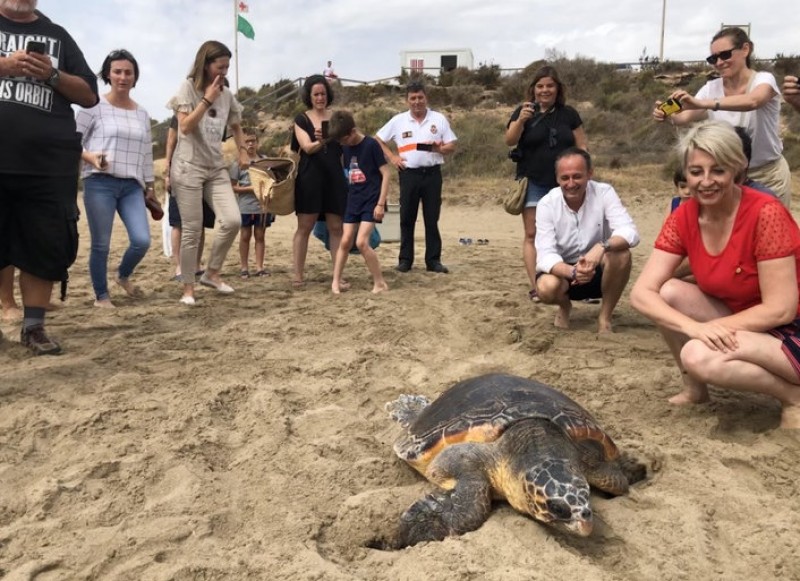 Loggerhead sea turtle re-released into the Mediterranean in Águilas: the turtle was found entangled in fishing line and plastics by a canoeist in Mazarrón last month.
Spinach growers unite in Murcia to protest over herbicide ban: the increased cost of alternative crop protection could make Spanish spinach less competitive they say.
Other items in the news this week
Stolen baby finds her biological family after 32 years of searching: Inés Madrigal, who has lived much of her life in Murcia, also finds out that her parents voluntarily handed her over for adoption when she was born in Madrid in 1969.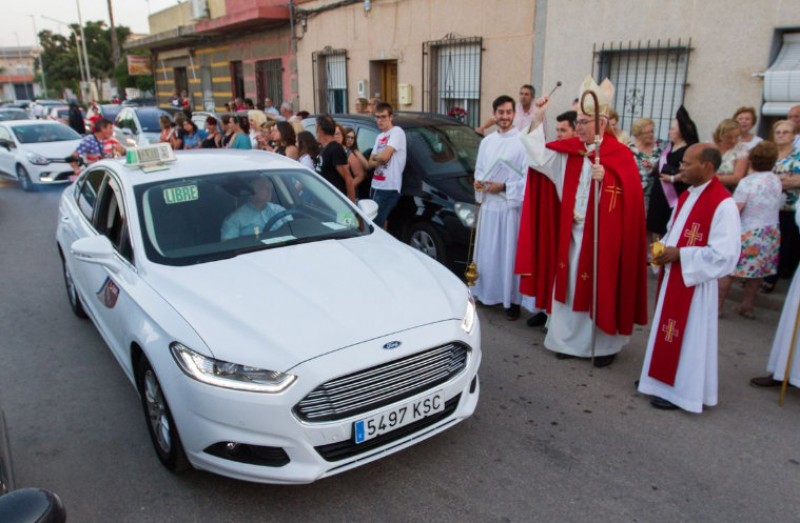 Taxis receive blessing from the priest on the day of San Cristóbal in Cartagena: Saint Christopher is the patron saint of travellers and of the Cartagena district of El Bohío.
Two injured in the first Moratalla bull run of the 2019 fiestas: one of the injured was taken to hospital in Caravaca de la Cruz.
Ecuadorian accused of murdering his wife commits suicide in Sangonera: the accused was found in his cell after apparently slitting his own throat and is reported to have been overcome by remorse and grief.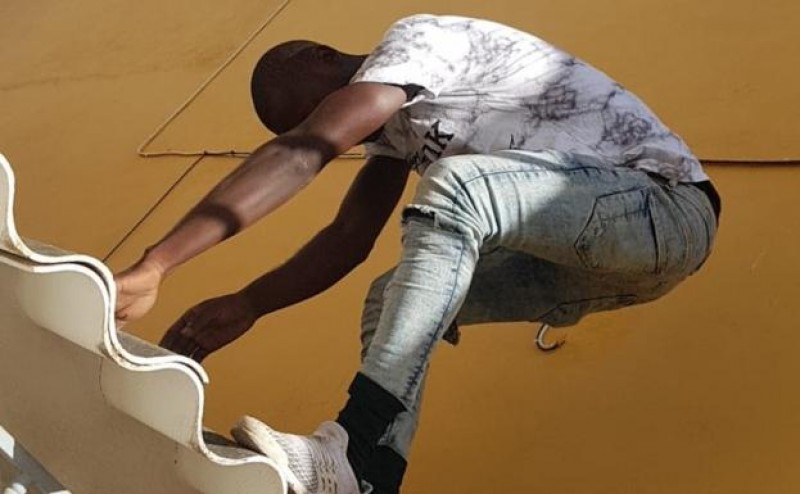 Burglar detained in Archena after unsuccessful rooftop escape bid: the man was caught red-handed after a homeowner returned to find him inside.
Robbers arrested in Torre Pacheco after 20 thefts at commercial premises in the Mar Menor area: a woman researched the establishments targeted before her two companions carried out the robberies.
Missing La Aljorra man found dead in the mountains between La Azohía and Cartagena: the man appears to have crashed off the road in the Cuestas del Cedacero.
Thief caught red-handed removing wiring from Cieza lamp post: the epidemic of cobber cabling thefts in Spain has now died down to the extent that one lamp post makes the news – not long ago wiring was being stolen from entire residential developments, and even from the then unopened airport in Corvera!
26 companies fined 1.8 million euros for forming Murcia school bus price cartel: the companies maintained artificially high prices for almost a decade on over 400 routes, carrying 15,000 children to and from school on a daily basis.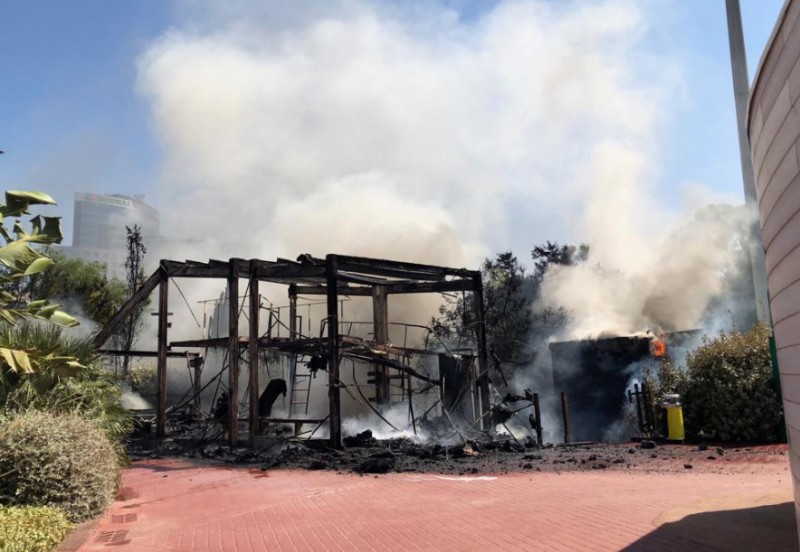 Fire brought under control at the Oceanogràfic in Valencia: around 1,400 people were inside the largest aquarium in Europe at the time and were evacuated as a precautionary measure. None of the animals were in danger at any point.
Alarm in Puerto de Mazarrón over spate of burglaries in the Playa Grande area: residents demand more active policing and are afraid to leave their homes.
Murcia and Spanish property news
A host of property market-related data were published during the week, the last of them being the sales figures for the month of May, which the government's central statistics unit report showed a 1.1 per cent year-on year increase both in Murcia and in Spain as a whole.
This reflects the recent trend towards stability after a long period of growth as the market bounced back from its 8-year slump, and follows an increase of just 2 per cent in Spain in the months of March and April combined (thus eliminating the effect of a later Easter on this year's monthly data) and 2.8 per cent in the Costa Cálida.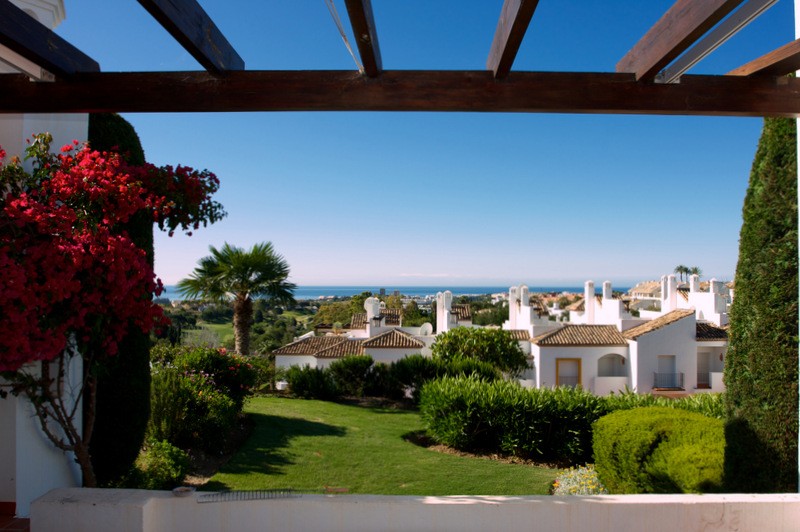 As is so often the case, though, the overall figures hide a good deal of disparity among the results reported in Spain's 17 regions. The May figures were higher than in the fifth month of 2018 in 10 of them, most notably in Asturias, where a rise of 41 per cent is reported, while elsewhere the most significant decrease was in Navarra with 17.7 per cent.
The longer-term picture in Spain is that the overall total of sales registered in the first five months of 2019 is just 1.8 per cent higher than at the same point a year ago, while over the last 12 months the running total is 5.6 per cent higher than in May 2018 at 520,000. In Murcia, meanwhile, the corresponding comparisons show more significant increases of 2.5 per cent and 13.3 per cent.
It is also worth noting that despite widespread reports of increased demand for new housing in Spain, and an upturn in residential construction activity, the proportion of sales accounted for by new properties during May was just 17.4 per cent, with 8,305 transactions reported. In Murcia the equivalent proportion is only slightly higher at 18.3 per cent.
This is despite analysts at Aedas this week forecasting a need for up to 140,000 new homes a year in Spain, although there are not anticipating a return to the situation after the market crashed in late 2007 and 2008, when around half of all properties being sold had not previously been occupied. The firm also adds that their estimate includes between 20,000 and 30,000 new homes for non-Spanish buyers, reflecting the important role played by "second residents" in the market in Spain.
Earlier in the week Spain's notaries also published their summary for May, again reinforcing the impression that the level of sales activity may have reached a plateau with a 5.2 per cent year-on-year decrease for the month. At the same time they report a minimal increase in average sale price, but perhaps the stand-out feature of the May bulletin is that for the first time in 9 years over half of all purchases were financed by mortgage loans.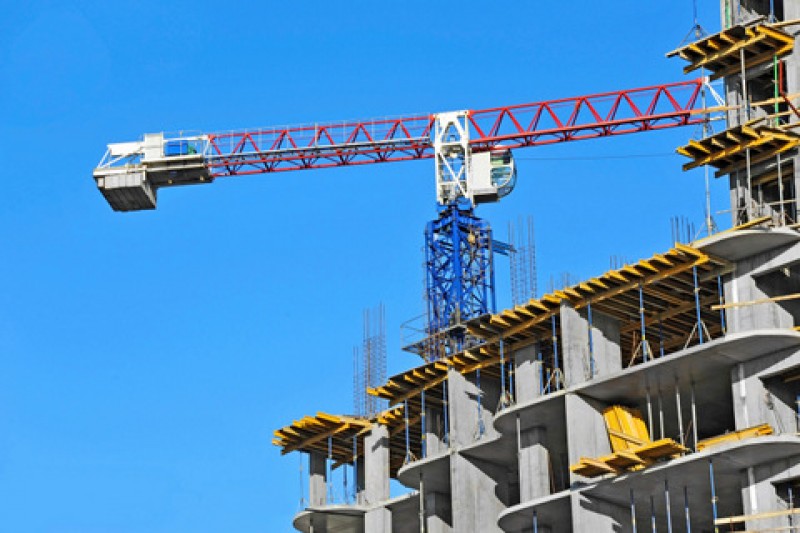 This in itself is a telling statistic: at the height of the boom over 80 per cent of all purchases were made with the help of mortgage loans, as the banks eagerly fuelled speculative buying by both individuals and companies. By 2013 the proportion had dropped to below 30 per cent as the banks lost confidence in the market value, but again it appears that the general recovery in the market is now providing conditions of equilibrium.
Finally, the EU's statistics bureau Eurostat produced a less cautious piece of data, with their analysis of the first quarter of this year finding that the increase in the market value of housing in Spain outstripped the EU average. A rise of 6.9 per cent was significantly higher than the average of 4 per cent, although the sharpest year-on-year increases are reported in Hungary (11.3 per cent), the Czech Republic (9.4 per cent) and Portugal (9.2 per cent). In the UK prices are reported to have dropped by 1.3 per cent during the first quarter, contributing to a 12-monthly increase of only 1.5 per cent, while in the Republic of Ireland the corresponding variations are -1 per cent and 4.4 per cent respectively.
For the latest Spanish national news, scroll down the feed box below...
-->
Would you like to receive this bulletin?
If you enjoyed this free weekly round-up, then please forward it on to your friends. If you have received this from a friend and would like to have it sent directly, then click Register for weekly bulletin to sign up.
CLICK HERE TO RECEIVE THIS FREE WEEKLY ROUND-UP BY EMAIL
NONE OF THE TODAY PRODUCTS HARVESTS OR SELLS EMAILS IN ANY WAY and we GUARANTEE your details will not be passed on, sold, or used for any other purpose, and are maintained in an off-site facility from which you can unsubscribe at any time.
We also welcome contributions from local charities or clubs, including post event reports, news items and forthcoming events. Use the contact button in the top header to contact our editorial team.
Images: Copyrighted Murcia Today, full or partial reproduction prohibited, other images as attributed on individual news articles. Top image Juanfra Ladevesa (Twitter)
Contact Murcia Today: Editorial 966 260 896 / Office 968 018 268