5th December to 31st December, Conjuntos de Unión exhibition at the Centro Párraga in Murcia
ARCHIVED ARTICLE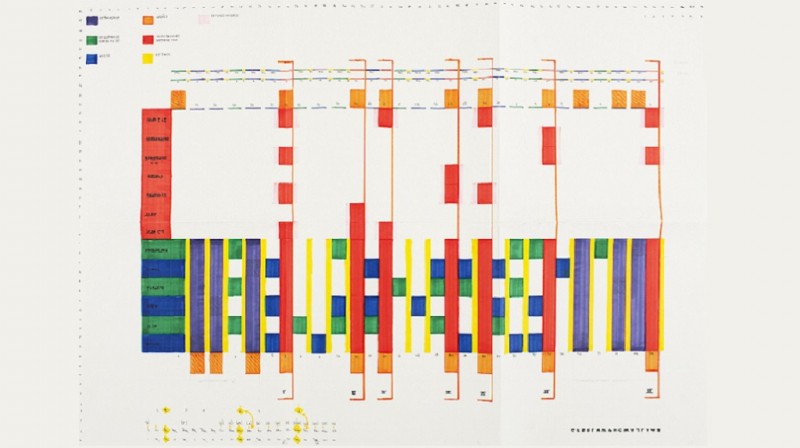 An exploration of the crossover between language, music, dance and mathematics at the contemporary arts centre in the regional capital
"Conjuntos de Unión" is an exhibition of the artistic research carried out by Lucía Simón Medina, whose interest lies in the crossover between language, logic, mathematics, movement, music, technology and drawing.
All of these interests are present in the audiovisual composition of which the exhibition consists, entitled "G.F.B.R.L.W.W.V.H.C.W.M.J.L.A.M.B.", which is the result of multiple transformation of a linear series of prime number handwritten in three librettos, each of which is 14 pages long and has a set duration.
The result is an audiovisual composition of 5449 seconds, in which the sound and the movement are not played simultaneously. Libretto I was assigned to Silvia Carrera Hondal (piano) and Yuya Fujinami (dancer), Libretto II to Nora Krahl (cello) and Gustavo Gomes (dancer) and Libretto III to Miako Klein (violin) and Konstantinos Kranidiotis (dancer). The musicians made annotations and drew boundaries on the scores, which were graphically experienced by the dancers, and then the dancers experienced the musical transformations soundlessly to define their choreographies, they noted down and limited their libretto as well.
On one level, G.F.B.R.L.W.W.V.H.C.W.M. J.L.A.M.B. investigates the possibility of creating a special language which is open, post-disciplinary and undecoded, through 7 personal impulses. The capital letters of the title refer to people who contributed to philosophy of language.
Conjuntos de Unión can be visited in the Sala de Máquinas at the Centro Párraga from Monday to Friday between 9.00 and 20.00. No admission fee is charged.
Click for venue map and further information about the Centro Párraga.
Contact Murcia Today: Editorial 966 260 896 / Office 968 018 268