Aphids, a spring plague here in southern spain, how to recognise and treat.
Gardening in Murcia, how to recognise and deal with aphids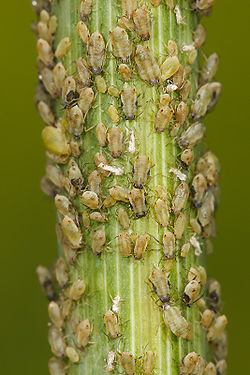 Abundant lush spring growth is the welcome flush of green which fills the countryside with colour following the spring rains, but which heralds the onset of the most persistant and destructive of spring pests, aphids.
Whilst one or two are controllable, these attack in their millions, attracted by the nitrogen produced in rapid new growth, and not only leave plants looking a complete mess, but can actually kill them if left untreated and in sufficient numbers. They come in a variety of colours, brown and green being the most commonly seen , and at this time of year can literally coat a tree with a thick layer of insects, almond trees in the campo being particularly vulnerable.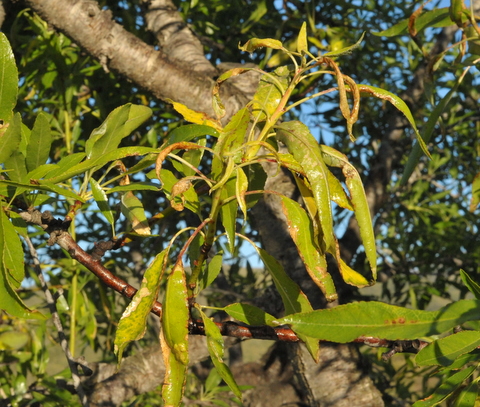 Because theyre so small they may not be immediately obvious, but a give-away sign that theyre in residence is the shine of leaves under siege in the sunlight and very soon the leaves take on a scorched and curled appearance, as per the photo.
The shine that we see is in fact the excreta of the aphids feeding on the leaf above, often known as honeydew, and on many citrus youll often see a distinctive black sooty mould which grows on the honeydew where the aphids are feeding.
Its quite common to find ants around the site of aphids, attracted by the sweet honeydew which they excrete, and indeed there are actually instances in which ants literally farm the aphids, to ensure their supplies dont run out.
The aphids feed on the sap, sucking the strength out of the plant, so when there are large numbers, it can actually result in the death of the plant.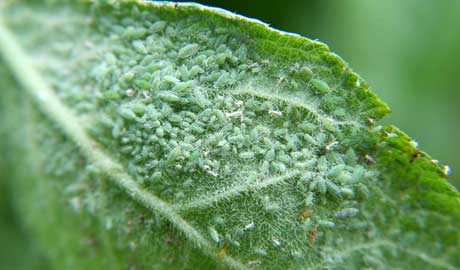 They also transmit disease and encourage the spread of fungi which grow on the honeydew, and leave plants with mottled leaves, stunted growth and curled and yellowing leaves, large numbers also affecting the crop yield.
There are many ways of treating them, ecological and non-ecological.
If you have a few around the garden, a good squirt with water and washing up liquid usually does the trick.
Another eco-friendly solution is to boil a couple of cloves of garlic in a litre of water for a few minutes, then leave to cool off, strain and use one part garlic mix to 5 parts water in a spray, which also gets rid of the aphids.
Other biological sites suggest the use of neem, which, whilst it doesnt kill immediately, disrupts the breeding capacity of the aphids and produces a gradual reproductive slowdown.
If youre a vegetable grower, plant marigolds amongst your vegs, as they attract insects which feed on aphids, and also interplanting onions and chives helps to deter aphids.
Local agriculturalists have been trialling various biological controls on a larger scale in the region, but at the moment not many agricultural suppliers have biological controls on offer to the general public, preferring to sell chemical treatments.
There are many of these on offer at the moment, and its very difficult to suggest a brand name as different towns stock completely different brands, so the best suggestion we have is to put some infected leaves in a bag, together with the offending aphids and ask for the correct spray.
Youll get far better value from an agricultural supplier, when we checked recently a 1 litre bottle, which treats aphids, whitefly, scale insects, spiders and several other pests, was around 7 euros a bottle. This dilutes 1 capful to 10 litres of water, so a bottle will last you forever, or you can always share it with other people and siphon off into jamjars and share. There are several agricultural suppliers listed in the gardening directory, and if you have a good one near you, please send in the details and well add it to the list.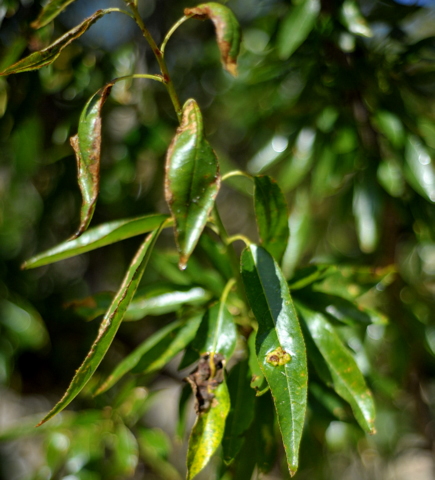 Other advice is to limit feeding. Nitrogen rich feeds provoke lush growth, which attracts aphids, so limit the feeding or use slow release organic feeds or natural manures in limited quantities.
The most important thing is to treat aphids and take them seriously as a pest, as if left untreated, they can do a lot of damage. Although the lifecycle of the aphid is very complicated, a female can start reproducing within a week of birth and the numbers produced over a single season are horrifying, so deal with them if you can.
Spraying advice-
Dont spray on windy days.
Spray in the evening, never in direct sunlight as this can burn the leaves.
Always wear a protective mask and goggles, and cover all skin, as some people experience severe reactions to chemicals.
Keep animals indoors until the spray has dried.
article_detail
article_detail
Contact Murcia Today: Editorial 966 260 896 / Office 968 018 268